Having about three to four hours and a butt-load of trophies to view was a bit of a sensory overload when it came to taking pictures. As noted in my previous entry, I chose to hone in on trophies from lost tracks and on wins for which I had some other memory connection.
As I started wrapping up my last entry, I strayed off topic a bit. I wanted to focus on lost tracks in that one and save current tracks for this one. But I threw in Darlington and Pocono. Oh well, sue me.
But in an effort to make up a bit for that blogging blunder, how about I let a lost track invade this current track blog. Fair and balanced, right?
North Wilkesboro
- Richard won five races and the championship in 1979. The 1980 season look promising. He won two short-track races early in the season: Nashville and the Northwestern Bank 400 at North Wilkesboro. Unfortunately, he had a terrible wreck at Pocono mid-year which derailed his chances for an 8th title.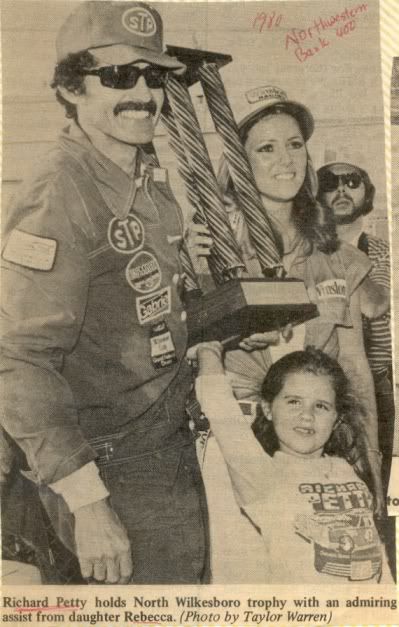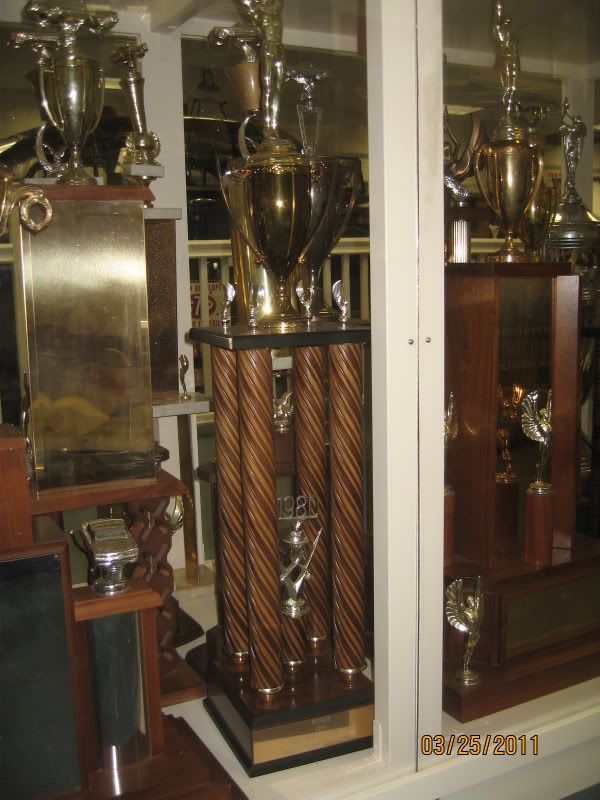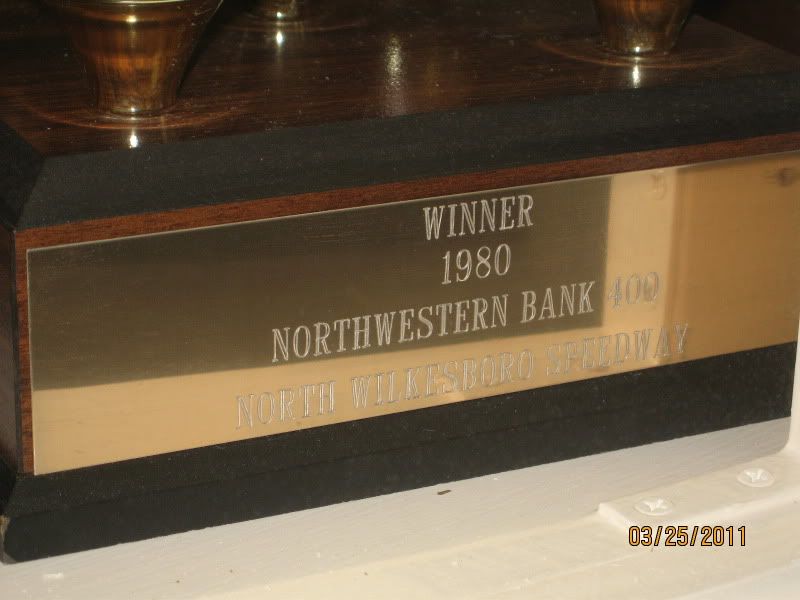 A couple of observations about the victory lane photo above:
Richard's daughter, Rebecca, now heads up the Petty Family Foundation.
I had the same t-shirt she is wearing, and a photo of my sporting it was even included in my high school annual!
Winston Cup trophies
- Richard won seven NASCAR Grand National / Winston Cup championships. I found the 1971, 1974 and 1979 Winston Cup trophies. I did not spot the 1964, , 1967, 1972 or 1975 championship trophies - though its possible they were there and overlooked by me.
Richard earned his fourth championship in 1971 - but it was his first (and the first overall) labeled as the Winston Cup Series Champion.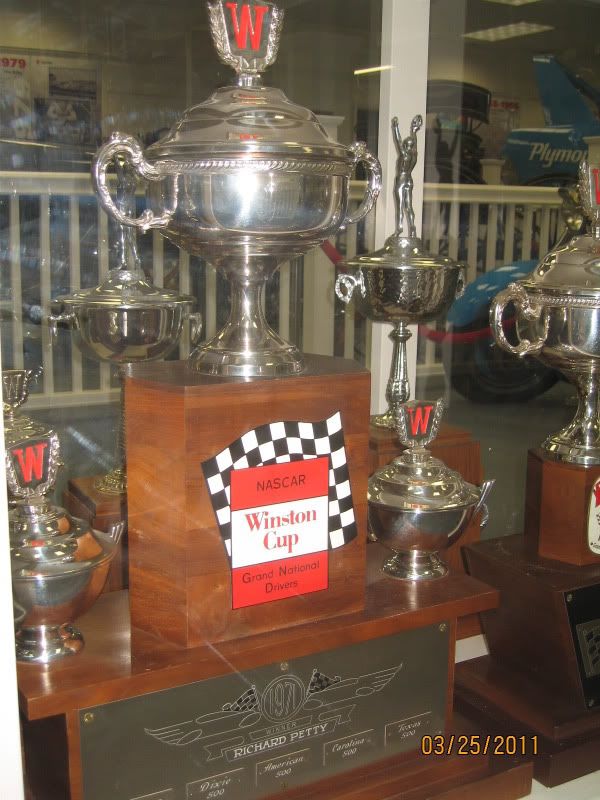 Richard's fifth Cup trophy from 1974.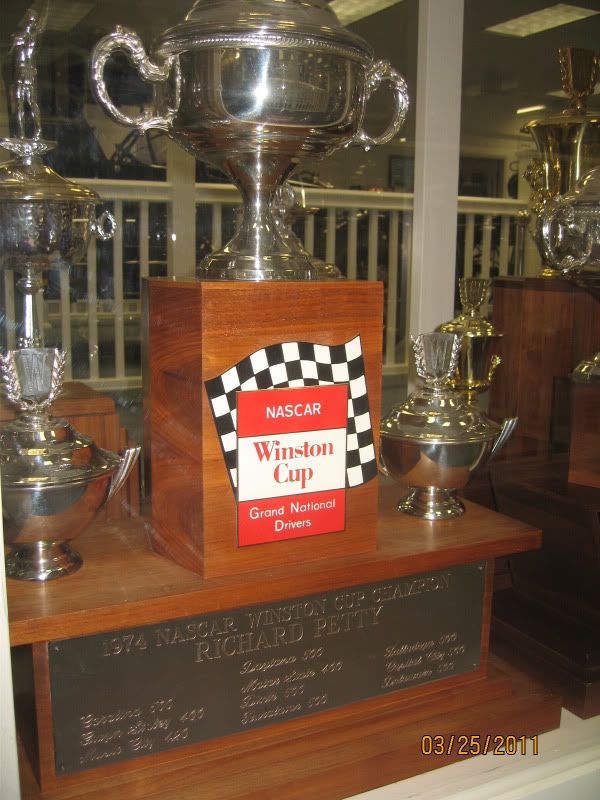 And Richard's seventh and final Cup trophy from 1979.
The 1979 championship win by Petty was truly remarkable. Richard went winless from mid-1977 through the end of 1978. STP had begun to doubt him, and sponsorship re-negotiations began. Because it was unresolved, the 43 car ran minimal STP decals and colors the first three races of 1979. Petty had stomach ulcer surgery after the 1978 season concluded, and his doctors recommended he not start the 1979 season. He ignored his doctors' advice, started the season and even won the Daytona 500 for the sixth time as Donnie Allison and Cale Yarborough crashed on the last lap. Also, Darrell Waltrip had come into his own, won seven races, and jelled with his DiGard team to grab the championship. But a funny thing happened on the way to the final race at Ontario. DiGard and DW stumbled down the stretch, and the steady-as-you-go, experienced Petty team rose to the occasion. When the checkers flew, it was the King who locked up his 7th title.
Martinsville
- A key win for Richard in 1979 was the spring Virginia 500. Darrell Waltrip was on a bit of a roll. But in a rare display of humility, he even conceded before the race began that the 43 was likely the car to beat. And it was as Richard won and DW finished 3rd.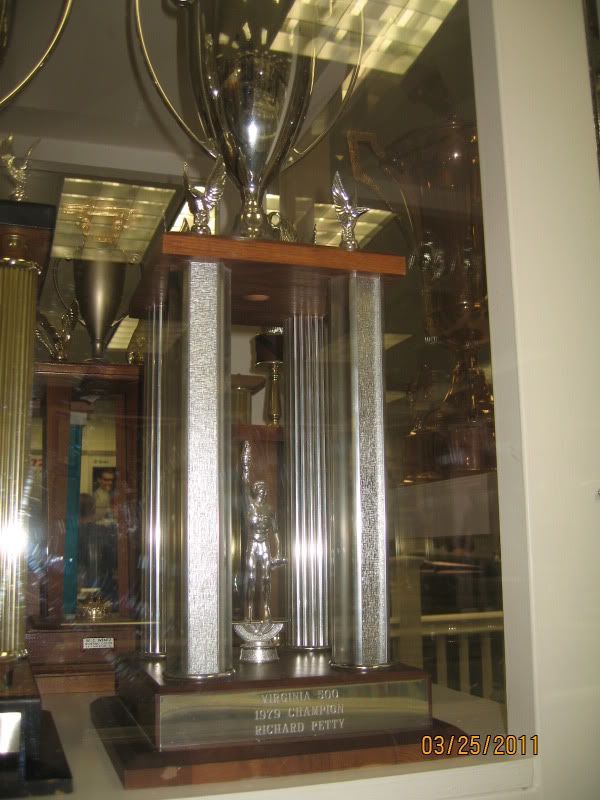 Atlanta
- As a driver, Petty had plenty of success with wins at Atlanta. Interestingly, I don't think I saw any trophies from his multiple wins there. However, I did find this one - the provisional pole winner for The Atlanta Invitational in 1986. The race was the preliminary event to The Winston and was open to non-winning drivers who weren't eligible for the main event. For those newer to NASCAR, 1986 was the second year of The Winston and the only year it hasn't been raced in Charlotte.
I really enjoyed seeing the trophies from the wins in the 1960s and early 1970s - way before my time as a fan. But it was also cool seeing the trophy from the
most recent win
involving Richard Petty. Here is the big iron from Kasey Kahne's win in the 2009 Pep Boys 500 driving for Richard Petty Motorsports.

Sonoma
- Sticking with the current events theme, the museum also had the unique trophy from Kahne's win at Sonoma in June 2009. It was Petty's first win as a car owner since 1999 when John Andretti won at Martinsville.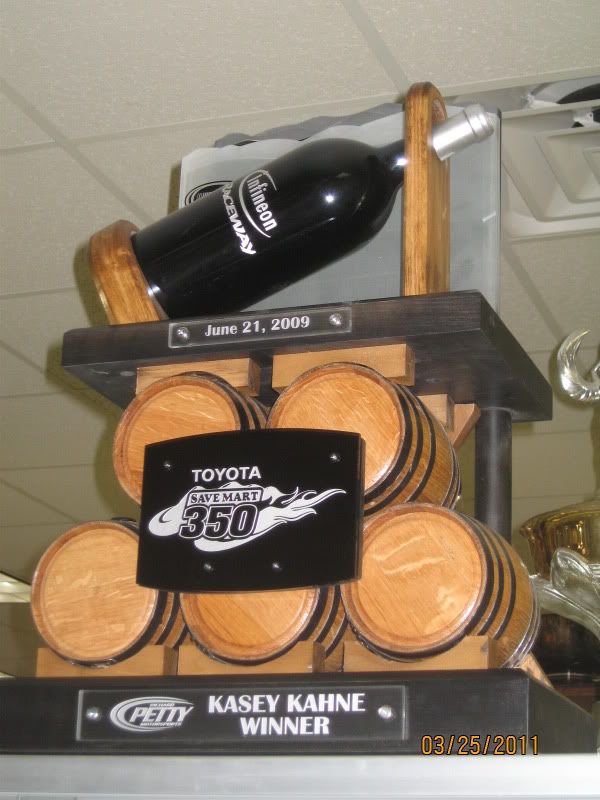 Charlotte
- Over the years, some questioned why Petty didn't win many races at Darlington. However, he did run well consistently and tallied three wins. If any criticism could be leveled about his performance on a track, perhaps it should have been Charlotte instead. Jim Paschal, Marvin Panch and Buddy Baker - drivers who raced for Petty Enterprises - won at Charlotte in Petty cars. However, Richard himself couldn't close the sale individually until the 1975 World 600. He then won again in the fall race to sweep the year. In 1977, he once again won the 600.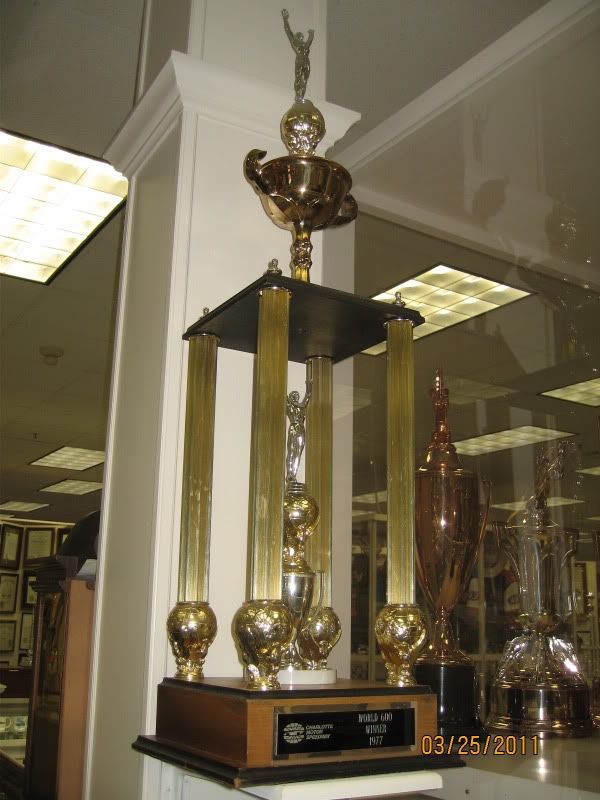 Interestingly, actress Elizabeth Taylor, who recently died, attended the race with her then-husband Sen. John Warner of Virginia. One or both of them was the race's grand marshal, and they joined the King in victory lane.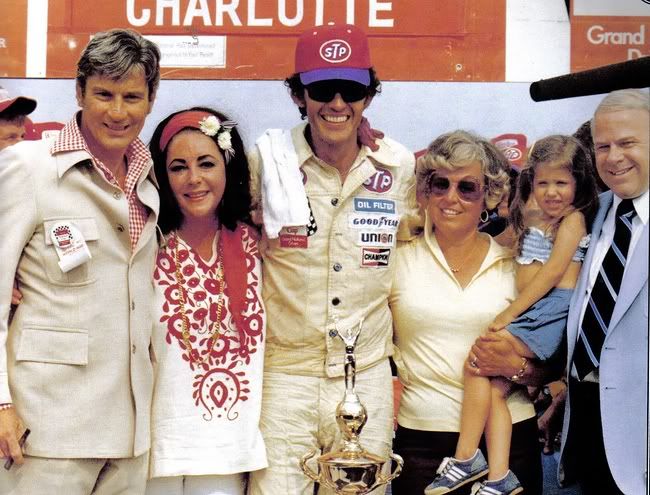 Hardware for Kyle's career was in short supply at the museum. Likely, it was for one of three reasons.
One, its the RICHARD PETTY museum - not necessarily the Lee, Maurice, Kyle or Adam Petty Museum.

Two, a lot of Kyle's trophies were stored at his beach home near Charleston SC. Sadly, a fire consumed the house several years ago and much of its contents.
Three, let's face it - Kyle didn't exactly need an expanded museum to display his winnings. With only eight career wins and a few poles, he didn't have a lot to display even if it was still available. I'm a fan of all-things Petty - including Kyle's career. But that's just the honest truth.
Richmond
- One of Kyle's trophies I did find at the museum was from his first Cup win in the 1986 Miller 400 at Richmond. Earnhardt wiped out DW, and the third and fourth place cars managed to get caught up in the melee too. Kyle came from 5th to 1st in the final two turns
of the last lap
on what was then Richmond's half-mile track.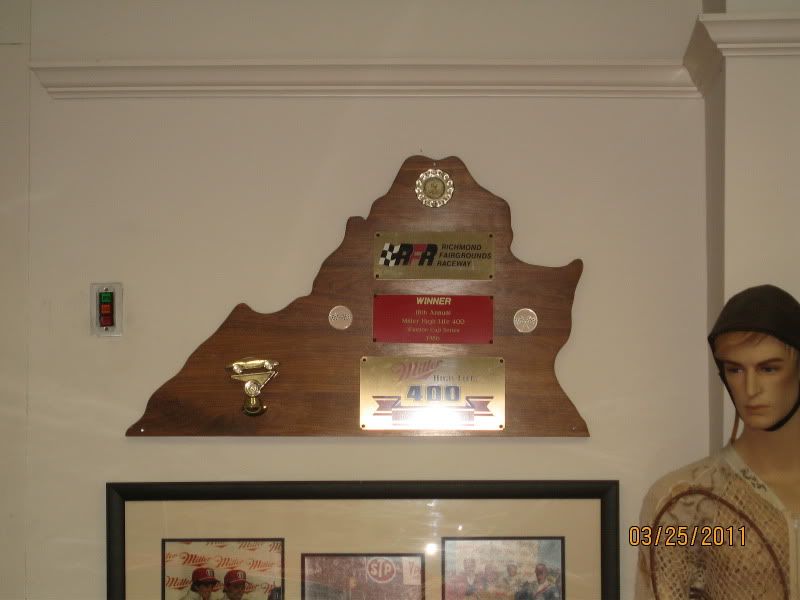 Update 2011-04-06: As a reader rightfully pointed out to me, the Earnhardt/DW wreck and Kyle's pass for the win was NOT on the last lap. It all took place with three laps to go. Back then, races could finish under caution. So all Kyle had to do was ride around the final couple of laps to seal the win. Thanks Cam for the correction.


Daytona
- The Petty family and Daytona are linked closely together. Petty Enterprises has enjoyed unbelievable success at the track since its opening in 1959. I found a couple of items that merited a picture.
Here is another trophy collected by Kyle for his winning the pole for the 1993 Daytona 500 - the first without Richard Petty in it since 1961.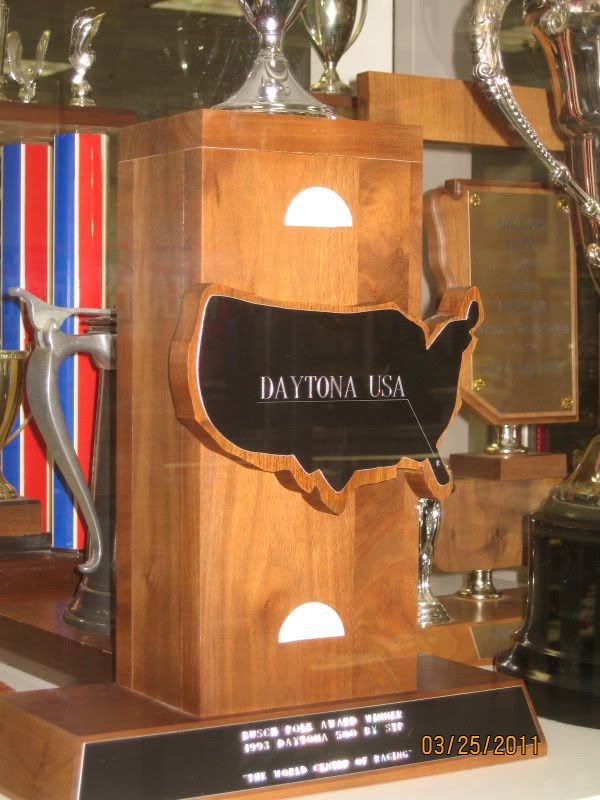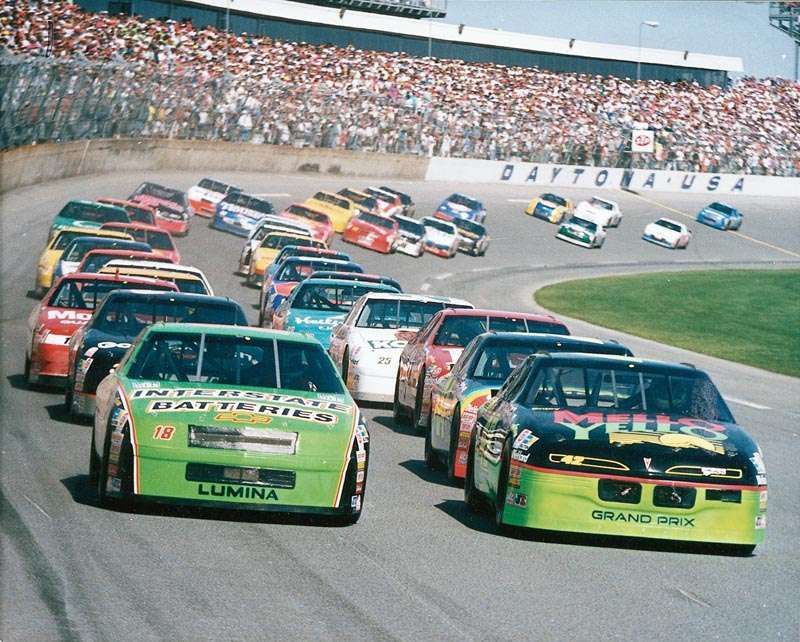 Richard won the 1964 Daytona 500, and he added additional wins in the 500 in the late 60s and early 70s. However, he could never quite win the summer Firecracker 400. Finally, he won it in 1975 and did so again in 1977.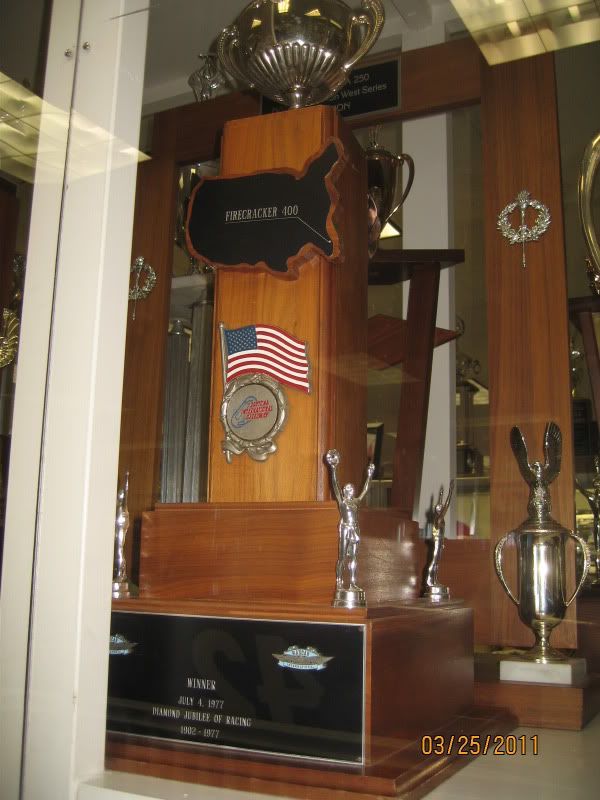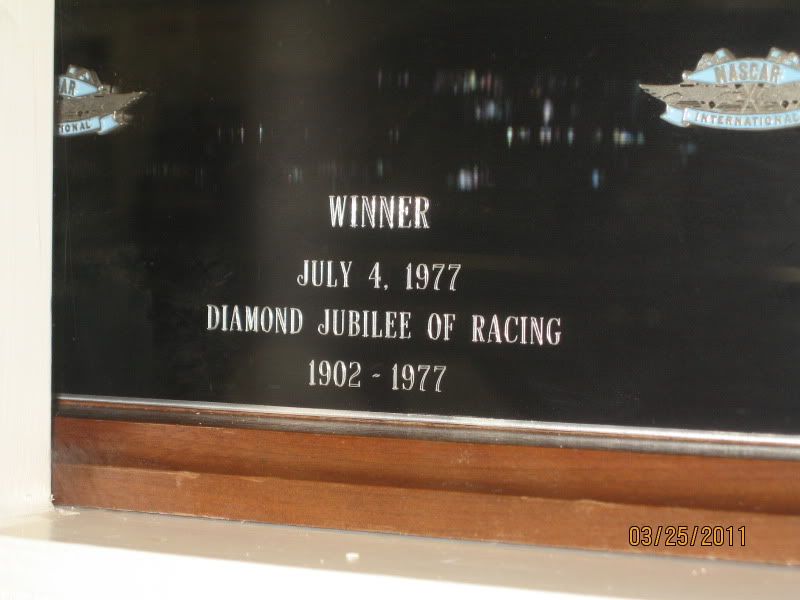 I definitely wanted a shot of this trophy. As soon as I spotted it, I laughed a bit knowing I had this victory lane photo from the race at home.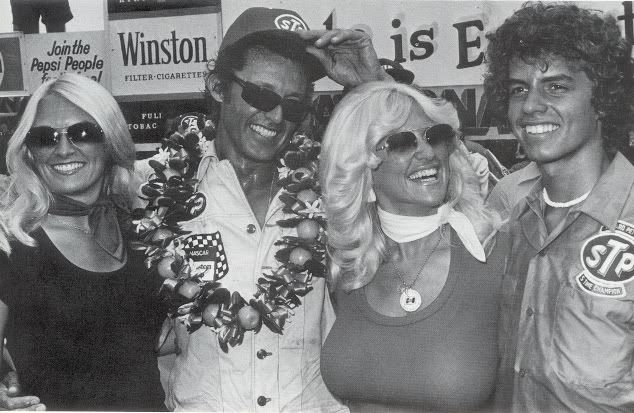 Trophies are only part of the items on display at the museum. I'll post some of the rest of what I thought in the entries to follow.
TMC