Cleveland, Ohio is supposedly where the phrase "rock and roll" was joined. As a result, the city got the Rock and Roll Hall of Fame. Go figure. Cooperstown, NY = Baseball. No ball of any significance is played there, but its a desired destination of the men who play a kid's game. Canton, OH. Springfield, MA. Established football and basketball Halls of Fame are in these cities
For NASCAR, many cities pitched, proposed, lobbied and cajoled fans, media, politicians and other powers that their city represented the roots of racing and was deserving of the Hall of Fame that eventually was built in Charlotte.
For me though, the epicenter of NASCAR is in Level Cross, NC. Petty Enterprises. I understand about the liquor runners of Atlanta, Wilkes County NC, and Virginia. I get the legend of Big Bill and the hard-packed sands of central Florida beaches. But in looking through Petty-blue tinted glasses, the little town 20 miles south of Greensboro, NC is where I consider the cross-hairs of racing's history to be.
In 1997, my co-founder of the Schaefer Racing Hall of Fame lived in High Point, NC. Before going to the Coca-Cola 600, we took a short trip to Level Cross. I got to see the shops from the outside, and we visited the cramped museum-of-that-day that was shoehorned into one of the PE buildings.
In recent years, the King remodeled an old furniture store 15 minutes down Highway 200 in Randleman. There he opened the Richard Petty Museum, and I got to visit it for the first time a week ago.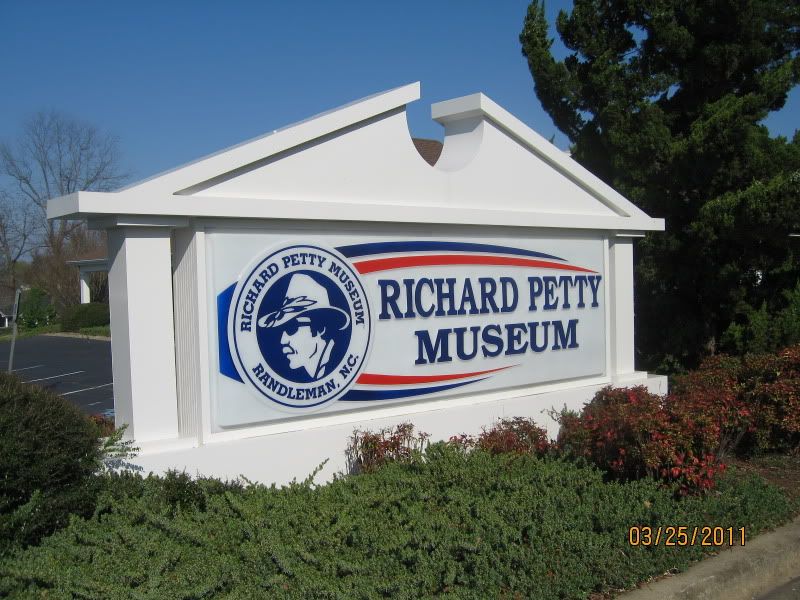 I have no information about the business in the building before it became the museum. But somehow I think its more than just a coincidence the street number of the museum is 142. Considering the respect Richard had for his dad, Lee, and the use of #42 by Lee for substantially all of his career, I think this is a nice tribute to the patriarch - coincidental or not.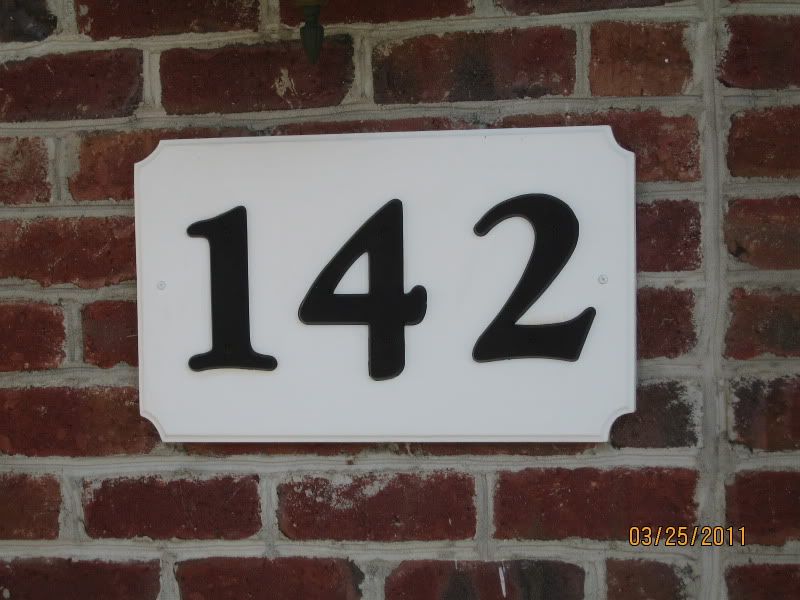 I've already blogged about my number one target for my visit - the
1970 Schaefer 300 trophy
. However, I wanted to observe as much as I could in the few hours I had to visit. It didn't take me long to pick up on a couple of things:
The trophies on display aren't even close to what the Pettys accumulated over the years.

Many of Lee's trophies were there, but one I did not see (may have missed it) was his trophy for the inaugural 1959 Daytona 500.
Only a few items from Kyle's career were on display. Many newer fans may not realize Kyle once had a beach house near Charleston SC. The house burned one night while he and his family were away, and all was lost - including many of Kyle's career trophies on display or stored at his home.
Many expected trophies from Richard's career weren't there. He won scads of races at Nashville, Martinsville, Richmond, North Wilkesboro, Rockingham, Columbia SC, etc. Yet very few trophies from these tracks were spotted in the display cases.
The trophies are not displayed in any particular order - year, track, race win vs. pole win, etc. As someone who often deals better with a logical sequence, it was a bit frustrating not to be able to hone in on a given race. But I quickly adapted to just looking at all of it and finding multiple decades of accomplishments sharing the same display cabinet.

Several trophies had engraved plaques on them with the race, year, track, etc. A place was reserved to have the winner's name engraved later. However, many of them had never been engraved such as this one I spotted from the King's win in the 1967 Northern 300 in Trenton, NJ. Who knows if it was the track's or the driver's responsibility. Either way, most of the trophies on display seem to be just as they were awarded to the King.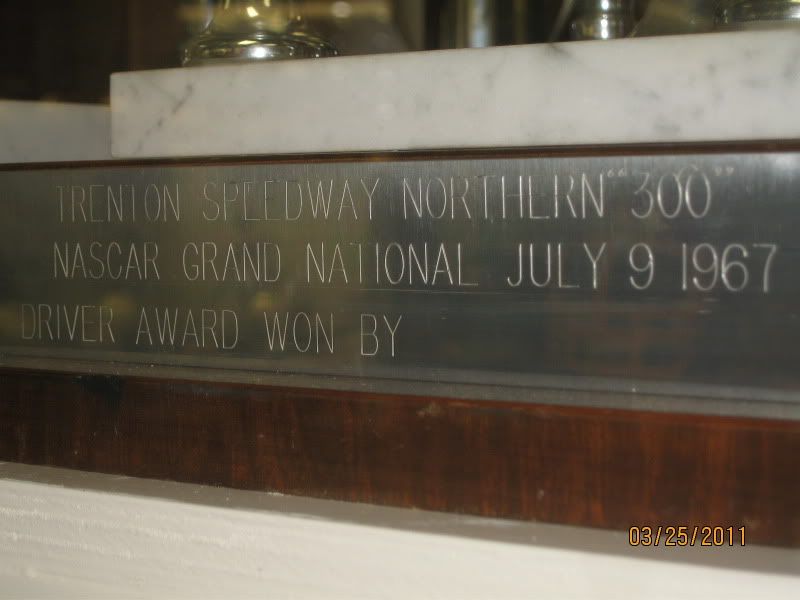 Taking photos was a challenge. Plexiglas covering the display cases created a pretty bad glare. Also, the cases included a ton of hardware won by the Petty teams making it a challenge to read the plaques - much less angle my camera to capture it and not get a bad glare. What I chose to do in large part was snap pictures of trophies in a couple of different ways: from some of the obscure/lost NASCAR tracks and some from races where another type of memory jogged in my mind as I looked at the trophy.
The Tennessee tracks
- This blog is titled Bench Racing from the Volunteer State. It only made sense to photograph a lot of the loot from our state's tracks - especially because Bristol is the only one that remains a part of the NASCAR schedule.
Nashville - I spotted this one from the 1980 Music City 420. My first Grand National race was the 1978 Music City 420. Cale Yarborough won the race by leading every lap, and the 43 finished 3rd. In 1979, our family may have gone to qualifying (can't remember), but I know we didn't go the race. By 1980, I had the itch to go again - especially because I'd been to my first Daytona 500 earlier in the season. As it turns out, a high school band trip to Orlando FL overlapped the 1980 Nashville race. My dad and two uncles went anyway. Lo and behold, guess who won. Though I had a ball on my band trip, I was crushed I missed the King winning in my hometown.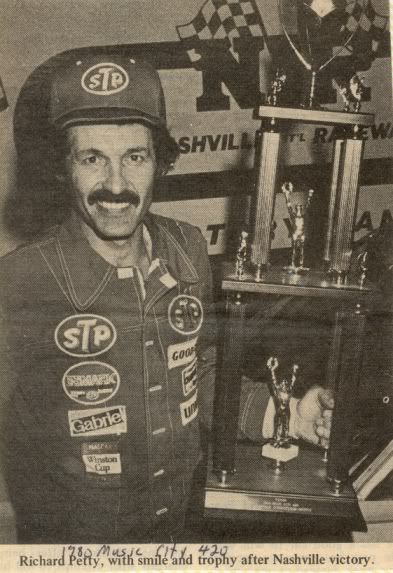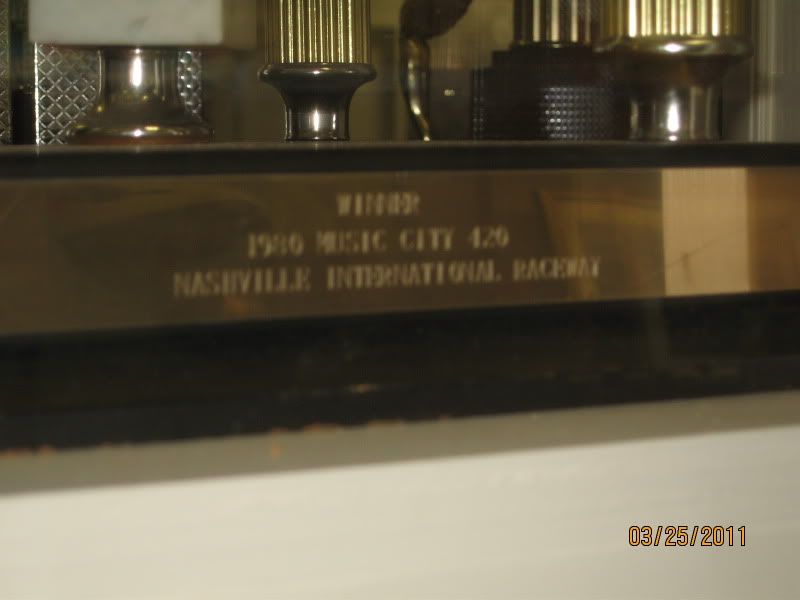 Kingsport - part of the Tri-Cities of East Tennessee - near where the Bristol track remains today. Kingsport hosted three Grand National races from 1969 - 1971. Richard won the 1969 and 1970 races, and he won the pole for the 1970 event. This is the trophy for his 1970 pole win. As mentioned earlier, note how the pole winner's name and speed were never engraved. Also, today's pole winners are recognized by Coors Light. Previously, Budweiser and Busch sponsored the pole awards. But how about back in the day with Falstaff paying for the honors!
Maryville - This half-mile dirt track near Knoxville hosted 12 Grand National races. Richard entered 10 of them, and he won 6 of the races he entered - including the final GN race there in 1971. My uncle who introduced me to racing in 1974 and told me I
had
to pull for Ol' Blue if I expected him to take me to races met the King at both Kingsport and Maryville.
Chattanooga - Boyd's Speedway is still around today as a local bullring. It hosted two Grand National races - one each in 1962 and 1964. The King won the pole for both races, but he didn't win either of them. I almost overlooked this trophy sitting on the top shelf of one of the cabinets. I'm guessing its for one of his pole wins; however, I'm not certain for which year.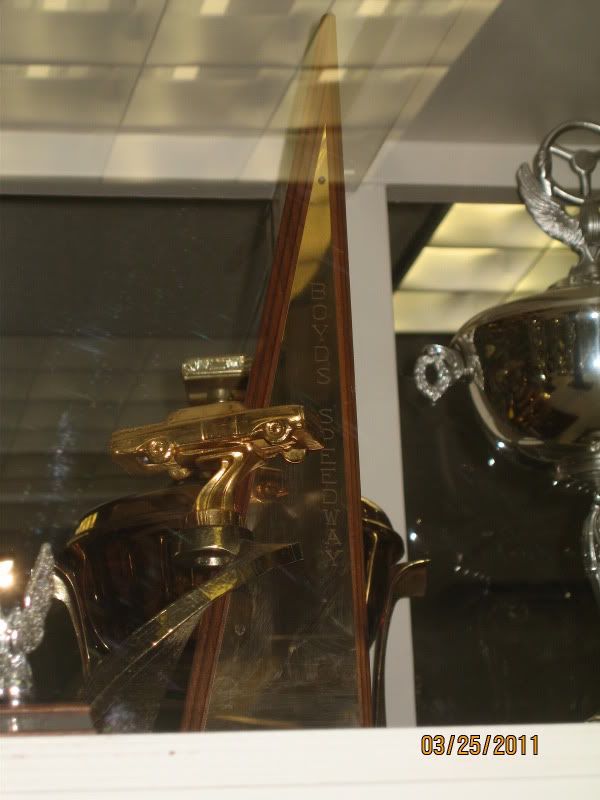 West Virginia
- Petty won three of the four races he entered at what used to be known as West Virginia International Speedway and now known as Ona Speedway. His third win was in the final Grand National race there: the 1971 West Virginia 500.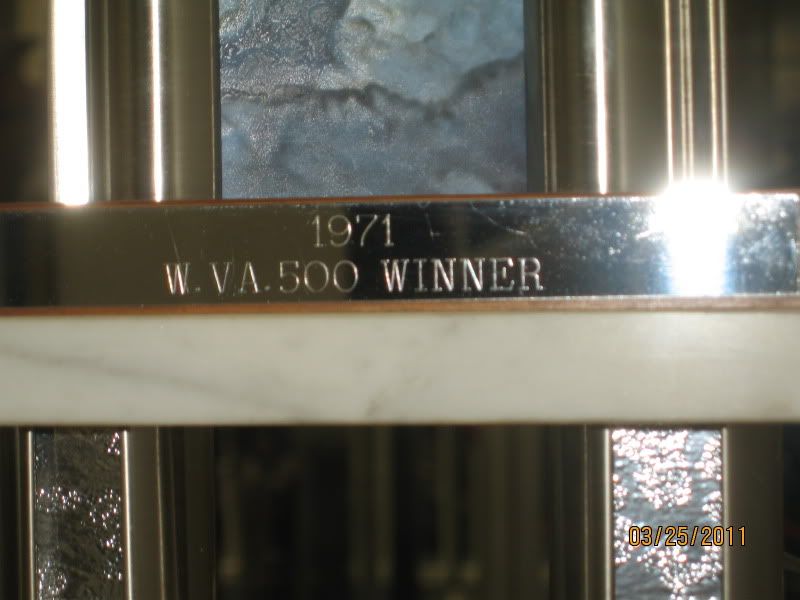 Fonda, NY
- Historical revisions by NASCAR's media staff, ignorance by self-centered TV race 'analysts' and lazy media coverage lead many folks to believe NASCAR raced just in the south before R.J. Reynolds started its Cup sponsorship and that growth in northern and western markets only happen the last two or three decades. The truth is NASCAR ran plenty of races in northern cities such as Toronto, Islip/Long Island, Chicago, Bridgehampton NY, Oxford ME, and Fonda NY. The Grand National cars raced three times at Fonda. The King won the pole for the first two races, and he won the race at the last two of them. This trophy is from either his win in 1967 or 1968.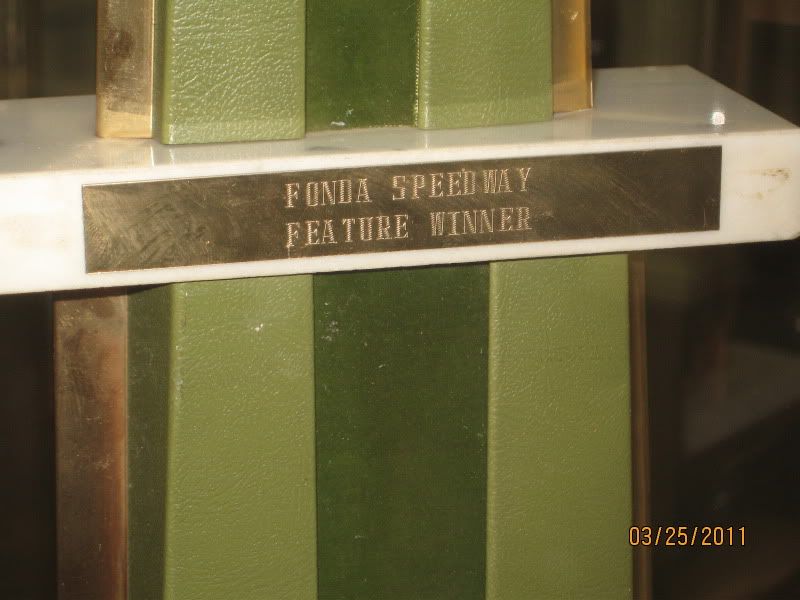 I spotted a trophy for one of Richard's wins at Islip, NY. However, I simply could not get my camera to take the ideal shot. Auto-focus, a tough angle, and flash glare all worked against me on it. (
Click here
for a blog entry I wrote about Islip in June 2010.)
Trenton NJ
- I took these shots for my buddy, fellow Petty devotee and Schaefer Ring of Honor member (Trenton chapter) Brian '200WINZ' Hauck. They are from Petty's pole and race wins in the 1967 Northern 300 at Trenton Speedway. Here is the trophy for the pole win (stored right behind the 1970 Schaefer 300 trophy):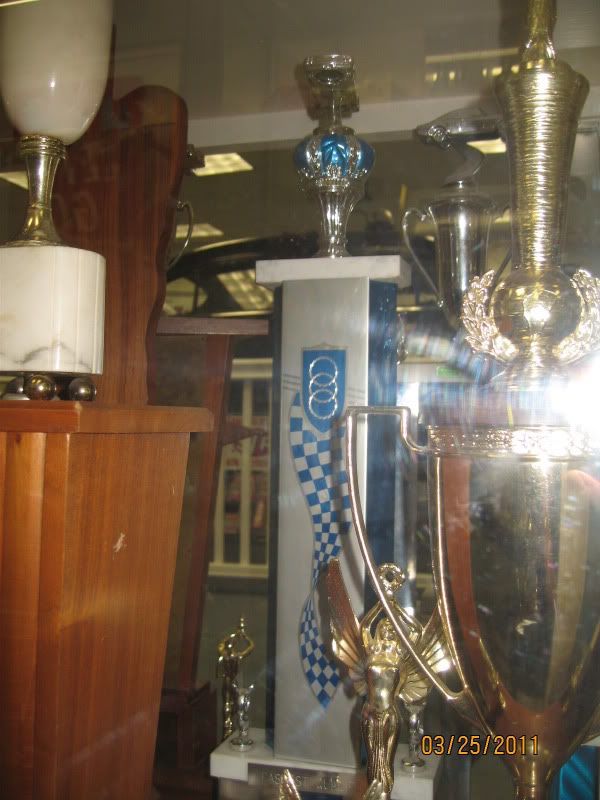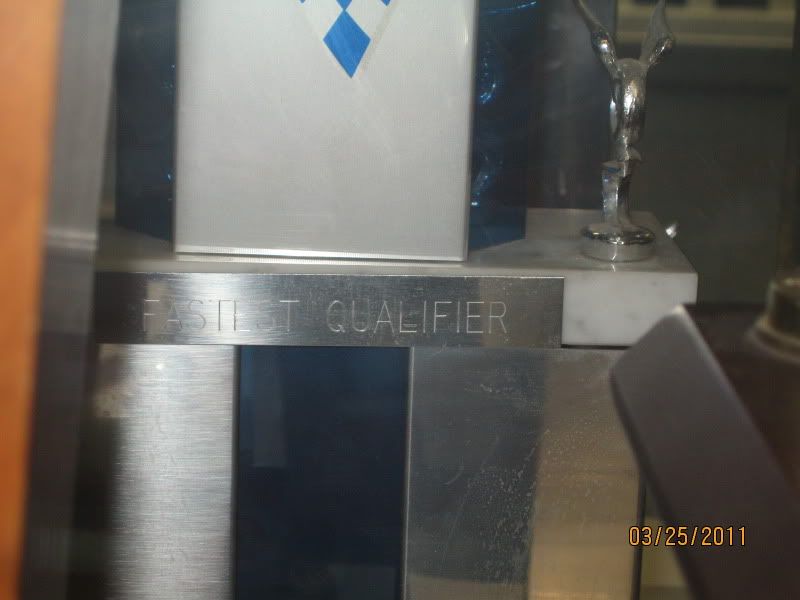 And here are the twins for the race win - one is for the winning driver and the other is for the winning car owner. Of course, the King took home both pieces of hardware since he co-owned the joint back home in Level Cross.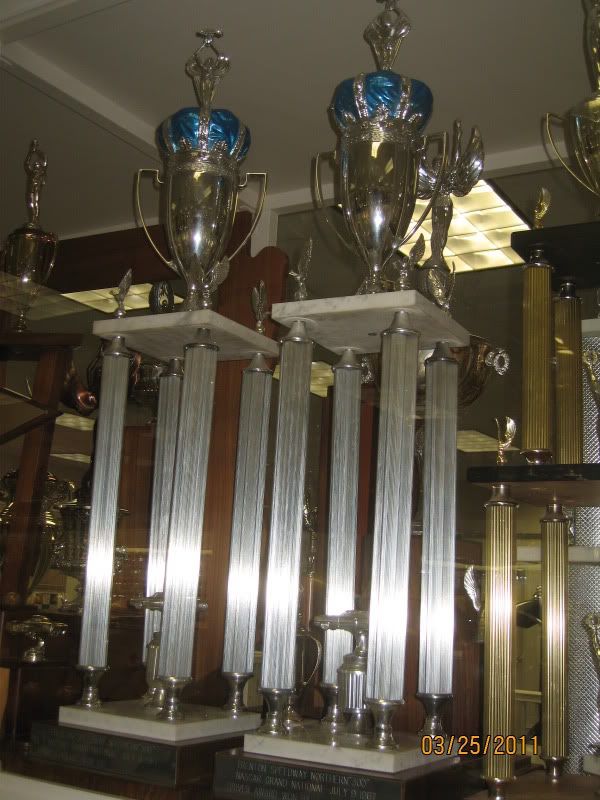 So I found the winning trophies for the 1967 and 1970 Trenton races. I was not successful in finding the winning trophy from 1971. Was it there? Perhaps. But I tried to carefully look in each case searching for novel wins such as that one.
Asheville-Weaverville
- I know very little about this track in Weaverville, NC. For several years, the marquis event was the Western North Carolina 500. As a tribute to deceased driver Fireball Roberts, the track ran a second event a few years named the Fireball 300. This trophy is from Richard's win in the 1967 edition.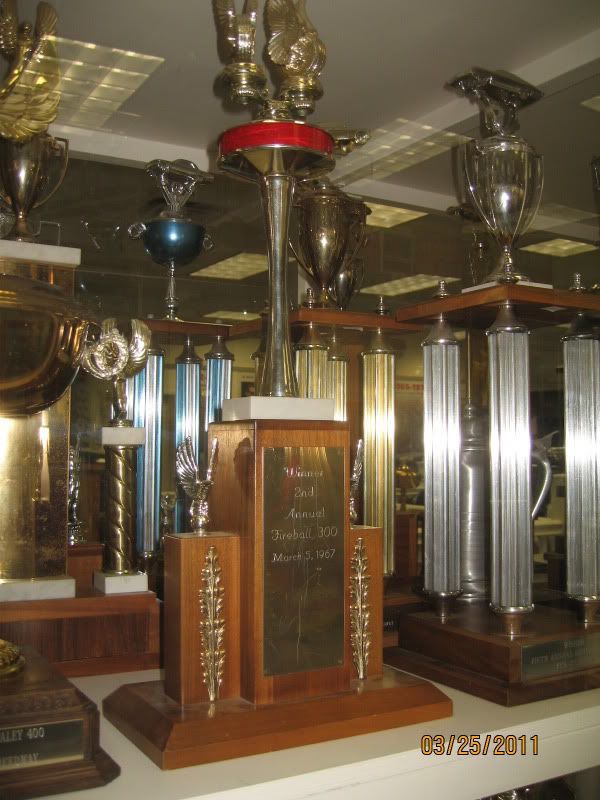 Riverside
- The twisting road course outside of Los Angeles was a staple of the Grand National / Winston Cup Series from the early 1960s until its demise in the late 1980s. I thought this was one of the more unique trophies I saw. Richard won this one for the Falstaff 400 in June 1970 driving his Plymouth Superbird.
As seen in this video clip, Richard was also given a larger, more traditional trophy for the win; however, I didn't see it in the cases.
Here is a better view of the other trophy I
didn't
find.
Source: crabber1967's Photobucket site
Darlington
- The Lady in Black is still with us unlike some of these other tracks; however, the once legendary Southern 500 is no more - at least not on its traditional Labor Day weekend. Richard consistently raced well at Darlington; however, he only had three career wins to show for all his efforts: wins in 1964 and 1967 in the Rebel 400 and the 1967 Southern 500.
The 1967 Rebel 400 win was a career milestone win as it was Richard's 55th win. The win broke a tie he had with his father. As a result, Richard became (and remains) NASCAR's winningest Grand National/Cup driver. Look closely at this picture, and you'll spot the trophy on the hood of the car.
One thing I found interesting about the trophy is the Marlboro sponsorship. Just four years later, R.J. Reynolds' Winston cigs would become the title sponsor of the series, and competing cigarette brands would no longer sponsor tracks, races or drivers.
Pocono
- Because I started sliding towards existing tracks with Darlington, I'll close with one more unique one - but again an existing track. When NASCAR left Trenton Speedway in 1971, promoters looked for a new market to continue coverage in the area. Pocono was determined to be the answer. Its inaugural race was in 1974. Sure enough, the King christened its opening with a victory.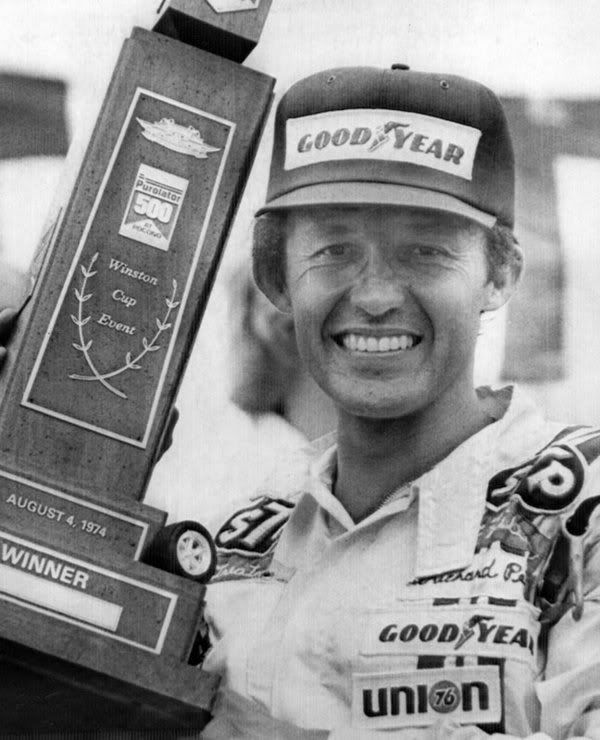 Again - note the plate for the winning drive was never engraved.
I'll next include some photos of trophies from wins at tracks that remain on the Cup schedule - and with a reason why I saw fit to shoot them.
TMC