Over 10 years. The ownership, management, local residents and fans of Kentucky Speedway waited over 10 years to finally land its coveted Cup date. It took a change of ownership and and an agreement by a bunch of lawyers to stand down before it could happen. But both events happened, the Cup date was granted, and Darrell Waltrip got so giddy over the whole deal that on more than one occasion I'm quite sure he nearly pee'd himself.
New track owner Bruton Smith - who is not exactly a wallflower owner/promoter - gushed that the race would be the biggest event of the year. When the weekend was done, he was kind of right with his prediction. He likely hosted the biggest STORY of the season. Sadly, the weekend will be remembered for ridiculous traffic jams, a lack of parking, a breakdown of communications and commitment by track management and staff, and a complete abdication of responsibility by those in charge (e.g. Bruton joking about the snafus on pre-race shows, Bruton blaming I-71's condition and width, press releases stating the track "regretted" the situation).
Despite all the perimeter noise, the inaugural Quaker State 400 Cup race was run. And representatives of the Schaefer Hall of Fame and Ring of Honor were there to christen the event.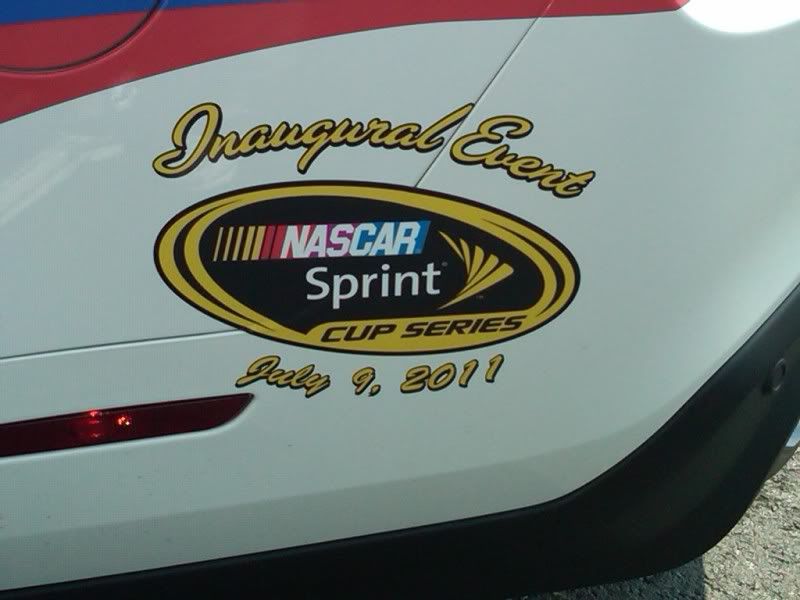 We arrived on Friday afternoon - primarily just to get a feel for the vibe of the crowd, scout some parking, tour the souvenir trailers, enjoy a Schaefer ... and maybe a second, etc. While roaming through the various sponsor exhibits, we spotted a replica of the car Michael Waltrip planned to race. It was skinned to pay tribute to Darrell Waltrip's first Cup win at Nashville Speedway in 1975. When qualifying was rained out, however, Mikey was left on the outside looking in.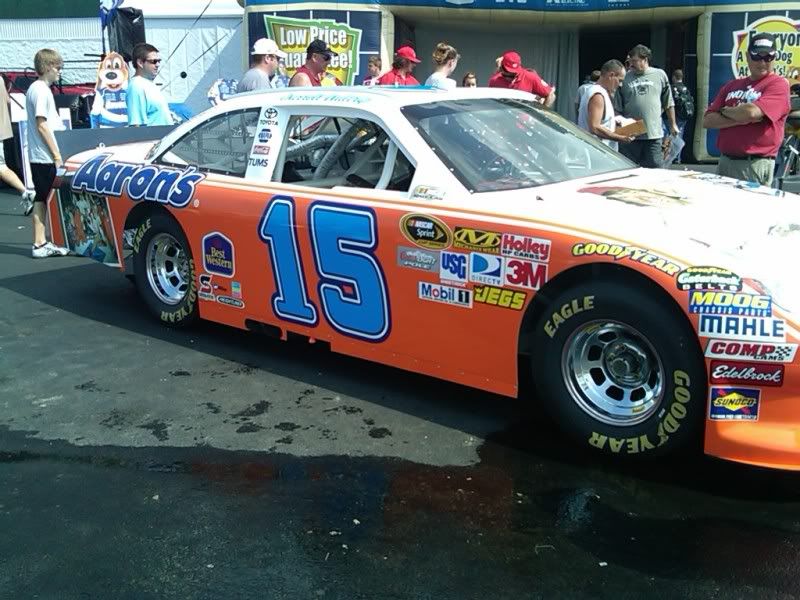 Schafer HOFer Uncle Dave was excited to find the Robby Gordon souvenir trailer. I'm not quite sure why. Uncle Dave may well be the last fan ol' Robby has. I kind of expected Robby's souvenirs could fit comfortably inside a pull-behind U-Haul trailer.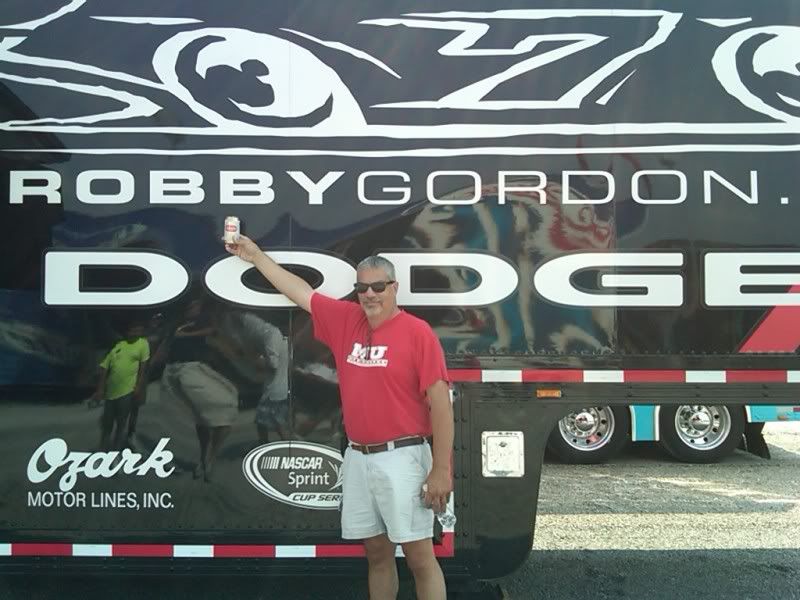 In the early to mid 90s, Kyle Petty had some incredibly dominant runs at Rockingham Speedway - especially when sponsored by Mello Yello. After all these years, I think I finally found the answer. He was racing with
organic fuel maaannnn
. (reference to Cars 2 for those who don't get it).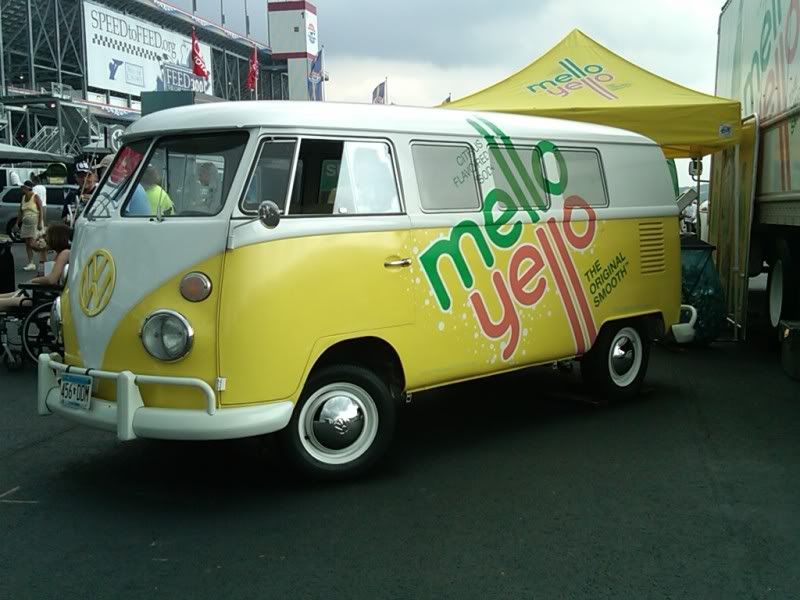 I was fortunate enough to land a hospitality pass with Stanley Tools through Rick - who was recently inducted into the Schaefer Ring of Honor in May at Charlotte Motor Speedway. As we walked towards the hospitality tent, I snapped this photo of the Marcos Ambrose / Stanley show car.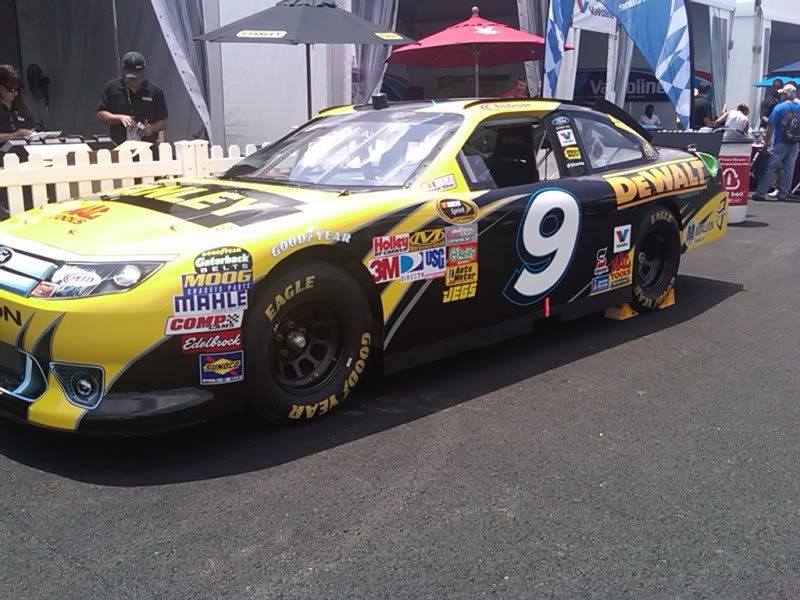 As we settled in with a nice lunch, one of the Stanley guys announced some prize giveaways. "The first person to show me a photo of the Stanley race car wins a prize." I jumped up with a WHOO, showed him the pic on my Blackberry, and just like that earned myself a soft-sided Stanley tool "box" or bag. Shortly thereafter, they had drawings for garage tours. I had been told we could visit the pits, but the garage tour was an extra. Sure enough, I went two for two as my name was drawn to visit the garage.
Before heading down for our tour, Marcos Ambrose dropped by the tent to ask a few questions. He answered such inquiring-minds-want-to-know questions as "what is your favorite pre-race meal?", "will you put Kyle Busch in the wall for us?", "what is your favorite TV show?", etc. I got the privilege of asking one, and mine went something like this:
In the 2-car drafting tandem at Daytona, you seemed to draft better with your pushing A.J. than when he tried to push you. Was that because of the differences in the cars or your individual driving and drafting styles?
Unlike the other ones, he started his response with "well, that's a great question mate..." before explaining the answer as a little bit of both.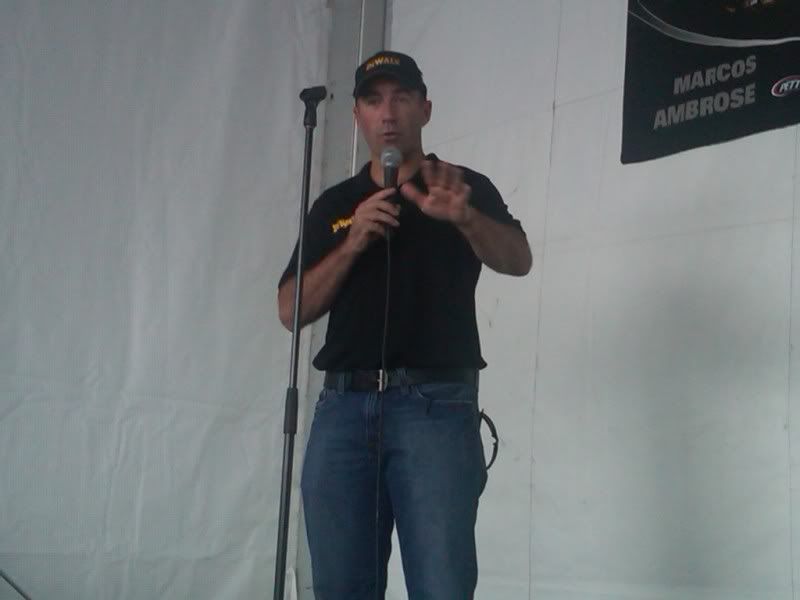 After Ambrose left, it was time for our walking tour of the garage. I'm guessing we were supposed to keep a healthy distance away from the individual garage bays. But I couldn't help myself. I wanted to get a couple of close-up shots - especially of the Richard Petty Motorsports Fords.
Here is the Porter Cable #9 raced at Kentucky by Marcos Ambrose...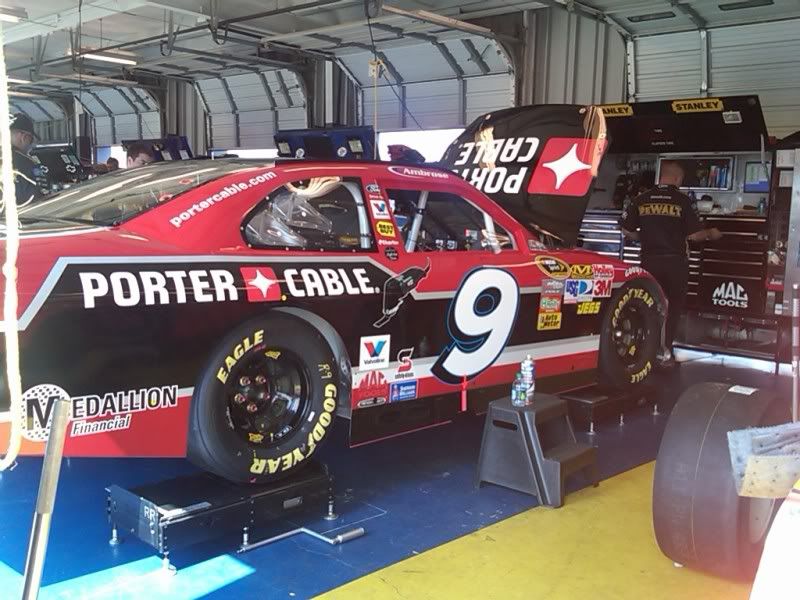 And here is the famed #43. The Valvoline Ford of The Dinger, A.J. Allmendinger.
After roaming a bit more around the bays and seeing a few cars go through technical inspection, our group headed for hauler row. I lagged back a bit when I got to the Best Buy trailer. I was hoping to catch a glimpse of Allmendinger, The King, Robbie Loomis, Dale Inman, or
someone else
of vital importance I might recognize. Not seeing them, I still made myself at home a bit. Having a Schaefer in hand is a bit like being a V.I.P. - it gets you into interesting places with meaningful people. Don't believe me? Check out the expression on the dude's face in the white shorts. I'm quite certain he's thinking "Are you kidding me? I had to surrender my first born to get a hot pass - yet this guy just strolls in with nothing more than a Schaefer?" Yeah buddy, deal with it.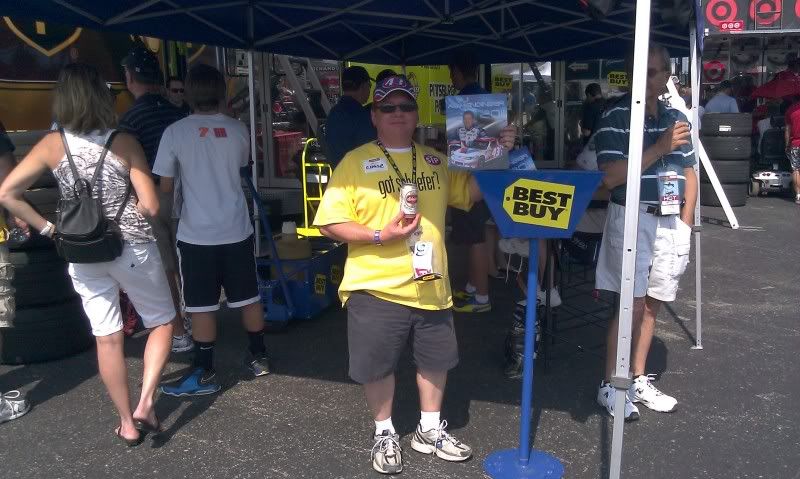 Although I didn't see anyone of vital importance at the Best Buy hauler, I did spot one quasi-celeb. Look again at the above photo - over the left shoulder of the guy whose back is to me with a #7 shirt and blue shoes. Recognize him? Its Paul Menard, sideburns and all.
Allmendinger's trailer - still in its Best Buy colors vs. the 1-off Valvoline sponsor for the weekend - was sandwiched between the haulers of Menard and Juan Montoya. With those two flanking the RPM hauler, it was amazing the 43 didn't get wrecked while being unloaded!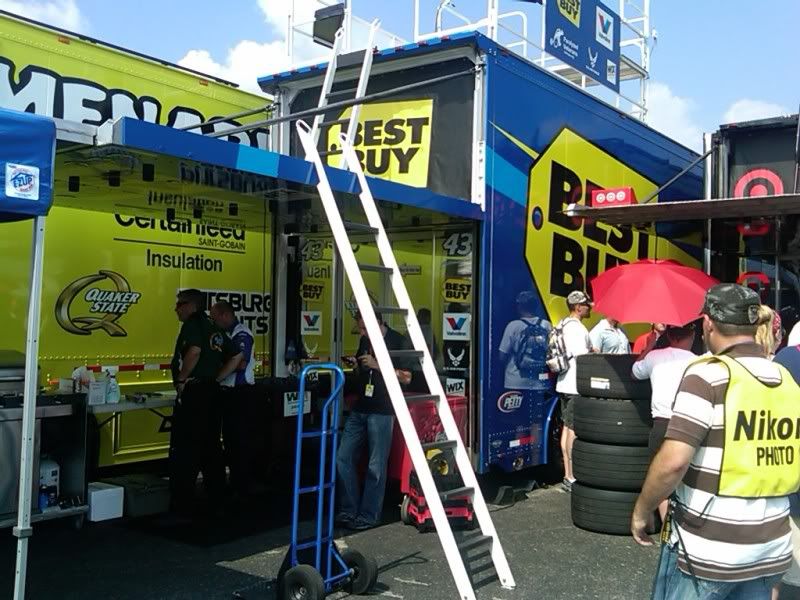 As we wrapped up our tour of the garage and headed for pit road, we passed by a booth where a radio broadcast was taking place. When I walked by, I heard the announcer say "we're glad to have Jerry Carrol here with us", and I paused.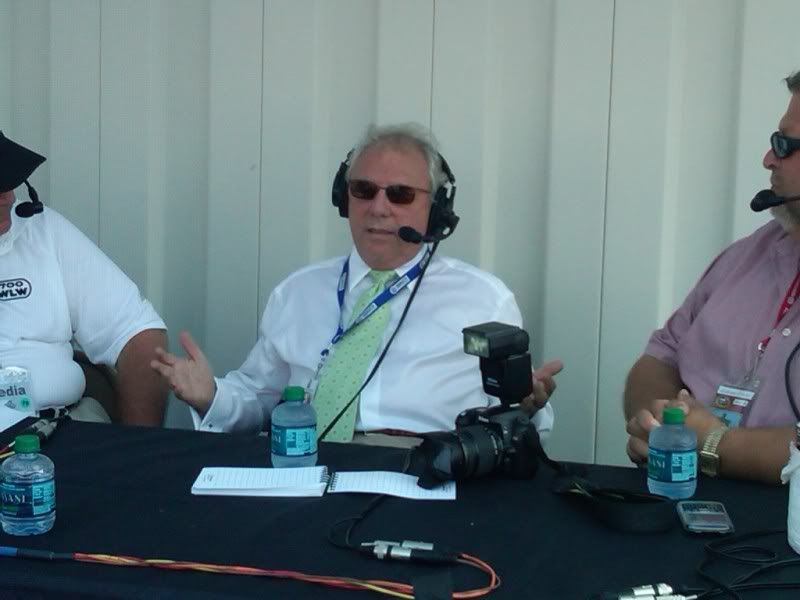 Carroll built Kentucky Speedway and lobbied for years for a Cup event. The lobbying later turned into a lawsuit against NASCAR. As long as the lawsuit continued, Carrol had about as much a chance of landing a Cup date as drivers named Regan and Ragan could each win a race and
in the same season
.
Wait - check that. Regan and Ragan
both
have won races this season, and Kentucky
did
get its Cup date. So miracles do happen. But of course, it required Carroll's selling of the track and getting the lawsuit withdrawn to make it happen.
A view of the upper portion of pit road. Look carefully near the center of the picture, and you may be able to see the pit board for the 43 team.
A view of the start-finish line with the grandstands, suites and Indiana Tower behind it.
After completing our tour, I returned to the hospitality area. I downed a water, cracked a beer and said so long to some of the folks I'd met at my table. Not long after I returned to our own tailgating site, SROH Rick called me to say they were going to have more drawings. Knowing I'd already won the toolbox and garage tour, I figured my luck was exhausted and/or was ineligible for more. Apparently not. A couple of hours later, he returned along with the guys from the table with more swag - some of it autographed by Marcos. They told me my name had been drawn again, but I had to be present to win. So *oof* - a swing and a miss for me. Sure, it stung. But I'd been lucky, I was thankful for the freebies I already won, and there was no sense crying over missed opportunities or autographed swag.
It was now race time! With qualifying rained out, the field was set by practice speeds. As such, Allmendinger started about half-way through the field. He is shown here leading out the second pack of cars for a couple of pace laps.
Sadly, that's about as well as the 43 car would run all night. The team was off its game from the time they unloaded. I call it the Valvoline curse. Don't get me wrong - I appreciate the company's partial sponsorship of Richard Petty Motorsports. But it seems anytime the 43 is skinned in Valvoline colors, the car runs horribly. He ran the same scheme at Vegas in 2010 when I was there - similar type of result.
The race was pretty uneventful. Kyle Busch set the pace early - with his only significant challenge in the early stages coming from brother Kurt. In the mid-laps of the race, Brad Keselowki put the blue deuce out front for an extended segment. Yet we knew the 18 was still very much in the thick of things. Sure enough, as the race hit its three-quarters mark or so and the cars cycled through green-flag pit stops, KyBu's Toyota returned to point.
The finish. Sorry for the blurriness of the cars. A Blackberry 3.2 megapixel camera isn't quite up to par with a Nikon. But that is indeed Kyle Busch winning with David Reutimann in second and Jimmie Johnson in third.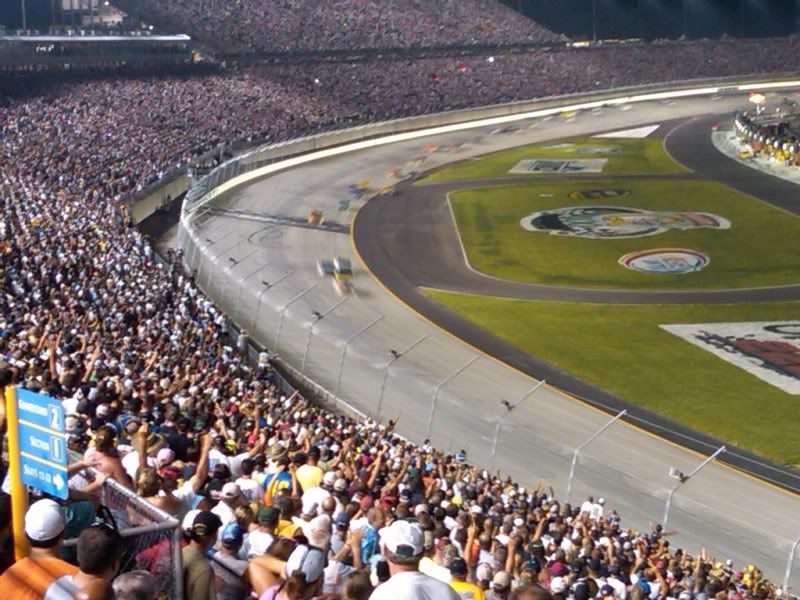 Kyle is no question a polarizing guy. Many, many people still boo him. He does have some passionate fans - though I suspect most have just crawled aboard his winning bandwagon. But you have to give the guy his due. He sets 'em up and knocks 'em down - trucks, Nationwide, Cup. He can win them all on any given weekend. And I don't think
anyone
can match him on burnouts.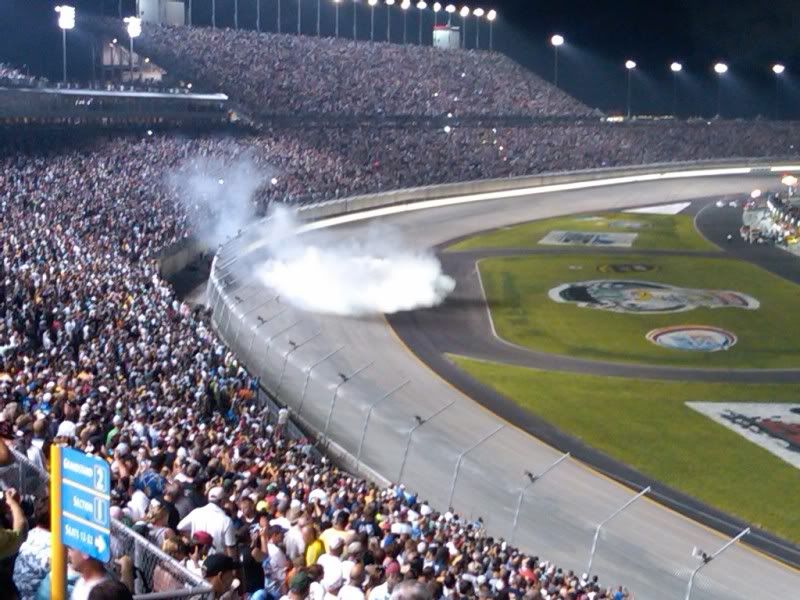 One of these days, I half-way expect him to pull a Chris Angel stunt. Light 'em up, create a tire smokescreen, and disappear into thin air before the smoke clears.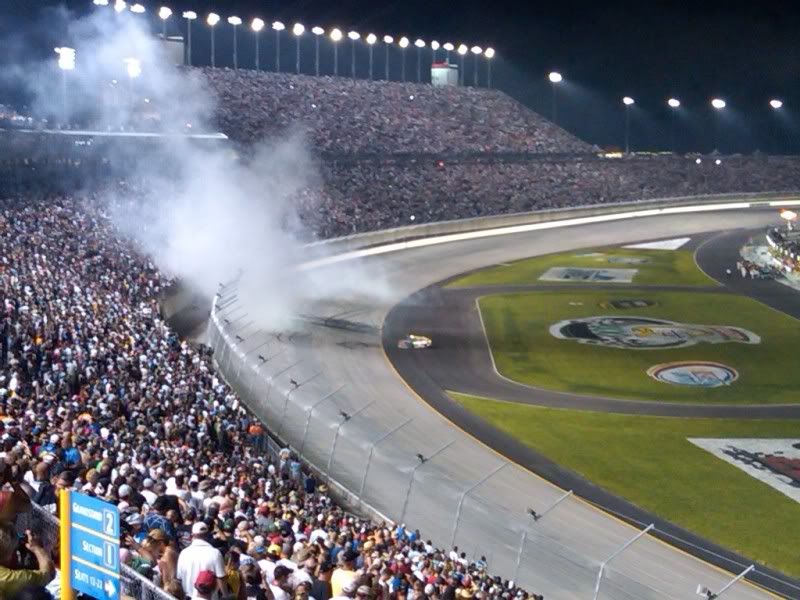 Once the checkers fell and the burnout smoke cleared, SROH member Chet and I made a beeline for the car. We had made the decision to drive throughout the night back to middle Tennessee rather than staying somewhere overnight. We made it as far as Louisville before the weekend caught up to us: road stare, excessive yawning and hunger.
Just as is often needed during a long race, it was time for a green-flag pit stop. Waffle House! Say it with me:
Waffle House!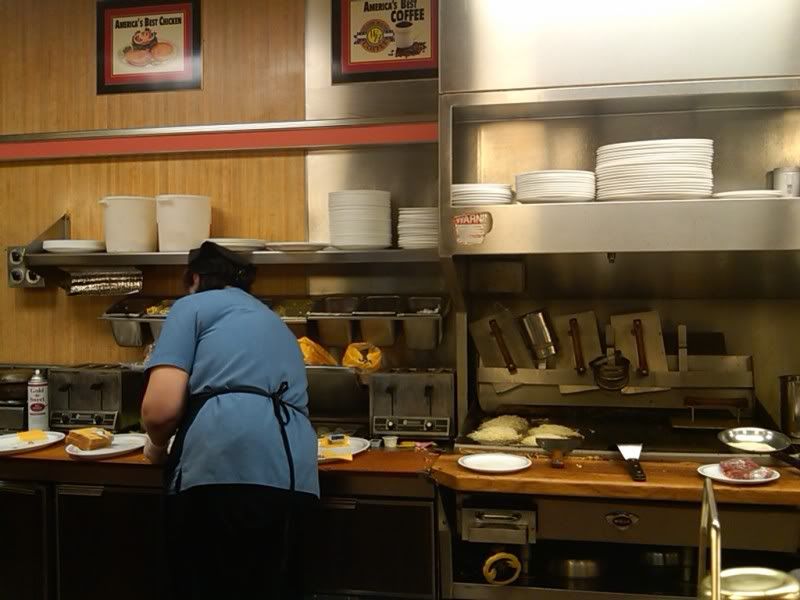 Yep. Nothing soothes the stomach and wakes the soul quite like an All Star at 2AM.
Next: The Schaefer Hall of Fame and Ring of Honor celebrate and induct many new members.
TMC