As has been well documented, the Schaefer Hall of Fame and Ring of Honor has been alive and well at a couple of speedways in 2011 - with still a few more to go before the season ends. But as we often say ...
Schaefer: Its not just for racing anymore.
(If I haven't given attribution in the past, I certainly need to do so now. That great slogan is credited to 2011 SHOF inductee Rev. Randy Esq.)
Here are a few other ways SHOFers and SROH members have schelebrated their 2011 Schaefer Schummer ... so far.
Schaefer Ring of Honor member, Bubba, made a rare appearance this schummer with his Schaefer Schushi.
Sticking with the fishing theme, the Georgia Chapter of the Schaefer Ring of Honor represented itself on the lake quite admirably. SROH member Bruton and his brother, Dale JR Ewing, hauled in 40 bluegill plus one honking-sized catfish! Being a fisherman, he might have suggested the two of them matched Schaefer for fish, but somehow I doubt it.
Rev. Randy Esq., the
most recent inductee
into the Schaefer Hall of Fame, wasted no time leveraging his enshrinement to his advantage. He had the opportunity to meet famed car owner, Richard "Rowdy Pounder" Childress.
Though this had to have been a memorable event, I wish the esteemed Rev. could have worn his Schaefer shirt under his button-down. It would have been cool to see him rip it as if he were Superman getting ready to rescue the party.
Randy is also getting ready to race in the
Chump Car World Series
event at Virginia International Raceway this weekend. With the extreme heat being experienced this summer, he thought it would be a good idea to order a "cool shirt" to circulate water against his skin as he drives.
Check out the manufacturer. Though spelled differently, the spirit is there. Nothing keeps you cooler on a hot schummer day than a cold Schaefer.
Speaking of the heat, Bruton once again took his Schaefer experience to Daytona Beach, Florida in July.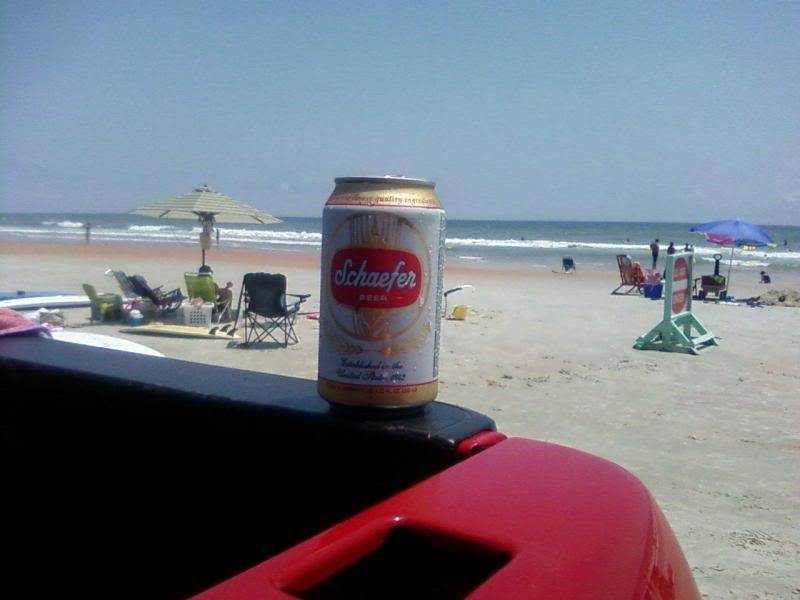 He loaded up his truck before heading for Florida for the
Firecracker
...
Pepsi
... Coke 400. Packing the old school beer in the truck convinced him to go old school with his hats. Here he is sporting the Union76 colors,
formerly
the official fuel of NASCAR.
Once he settled in at Daytona International Speedway, he wanted to make sure all around him knew how old school he was. An STP cap, an RPM/A.J. Allmendinger retro-Richard Petty scheme koozie, his SROH shirt, and of course an ice cold Schaef.
One word of caution for future races though Bruton: As you are mugging for the camera, you might want to keep an eye on guys around you who may be conspiring to kick your ass so they can steal your Schaefer.
After returning home from the beach, Bruton continued his fine ways of Schaefervangelism with family, friends, and neighbors. Upon tasting an offered Schaef, one of his neighbors quipped "Hmm, its not that bad."
Bruton also excels at pairing Schaefer with great meals. A couple of examples include hot wings and fries...
...and another includes a tasty-looking pork tenderloin.
TMC even got into the action away from the track. One of my experiences was more taxing than enjoyable. After spending the weekend at
Kentucky Speedway
, I returned to reality to seal my cedar fence. I only needed 9 hours, 20 gallons of sealer, and 2 Schaefers to complete the job.
A BRIEF INTERRUPTION FOR A PUBLIC SERVICE ANNOUNCEMENT
Fellas, this label provides sound advice for any strenuous activity ... including sealing a fence.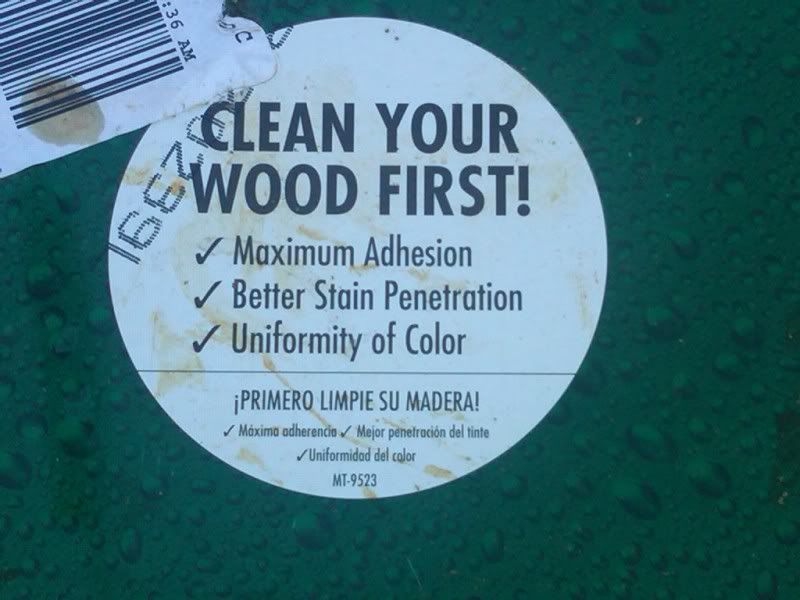 Back to the blog...
But while Schaefer helped make a tough job bearable, I did experience some good Schaefer-related times earlier this year in Portland, OR.
A friend of mine took me to a several great places. Sadly, I must say procuring a Schaefer during our crawl wasn't possible - but great Schaefer experiences were shared nonetheless.
One place we quaffed some local brews was The Pub At The End of the Universe...
Another place was the Clinton Street Pub which served two of Schaefer's cousins - Hamm's and PBR. Once inside, I was pleased to find they had another cousin on draft - the long-tenured, Pacific Northwest Olympia. As with all the other yard-beer brands Pabst now owns, I'm quite certain the original recipe for Oly is no more. Yet for nostalgia reasons, I had to have one.
My eyes quickly opened and my pulse quickened when I saw this clock. I truly thought that yes indeedy I was going to get a west coast Schaefer after all. However, it wasn't meant to be. The clock was merely decorative and not a promotion for the beers they had. Close but no
cigar
... err ... Schaefer.
After our pub crawl ended, we went to the infamous
Voodoo Doughnut
.
I was goaded into trying a doughnut bar with maple glaze and crisp bacon on top. One word: phenomenal. Even when downed ... near midnight ... upon multiple varieties of Portland brew.
The next day, I drove to Tillamook, an Oregon coastal town a couple of hours to the west of Portland.
Todd Snider
, one of my favorite singer-songwriters, lives in Nashville now but is originally from Portland. He has a great song titled Tillamook County Jail.
So opting for a bit of a
when in Rome
attitude, I found the Tillamook city limits sign and the police department and jail and decided to enjoy a bit of a Schaefer in their presence. (I was able to enjoy at least ONE west coast Schaefer - the one I packed in my suitcase.) Not the entire thing mind you - just enough to get my photo-ops and move it on down the line. I was a photo-op seeking tourist - not someone stupid enough (hopefully) to get an extended-stay, behind the scenes tour of the jail.
Finally, the triple-digit heat of 2011 sometimes makes one conjure crazy images if too much time is spent in it. There have been a couple of times this year that its happened to me. One odd image I visioned was my attempting to drink a can of Schaefer larger than me!
Though to be honest, I've not yet reconciled if its a nightmare ... or sweet dreams.
To be continued...
TMC