Third and final in the series.
As has been well established, Kentucky Speedway had its share of problems with its inaugural Quaker State 400 Cup race - the overwhelming majority of which were self-inflicted. But as the old saying proclaims "the show must go on". The race was held, the stands were packed, and the Schaefer Hall of Fame and Ring of Honor represented admirably. Actually, the race weekend was quite a patriotic affair. We had rednecks and white trash celebrating in the bluegrass state.
After withstanding morning thunderstorms south and east of the track before our arrival, we rolled in Friday afternoon and soon
rolled out the barrel
- or at least a few cans from it. Before unloading vehicles or setting up a canopy, we wanted to kick off our weekend as always do - with a celebratory Schaefer.
To great times, great friends, great beer and a great parking spot!
Once we got our stuff set-up and the first one down, we inducted our first new Schaefer Ring of Honor member of the weekend. He was from Minot by-cracky North Dakota and was ecstatic about the Schaefer experience.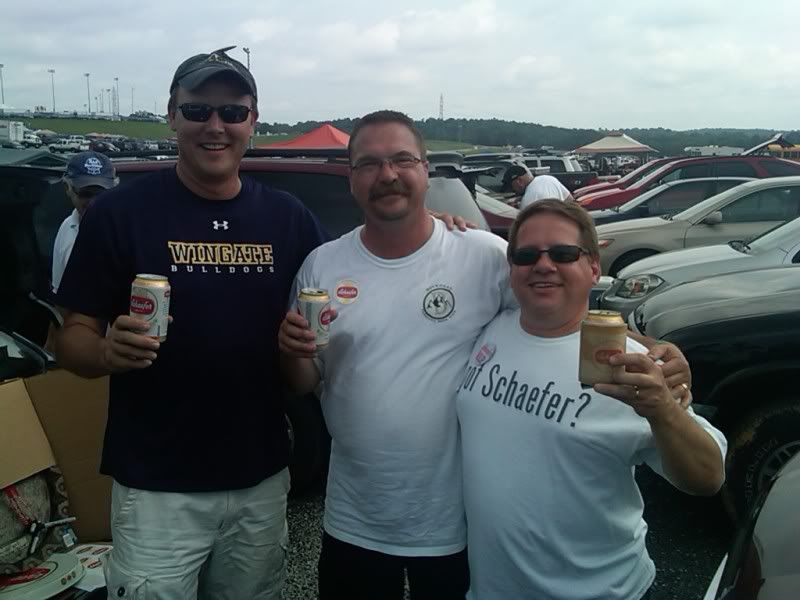 SHOFer Philly gave him a Schaefer Ring of Honor shirt, and he agreed to Schaefervangelize the folks back home. He now represents the only SROH member from the Dakotas. (Now that I think about it, he is the
only
person I've ever met from North Dakota.)
We had some super nice folks tailgating immediately across from us. They offered us burgers to eat and use of their Nationwide tickets to watch Cup qualifying. (They wanted us to return the tickets so they could use them for the Nationwide race and asked that we leave them in the bed of their truck. Nice and trusting folks - hard to find these days.) This guy from Vermont was tailgating with them.
As with our new North Dakota bud, he may be the only person I've ever met from Vermont. Except for Ben & Jerry. However, I really haven't met them. I've just overpaid for their ice cream.
After sampling his Schaefer, he paused, pondered, and then said softly "yes, this is a beer that tastes like its meant to come from a can". We took it as a compliment.
As a contrast to the über subdued Vermont guy, we also encountered a drunk, loud, foul-mouthed chick from Florida by way of Ohio and Missouri. After getting mouthy with us about Schaefer, we extended an offering to share one with us. I pulled 2 beers from the cooler still in the six-pack ringer - one for her and one for me. She smiled, sipped, and then cackled loudly about the greatness of Schaefer and then her "fondness" for Carl Edwards. After she had her one Schaefer (on top of everything else she'd been swilling), she provided perhaps the most...uh, um...interesting autograph on our Schaefer banner.
As
blogged earlier this week
, we left the track as the Nationwide race began. We stopped by
Longnecks Sports Grill
in Wilder, KY - about 45 minutes from the track. Longnecks was a pretty neat place with good pizza and wings, cold buckets of Bud (sadly no Schaefer), and nice TVs featuring the Nationwide race and the Cincinnati Reds game.
After dinner, we soldiered on to the bustling metropolis of
Ripley, Ohio
- population 1,745 per the 2000 U.S. census. The brother-in-law of SHOFer Philly and nephew of SHOFer Uncle D, John and his wife hosted us in their 125 year-old farm house. Though it was about 90 minutes away from the track, it was free, better than camping, different than a hotel, and added an element of class not normally experienced by the SHOFers. Its probably the closest the Schaefer Hall of Fame and Ring of Honor will ever come to staying at a bed-and-breakfast on a race weekend.
Then it was race day! On a slightly foggy Saturday morning, we loaded back into John's Suburban and make our trek back to the track. Along the way, we had a neat view of the Ohio River - and then we saw a nuclear power plant. It was a bit like traveling through Springfield in The Simpsons.
After beating
The Man
to get our top-shelf parking spot, we set about establishing our Schaefer Racing Domicile.
It was then time to formally induct John as our newest member of the Schaefer Ring of Honor. His providing of housing for us, driving us to and fro, and immediately enjoying Schaefer made him a most deserving candidate. His induction also earned him a new SROH nickname: "Port-a-John"
Kentucky is primarily known for three things: basketball, horse racing and bourbon. I'm too short to play hoops, and I'm too fat to be a jockey. So I opted to commemorate our race trip with a shot of Kentucky's own Maker's Mark for each of our Schaefer crew.
Presenting the 2011 Kentucky Speedway Schaefer Racing Hall of Fame and Ring of Honor - with a can of Schaefer and a Dixie cup shot of Makers.
Schaa-loot!
Ooooh-wheee!
Shudder head to toe.
L to R: Will The Thrill, SHOF TMC, SROH Rick, SROH Chet,
SHOF Uncle Dave, SHOF Philly and SROH Port-A-John
While the drunk chick provided the most profane (and entertaining?) signature on our banner, Port-A-John provided the most creative.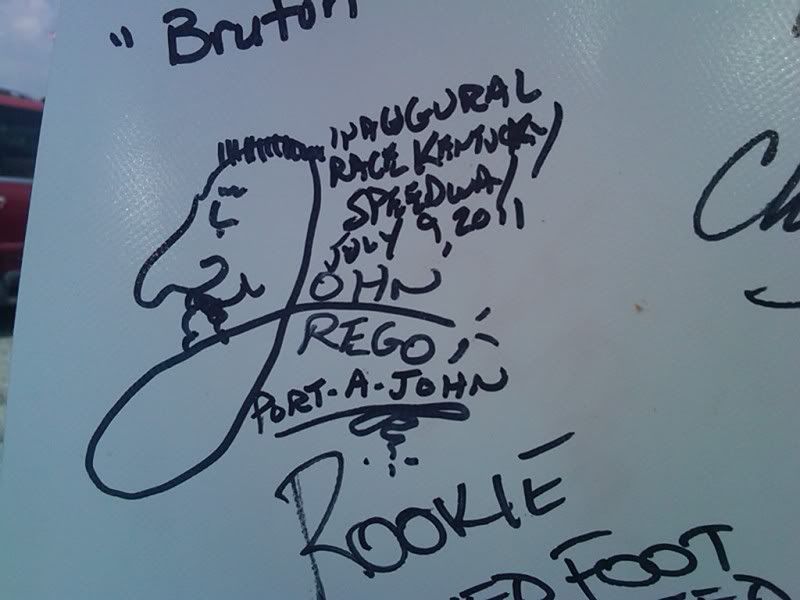 Once the Schaefer commencement and SROH induction ceremony was completed, Uncle Dave was ready to get to work. He executed his core competency for us - manning the grill. He delivered some grilled pizzas and later some exceptional brats.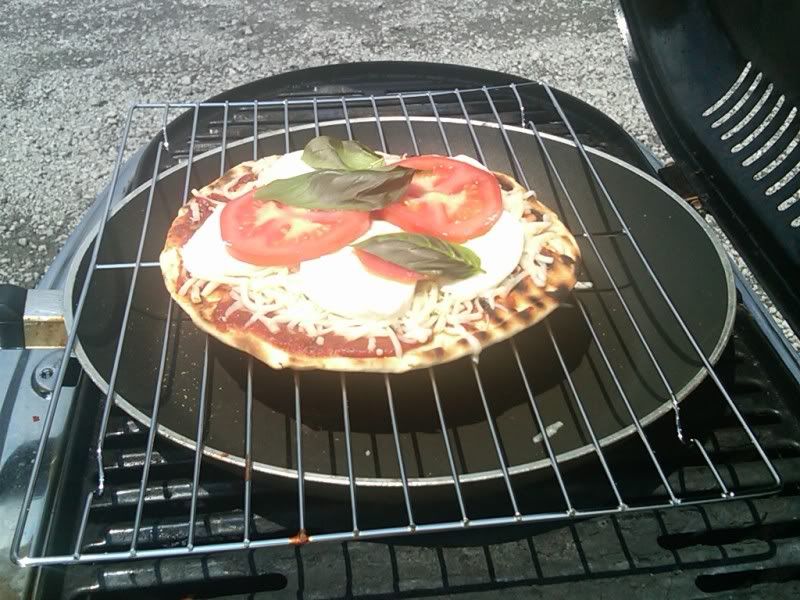 In addition to earning his way into the SROH, Port-A-John was also awarded the traditional, race-weekend, rookie stripe for attending his first-ever NASCAR race.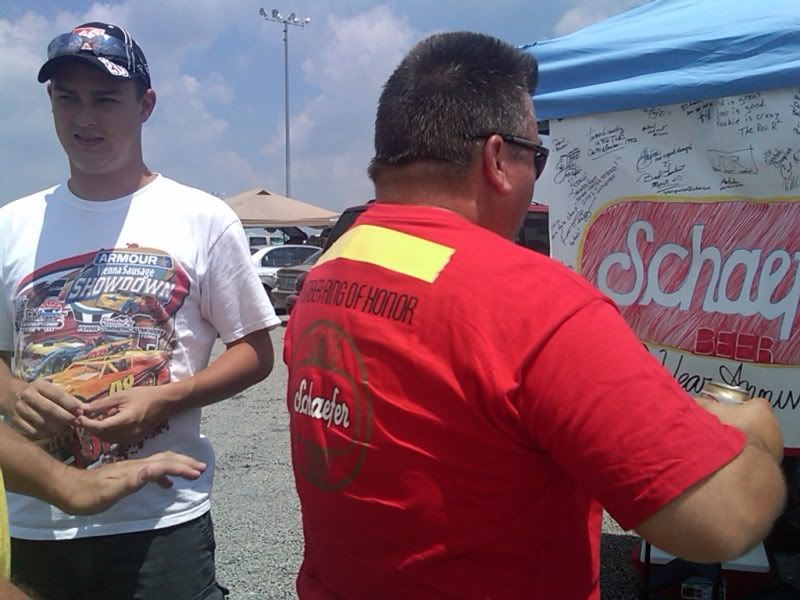 After all the ceremonial crap was done, he finally wanted to just simply sit down, crack a cold Schaef, and wait for Uncle Dave to serve more food.
These two guys from Tacoma, Washington - Rob and Mike I think are their names - now unquestionably represent the most westward chapter of the ring of honor. SHOFer Philly had a single shirt left to award. He gave it one of them and encouraged them to share the Schaef experience ... and the shirt ... with others.
Clarksville Chris climbed aboard the SROH. He is a friend of SROH member Rick, and I met him during our visit to the Stanley Tools hospitality tent and garage tour.
This guy is from Altoona, Pennsylvania. As Schaefer began to move away from its Brooklyn roots, it built a modern brewing facility in Allentown, PA in the early 1970s. Allentown isn't Altoona, but this guy is closer to the origins of Schaef than we are.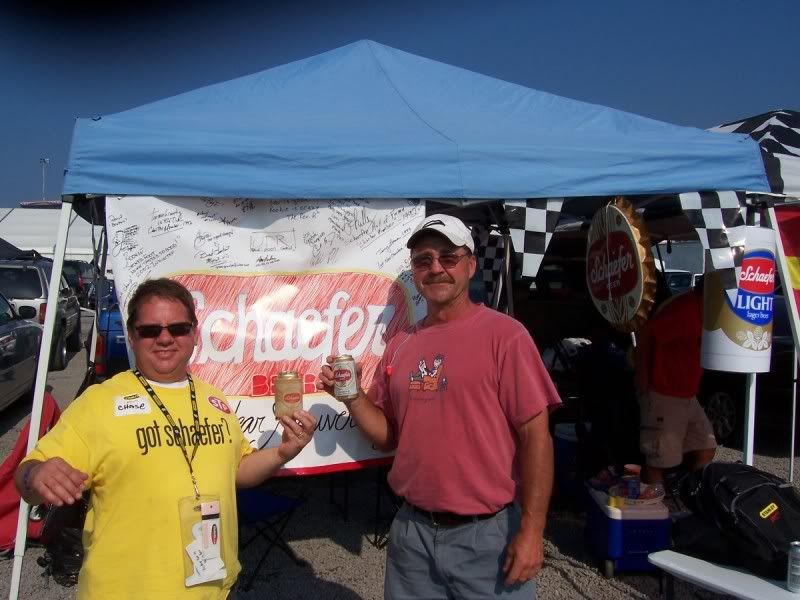 Quite frankly, I don't remember where this next guy is from. By this time of the day, we'd welcomed
many
folks into the SROH - and renewed our own commitment to the SHOF and SROH many times over. So I did well to remember the track where we were, where I parked and my seat location - much less the hometown of a middle-aged dude holding a Schaefer bucket. I did appreciate, however, his commitment to old school with his Winston Cup Series cap.
I can't remember this guy's name either. But he and his wife found us right before we tore down our tailgating gear to head to the race. As I recall, he said he is from Ohio, has had plenty of Schaefer in his day, and couldn't believe we had it. So he had another one. His wife? She was a margarita-drinking, anti-beer snob.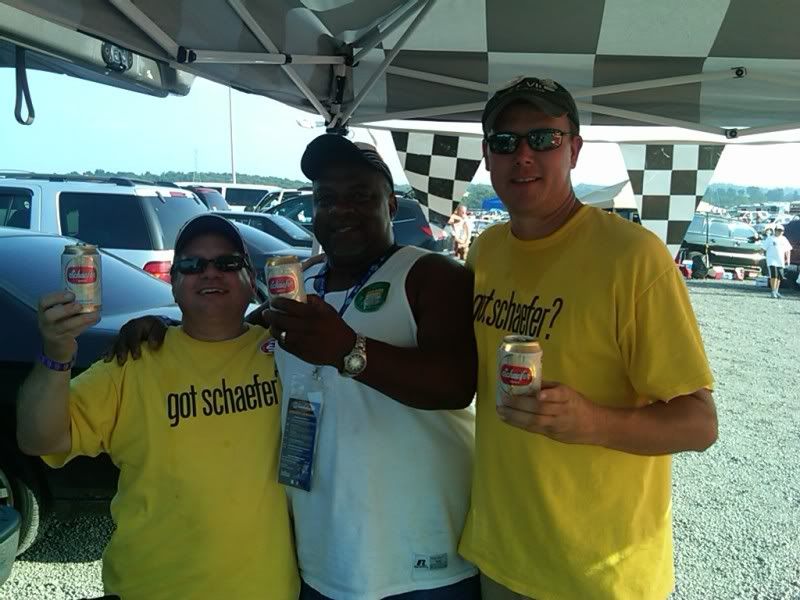 Many folks returned home with war stories of slow traffic, rotten parking, long bathroom lines, and concession outages. Some will return for year two - others wouldn't step foot on the property if you paid them.
As for us, we had a grand time. We met a ton of cool, new, weekend friends. We shared the Schaef freely. The Schaefer Ring of Honor was expanded greatly to include states such as Vermont, North Dakota, Washington, etc. Will we return? Time will tell. Provide the tickets and a cooler of cold Schaefer though, and I'll bet our decision could be made rather quickly.
TMC