I continue to read with amazement all the stories of horrific traffic and parking at Kentucky. Its even more amazing to me because
we were there
and had minimal problems at worst.
I plan to post a handful of blogs about the race in the days to come, but I'll start with the number one issue of the race weekend: traffic and parking. Yep, a whole blog devoted to the heart-pounding theme of ... traffic. Yet, this entry has a good vibe to it vs. the rotten one many experienced.
We arrived at Kentucky Speedway on Friday around 1PM. Schaefer Ring of Honor member Chet and I arrived from the south/Louisville direction. The rest of our crew came from the north/Cincinnati side.
I got off I-71 at exit 55 (one of 2 exits for the speedway) and waited about 15 minutes for our Schaefer HOFers to arrive. Once they caught up to us, it was easy money rolling into the track. As a matter of fact, we drove all the way up to the front of the track and parked.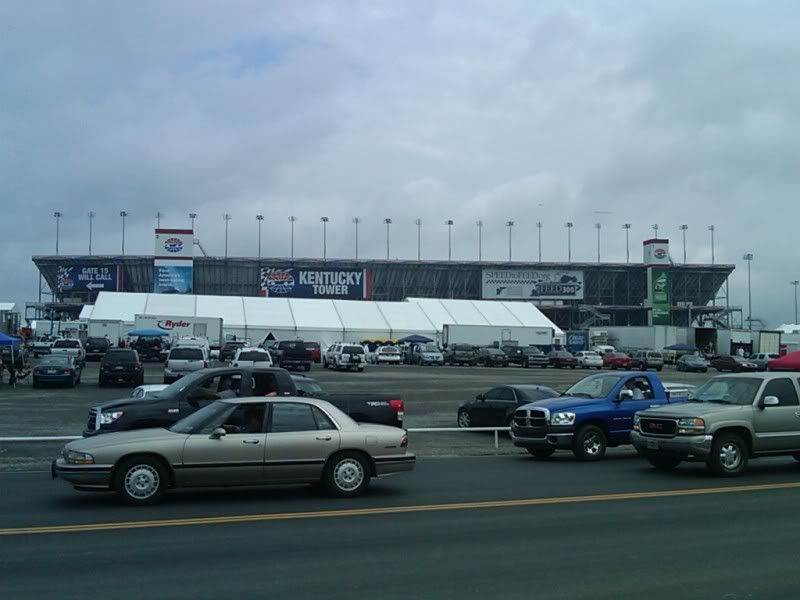 We set up a canopy, cracked a Schaef (or two or...), met a lot of great folks around us from places as varied as North Dakota and Vermont, and toured the souvenir trailers and special exhibits.
The Nationwide race was not in our plans. We mainly used Friday as our scouting expedition - determine the right exit, spot a lot, enjoy some fun, and then leave. As the race began, we slipped out against the flow of traffic - again back to the mile marker 55 end with no problem. As we turned north on I-71 and headed towards Cincy, it was quite apparent there was a problem. Just as reported, cars were lined up on I-71 trying to get off at exit 57. Interestingly, no consistent pattern of traffic seemed to be going the extra 2 miles to exit 55.
Because we were staying about 90 minutes away from the track, we made the decision to leave my car parked overnight. I locked my doors, loaded a bit of our gear in the big ol' GMC Suburban, said a quick prayer that my car would be in the same spot and condition Saturday morning, and left the speedway property.
We got back to the track around 10:00 Saturday morning. As we approached exit 57, the interstate was already backing up about a mile and a half. We stayed in the left lane & buzzed down to exit 55 where pretty much
no one
was coming in - including from the south/Louisville direction! Just as with Friday, we turned on Speedway Boulevard and drove about a half-mile in. Then it got a bit interesting.
One of our planned objectives Friday was to find a desired lot for Saturday. Two realities, however, negated that objective.
One, the temperature was hot on Friday, and we had Schaefer. So roaming around looking for future parking simply became a non-starter..

Two we knew we had to avoid exit 57 and anything near it at all costs. We really didn't care where to park on Saturday as long as it wasn't on

that side

of the track.
So as we crept along on Speedway Blvd. Saturday, we still didn't know the best place to park. The desirable place to park was where we were Friday - right behind the Kentucky Tower grandstands and where my park was (hopefully) still parked.
SHOFer Philly got out of the Suburban and started walking as he tried to scout us a place. Options were minimal because all the good lots we saw were for reserved camping - not general parking. Like a Star Wars tractor beam, however, we were beginning to get pulled up the hill with a high likelihood of us being routed to the wrong side of the track.
Philly called to say the cops weren't going to let us go back where we had been unless we had a parking pass (which we didn't). So the decision was made to turn around because we were
not
going near that exit 57 mess.
After getting to the road leading to where my car was (hopefully) parked, we told a cop we needed to turn around, but he said "no". So we took it up a notch and said all we wanted to do was loop back. Again, a firm "no" was the reply. Finally, a second cop said "c'mon, c'mon, turn it around and GO! Let's move!"
Our crew let Chet and me out of the truck quickly so we could walk to my car and move it to wherever we were going to park.
After no more than 20 paces or so, I heard "honk honk" as our Suburban zoomed past the two of us! I said "well, I'll be a sonuva..." under my breath because I immediately knew what had happened. Sure enough, a short walk later we found our guys parked even closer than we had been Friday - just about 50 yards from my car.
Philly said as they were trying to turn around, he noticed the cops already had turned back to focus on in-bound traffic. He said to his brother-in-law who was driving "if you have any stones, you'll hammer it RIGHT NOW".
When the dust settled, we went from exit 55 to being parked in about 45 minutes. We were 20 yards away from port-a-johns without long lines, 100 yards from hospitality village, and only about 1,000 feet from the front gate!
See the blue and checkered flag canopies next to each other? That was our spot.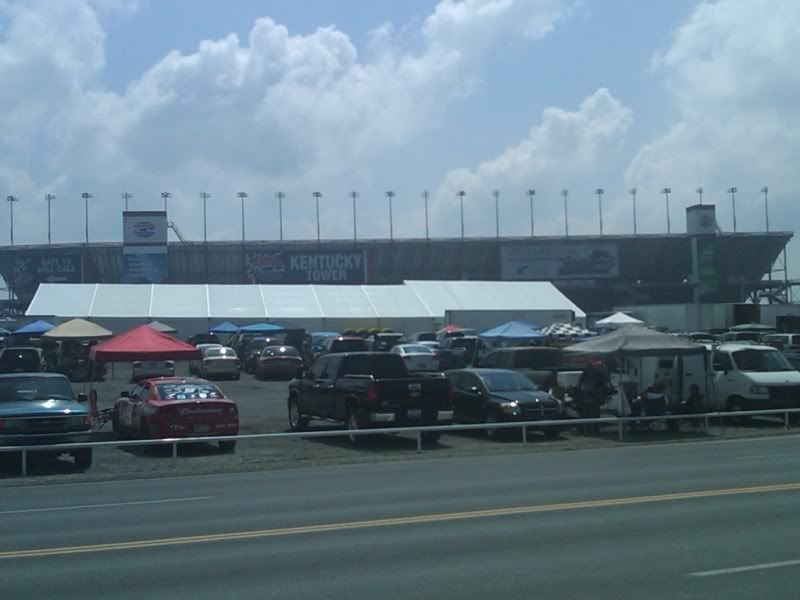 After the race ended, we had all planned to meet back at the truck, fire up the grill and wait out the madness. But when Chet and I got back, the rest of our boys were already gone! My phone rang, and Philly said the road was empty so they struck while the iron was hot. They headed for mile marker 55 - not 57 - and said they had no problem getting out and turning back north towards Cincy.
We weren't quite
that
fortunate, but it still only took maybe 45-60 minutes to get to (you guessed it) mile marker 55 on-ramp. From there, it was smooth sailing all the way back to Tennessee. I opened my front door at 4AM CT Sunday - 250 miles away from the track. Sadly, many folks didn't get off speedway property until 3AM ET ... or later.
Why in the world they didn't re-route more traffic to 55 - before and the race is beyond me. It was so underutilized compared to 57 - at least it seemed that way at the time of our two arrivals. I feel for those folks who sat for hours - both Fri and Sat - both before and after the race.
In our case, however, it was better to be lucky than good - though I think we had some of both going. Will I go back? Well, the jury is still out. While we were both lucky and good this year, I'm not so boastful as to believe we could pull of the same coup a year from now. Besides, we were there for a race which wasn't a great one in its own rights. But we'll see.
More race stories to follow...
TMC