The fall of Schaefer ... but not 'fall' as in decline. As in season. As in autumn ... and early winter.
In the fourth quarter of the year, colors changed from green to a collage red, orange, yellow and brown. And then the leaves fell. Trick-or-treaters knocked on doors toting plastic pumpkins and wearing masks atop their heads instead of on their faces. Turkeys were carved as football was played. We shopped, munched, gathered as friends and families, celebrated the birth of Christ and brought in a new year. For the most part, the enjoyment of Schaefer was there - well perhaps except for time in the pew during Christmas Eve services.
After
parting ways at Dover
, Schaefer HOFer Philly let no moss grow under his feet. He kept his foot in the racing and Schaefer throttle, rallied fellow - and most recent - Schaefer HOFer Rev. Randy Esq., SROH Wannabe Cueball, and um, uh some other guy for the Bank of America 500 at Charlotte Motor Speedway.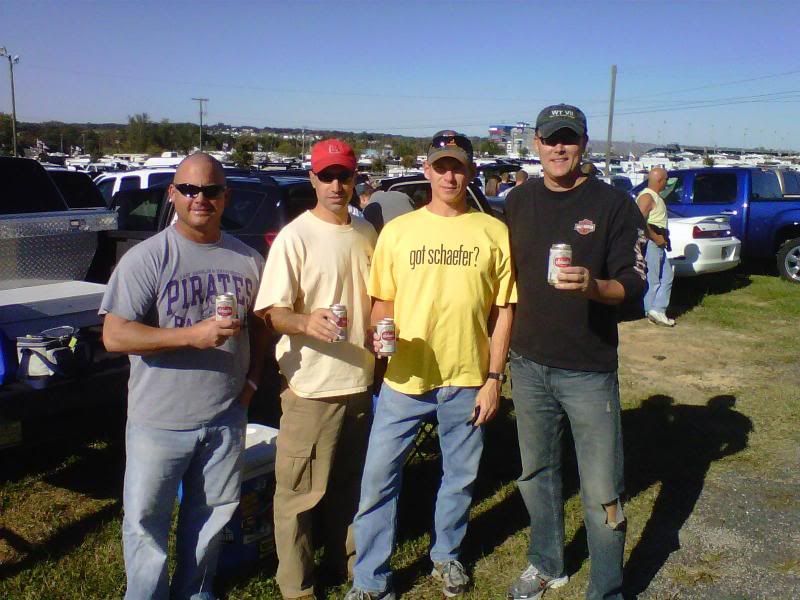 Speaking of Rev. Randy, he began the Christmas season with good ol' low-country boil. The North Carolina Chapter of the Schaefer Hall of Fame pulls off this meal regularly and exceptionally. Sadly, as a member of the Tennessee Chapter, TMC is never there to enjoy it.
Back to SHOFer Philly, he celebrated his birthday in November. Who could ask for anything more? A singing bass, a Schaefer, and apparently placemats to match the clock on the wall. What time is it? Well, duh - time for another Schaefer!
Not to be outdone, SHOFer Uncle Dave drove from Dover, DE back to Cleveland, OH and then to the beaches of the Florida panhandle a couple of weeks later. He went from the cold, damp, gray skies of Dover to this ...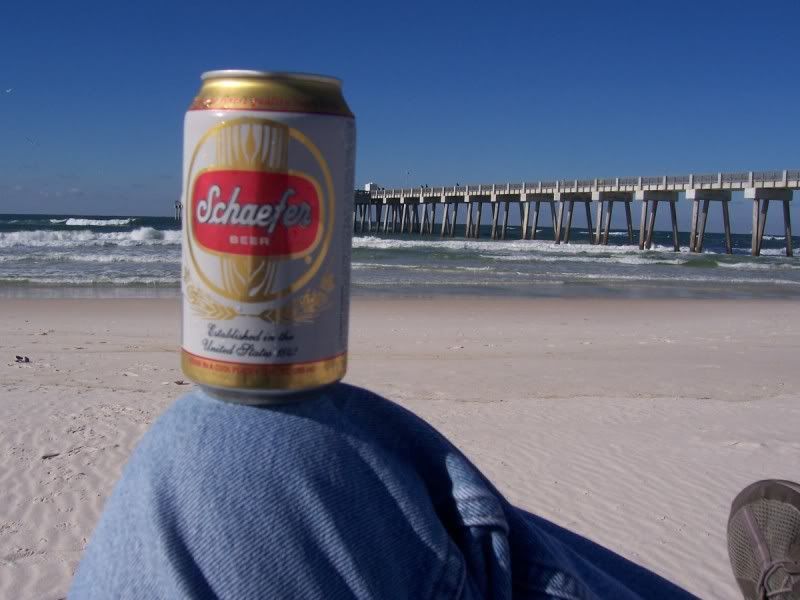 After sticking his toes (and who knows what else) in the sand, he drove back up to central Alabama for the Good Sam Club 500 at Talladega Superspeedway with SROH member Rick.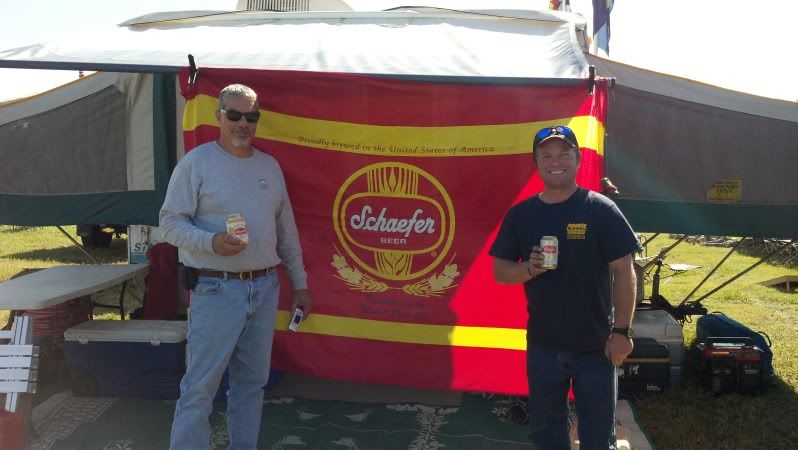 The two of them used the power of Schaefer to get a tour of the mobile NASCAR Technology Center.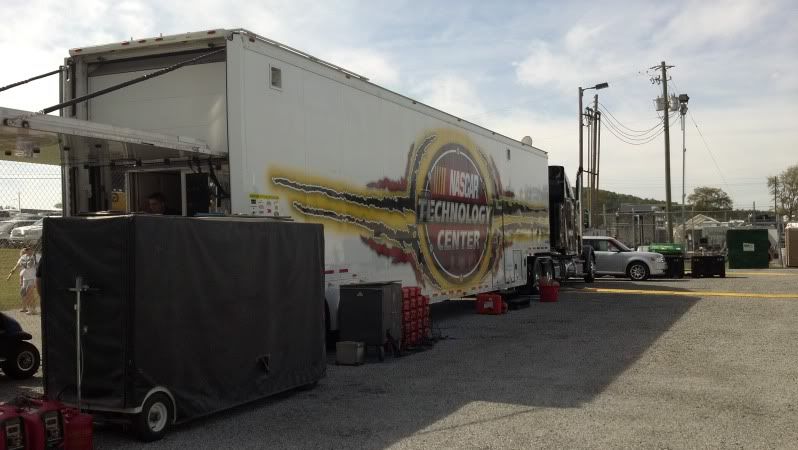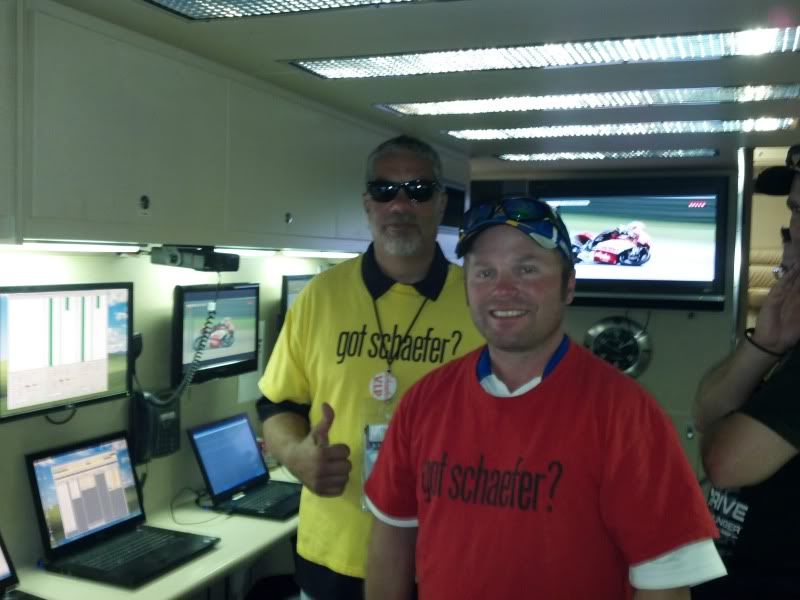 And they then took in the Talladega spectacle. Note: If you haven't been to a race before and think you might hit just one, visit Talladega. The speeds are spectacular, some of the passes will take your breath away, and people-watching experiences are unmatched.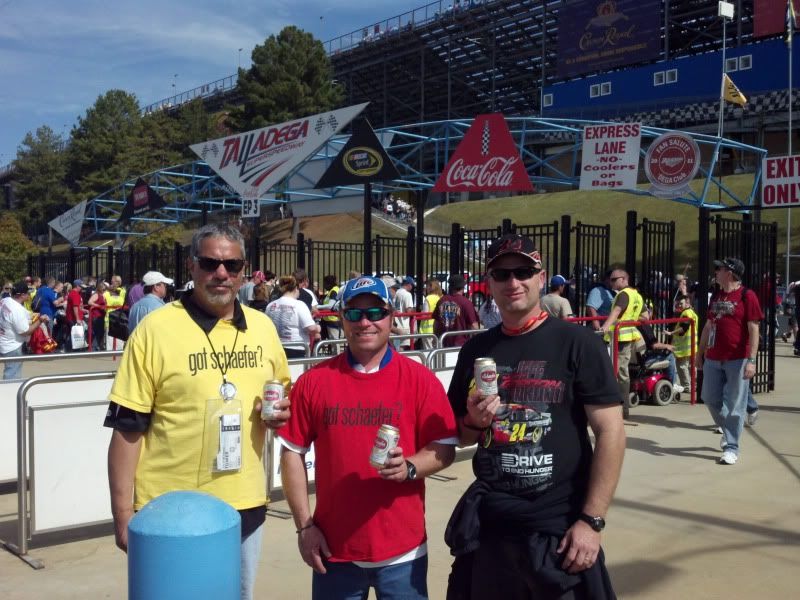 Rick continued to keep the Schaefer spirit alive by sporting the official SROH shirt in Key West, Florida right before Christmas.
For TMC, it was off to Newark NJ for my annual trip there. The Hampton Inn where I was staying had all sorts of problems getting my room ready, and then their room key system had to re-set for the entire hotel. No biggie. I needed to make a stop anyway at
Liquor Warehouse
. In my weakest attempt at crooning like Robert Plant, I wanted to sing ...
and I'm climbing the stairway to Schaeferland...
A month earlier at Dover, some guy next to us was drinking Sagres, a Portuguese beer. I'd never heard of it and certainly would never have expected something like it at a NASCAR race. But now that I have tried it, I spotted it immediately in this store. Tons of it. Of course, its to be expected because Newark - particularly the Ironbound area - has a large Portuguese-speaking population.
It was great catching up with our Dover race weekend host and SROH member, 200WINZ.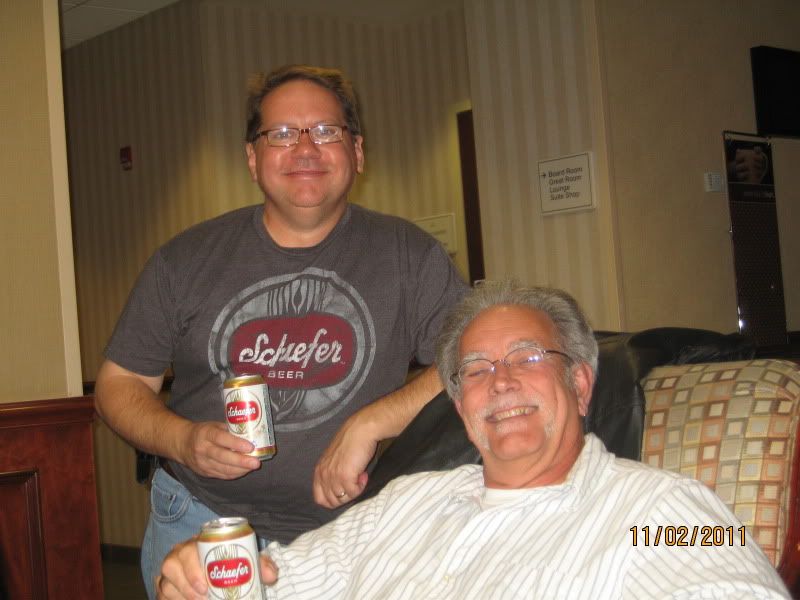 On the Saturday of my stay, the weather was perfect. After a train ride from Newark to NYC, I headed for my first trip to the doorsteps of Harlem. I met a friend of mine at
Dinosaur Bar-B-Cue
.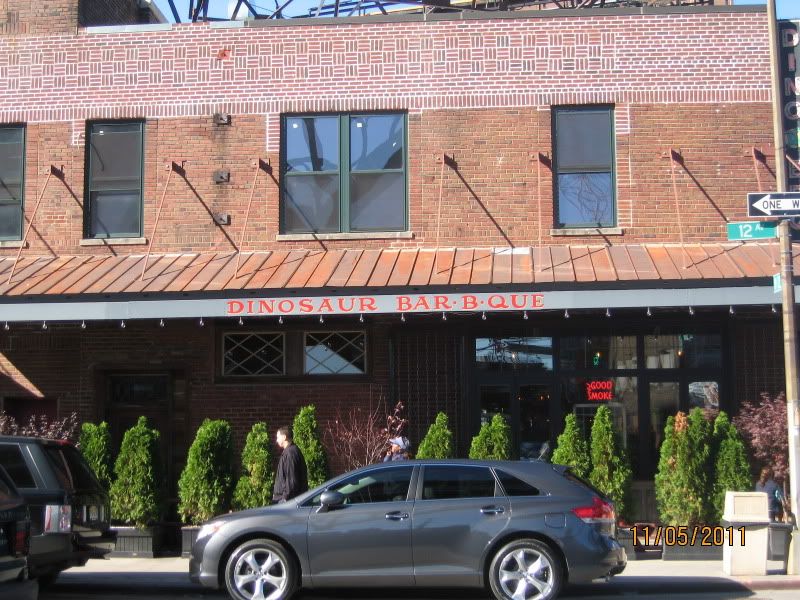 I have to admit I went to Dino with a heavy load of skepticism. Barbecue in New York City? The tag line from the old
Pace salsa commercial
kept popping in my head.
NEW YORK CITY?
But I'd researched the place and learned they sold Schaefer. So hey, it was worth a try, right? In addition to Schaefer, the food was superb! Great smoke flavor. Tender pulled pork. Big portions. Getcha some when you go to the Big Apple.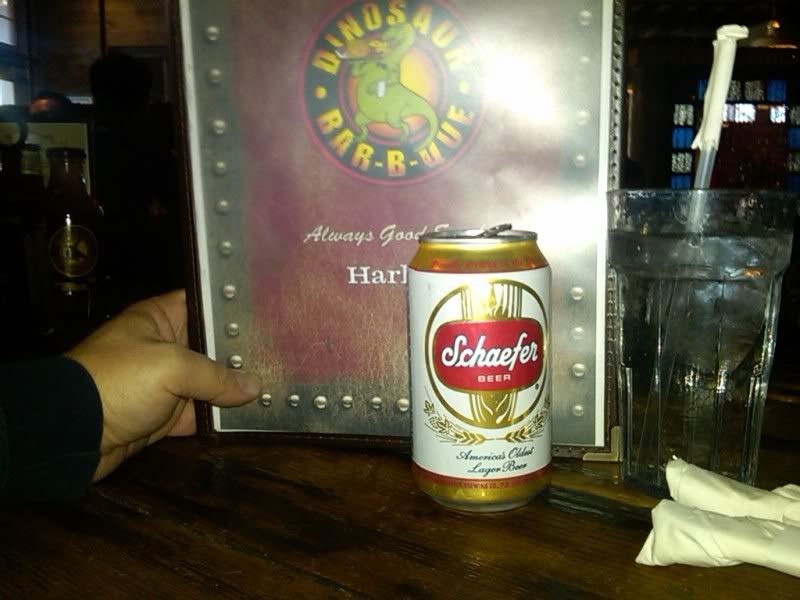 After gorging myself on a big plate of pulled pork and a few Schaefers, my friend and I parted ways. I took my time walking through parts of Central Park. I entered by
The Dakota
- most famous for having been the home of John and Yoko Lennon. In no time, I was in the Strawberry Fields section of the park. Many folks were gathered around the "Imagine" inlaid disc. Some were reflecting. Some were crying. And despite signs asking for respectful quietness, one guy was blaring Santana on his jambox as he sat on a park bench.
As I stood there a moment, the thought that went through my head was "Imagine if I could still get Schaefer in Tennessee."
After enjoying a few hours of just strolling through the park, I made my way to Carnegie Deli. The place boasts that its the "world's best". Folks (mainly tourists) rave about it being the penultimate deli in all of New York.
But riddle me this Batman: how can this iconic NYC deli
not
have the iconic NY beer: Schaefer? They serve Bud, Bud Light, Heineken, and Amstel Light. I'm paying close to two Jacksons for a pastrami sammich, side and tip. The
least
they could do is offer me a $2 can of Schaef to wash it down.
It was then time for toomuchcountry to get himself toomuchculture. Our group left the deli, made our way to Times Square, took in the Broadway musical,
Follies
.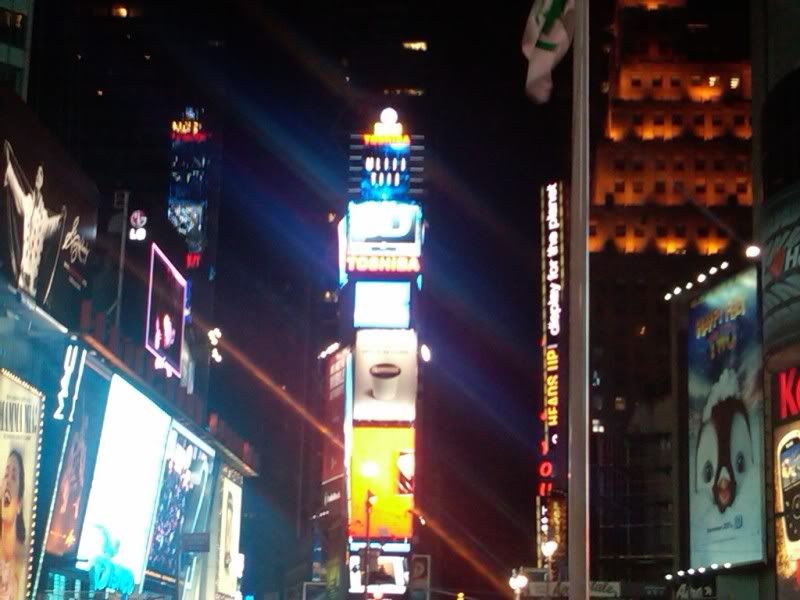 I had absolutely zero idea about any shows. Phantom and that cat show are about the only ones with which I'm familiar. But as we approached the Marquis Theater, I was struck immediately by two observations. One, the star of the show as Bernadette Peters. Suddenly, I knew I'd be interested because she has always been hot. Two, the director's name was all karma: Eric Schaeffer.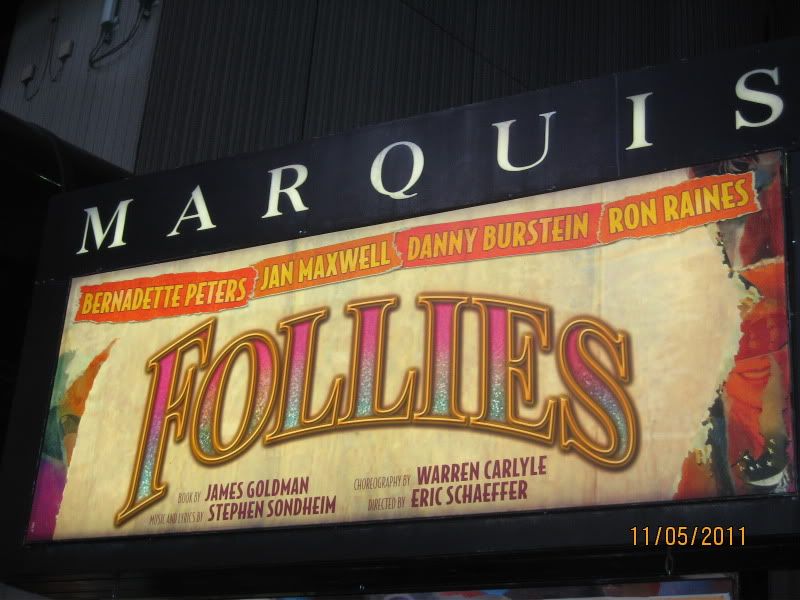 I met Tony the Hampton Inn shuttle driver in November 2010 when he picked me up from the airport. As soon as the van doors closed, I told him I was on a Schaefer search. He directed me to the right store. For my 2011 visit, he recognized me right away when I checked in at the hotel:
Hey! You're dat Schaefah guy, right?
And later that evening in the lounge, he walked up to me and sang the entire
Schaefer commercial jingle
. As Tony dropped me off at Newark Airport Sunday afternoon, I inducted him into the Schaefer Ring of Honor at curbside.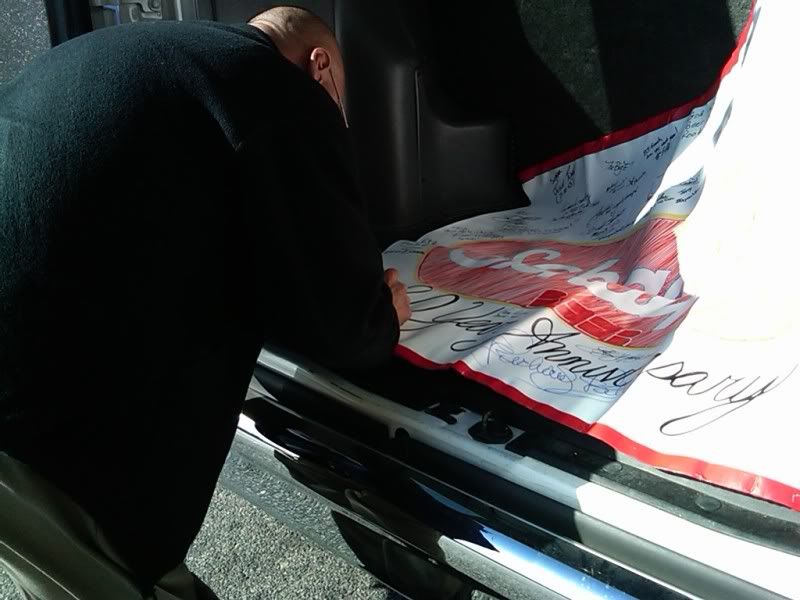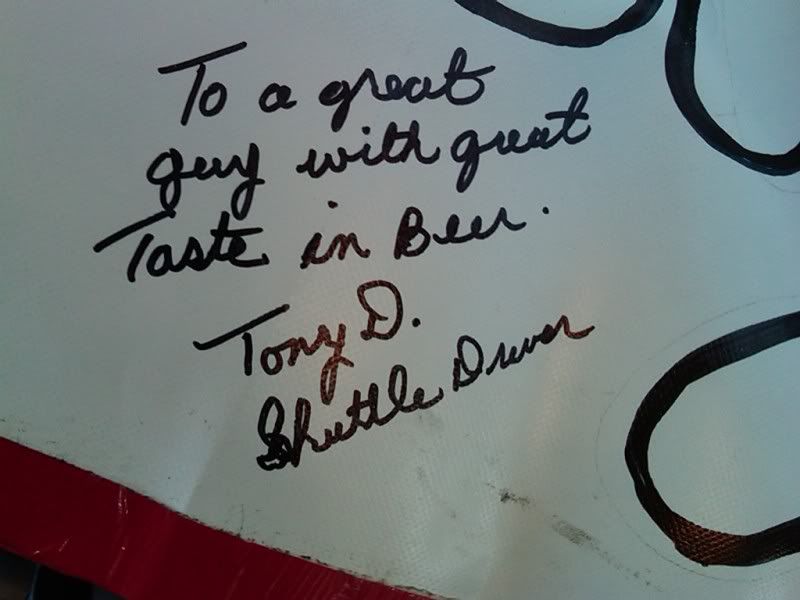 As has often been articulated here, Schaefer is a beer that unifies - not divides. That truth remains even when a Detroit Red Wings fan such as Bench Racing blog contributor,
banktruck
, and Nashville Predators fan,
TMC
, get together.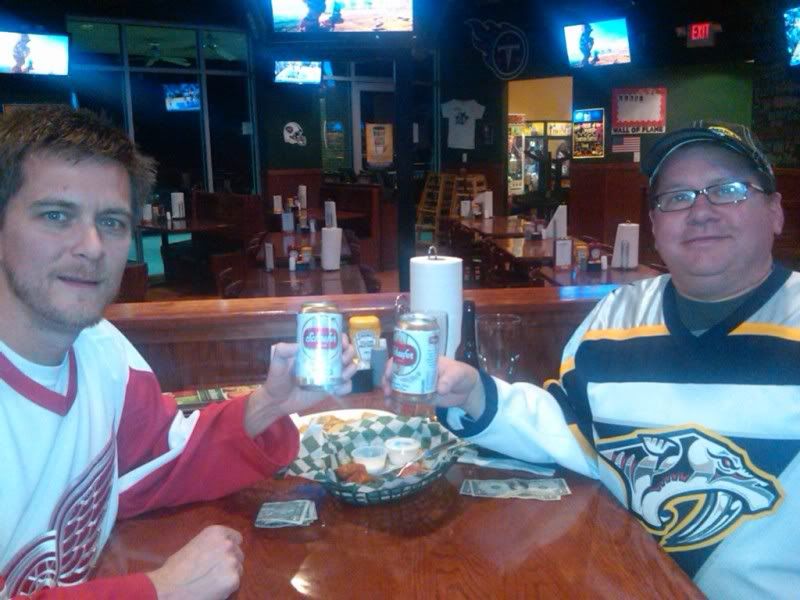 Now its time hang a new calendar. 2012. New opportunities and fresh perspectives now lay before us on how to celebrate the Twentieth Anniversary of the Schaefer Racing Hall of Fame.
TMC