1969 - Richard Petty collects his 93rd victory by winning the Motor Trend 500 at Riverside International Raceway. The win is Petty's first at Riverside - a winding road course outside of L.A. in southern California.
Petty spun off the road course twice. And despite the routine off-course by stock car drivers in general, the race was run caution-free.
A.J. Foyt finished 2nd driving for the Wood Brothers.
Foyt had a great February as he backed up his second place at Riverside with a win in the Daytona 500 for the Woods a couple of weeks later.
TMC edit: DOH! I mixed Foyt's great 1969 run at Riverside with his 1972 Daytona 500 victory. I need to better monitor my multi-tasking of researching, typing, and Schaefer imbibing.
The race was originally scheduled for Sunday, January 19, 1969. Because of heavy rains on two consecutive Sundays, the race was eventually run on Saturday, February 1.
The win was not only Petty's first in seven starts at Riverside, but it was also his first win in his first
start
for Ford Motor Company. About two months earlier, Petty stunned the racing community by announcing a switch from Plymouths to Fords beginning in 1969. So to win in his first race with his new Torino was a huge boost to the Blue Oval team and fans.
Poster
buikwag
from
JalopyJournal.com's H.A.M.B
. (Hokey Ass Message Board for the uninitiated) attended the race and gave me permission to share a couple of his great photos here (more photos from the race can be seen at the H.A.M.B. link).
Race day!
Hugging the corner tight in turn 9.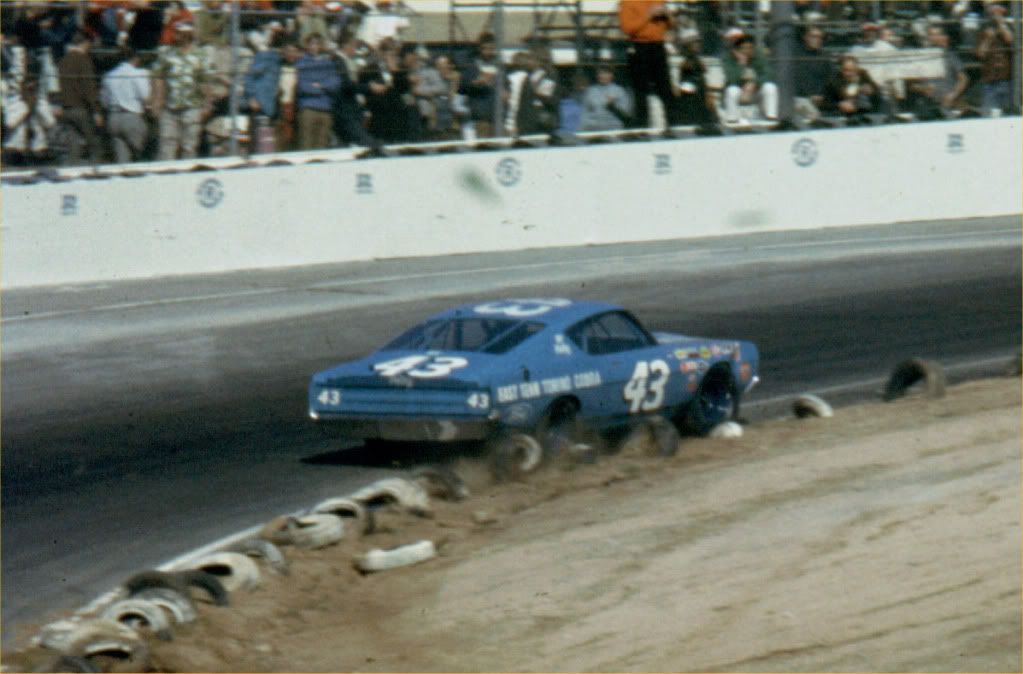 Pit stop photo courtesy of Ray Lamm
Win on Sunday, sell on Monday baby!
Article and SCR cover courtesy of Jerry Bushmire
TMC