This post is dedicated to the memory of Adam Kyler Petty who got to enjoy the celebrations of Victory Lane.
~
TMC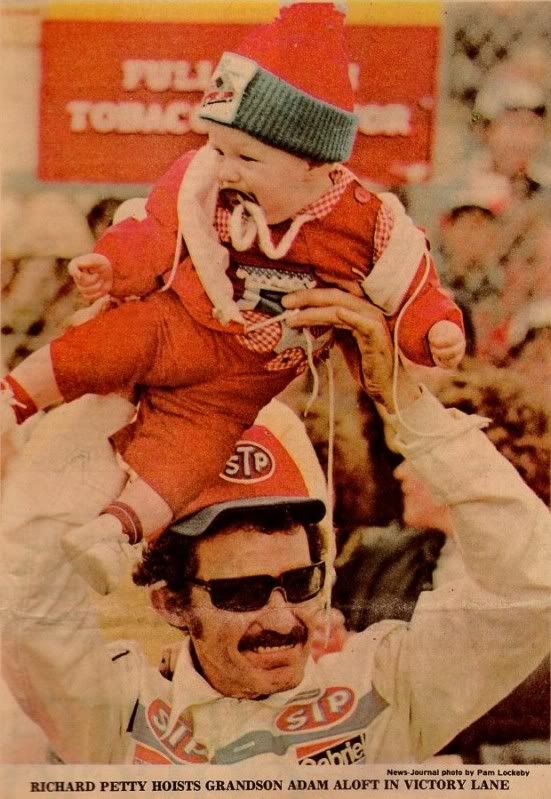 1981 - Driving a Buick Regal, Richard Petty wins his seventh and final Daytona 500 for his 193rd career Winston Cup victory.
Beginning with the second race of the 1981 season (Daytona), the teams were required to run newer, 110-inch wheelbase cars. The cars more closely matched the models of what the Detroit manufacturers were selling. Gone were the longer, sleeker cars such as the 1977 Chevy Monte Carlo, 1978 Olds Cutlass 442, and 1974 Dodge Charger. Most teams ran models with notch-back windows such as the Buick Regal, Pontiac Grand Prix, a re-designed Monte Carlo, Olds Cutlass, Ford T-Bird and even a Dodge Mirada.
After switching to General Motors' Chevy and Olds cars in 1978 through 1980, Petty Enterprises contemplated a return to Dodge for the 1981 Daytona race. They took a Mirada to January testing.
... and the other was for son Kyle who was making his first start in the Daytona 500.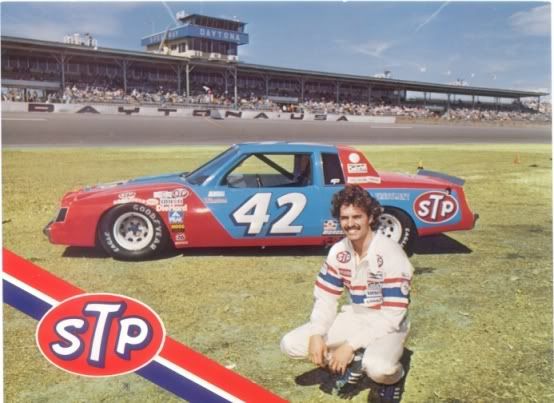 Bobby Allison's Harry Ranier-owned team noted one eligible model that escaped the view of the other teams - a Pontiac LeMans. The car had a slope-back window vs. a notch-back design. With Robert Yates-built engines and a sleeker aero design, the team had a leg up on the competition.
As a result, Bobby Allison dominated Speedweeks. He won the race pole and his 125-mile qualifying race. In the 500, he led 117 of 200 laps en route to what looked to be a convincing win.
On his final pit stop, the 28 team took a full load of fuel and tires. However, when NASCAR Hall of Fame crew chief Dale Inman summoned the 43 to pit road a few laps later, he had a different strategy. Inman called for fuel-only and no tires. In less than 8 seconds, the King was headed back to the track with a big lead on Allison because of the pit-time differential. It was too much for Allison to overcome, and Inman's heads-up call was rewarded with the King's seventh trip to victory lane in the Daytona 500.
Khalifa
, a fellow poster at
Fans For Richard Petty Motorsports
has this memory about the race:
[It was] Richard's last win in the 500 and my first time going there. I was 15. I will never forget it. I saw him pit that last time and take only fuel and I told my dad he was going to win it. He said 'I think you are right'. When he crossed the S/F line I as going absolutely nuts. After that I told my dad we need to get to victory lane. I remember I was wearing one of those puffy vests that was popular back then. We made it to the crossover at the S/F line, and I was walking onto the ladder down to the track. A huge security guard grabbed me by my vest, pulled me back up the steps and said 'I don't think so son'. Awesome memory. I'll always remember that day. The track seemed so huge to me. I've since been to 19 other Daytona 500's ... but none have come close to the excitement of that day.
From TMC Treasure Trunk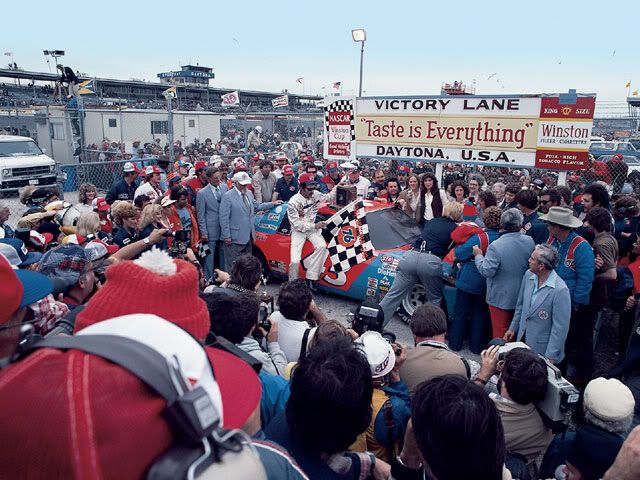 The pivotal pit stops...
The finish, victory lane, and the toll on families...
An eloquent racer's wife and memories of a young Adam...
After 190+ wins and seven championships, Dale Inman
resigned from Petty Enterprises
a few days after the win. A couple of weeks later, he announced he was
going to work for Rod Osterland
and reigning Winston Cup champion, Dale Earnhardt.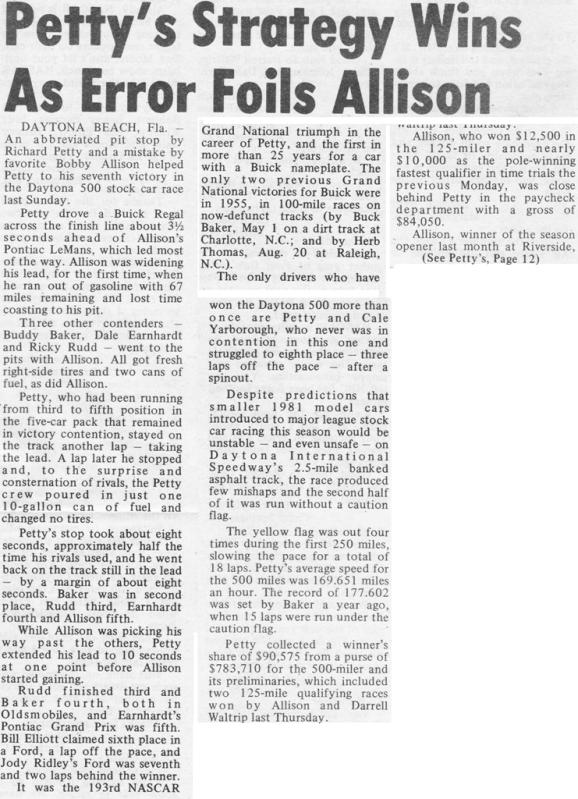 From TMC Treasure Trunk