1973 - Richard Petty wins his fourth Daytona 500 to capture his 149th career Winston Cup / Grand National victory.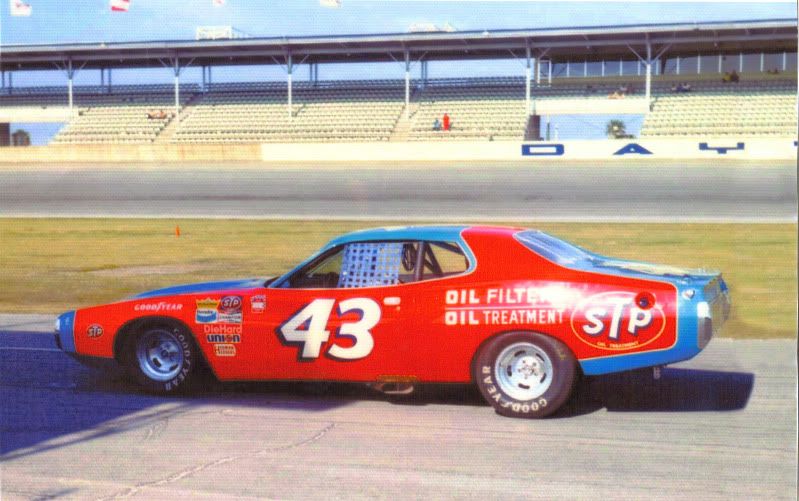 Unlike some of his other Daytona wins, Petty didn't dominate the 1973 race. He led only 17 of 200 laps. The race was dominated by 1971-72 Petty Enterprises teammate, Buddy Baker. Having moved to the K&K Insurance #71 Dodge, Baker won the pole and led over 150 laps of the race.
Baker led with 12 laps to go, and the King was second right behind him. Under green, Petty made an aggressive run down pit road, locked the tires, hit his pit box perfectly, got fuel only, and headed back out in less than 10 seconds. A lap later, Baker made a more conservative trip down pit road, smoothly entered his pit, got his fuel, and drove away. But the approach and exit strategies made a difference as Petty then had the lead.
As Baker came back to speed, he started chopping into the 43's lead. With six laps to go and Petty's bumper in his crosshairs, Baker's Dodge puked a motor. His day was done, and Petty cruised the last five laps for his fourth 500 win. Baker needed another seven years before he could claim his only Daytona 500. TMC's first 500 to see in person was the 1980 race where Baker won in the #28 Harry Ranier-owned Oldsmobile.
Finishing 12th was rookie of the year candidate, Darrell Waltrip. Yep, Ol' DW who is now known as the FOX announcer who annoys us with his
Boogity, Boogity, Boogity
bit made his debut Daytona start in 1973. Like Baker, he eventually won the 500 once - but it took until 1989 - 17 tries - to get it.
Hershel McGriff finished 5th in a #04 Plymouth. While fielded under the name of Beryl Jackson as the car's owner, the car was a second Petty Enterprises-prepared and crewed Plymouth.
For reasons unknown to me, Petty showed up at Daytona in 1973 sporting a handlebar mustache. It gave him a unique look as he'd been clean-shaven since he started racing in 1958.
A victory is always special - but a kiss from your sponsor (Andy Granatelli)? Ehh, not so much.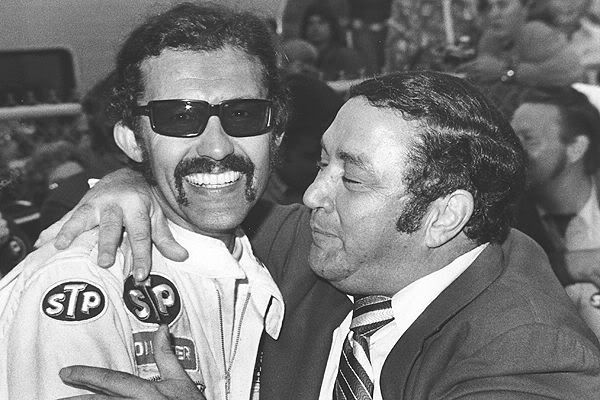 But hoisting your daughter in victory lane. Now, that indeed is a memorable moment for both.
Ahh yes, the squeezes from the trophy girls. Now,
that's
got to be the best part. Right?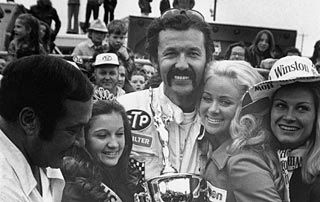 Brief recap of the race's highlights ... and a lowlight for a crushing ending to Buddy Baker's dominant day.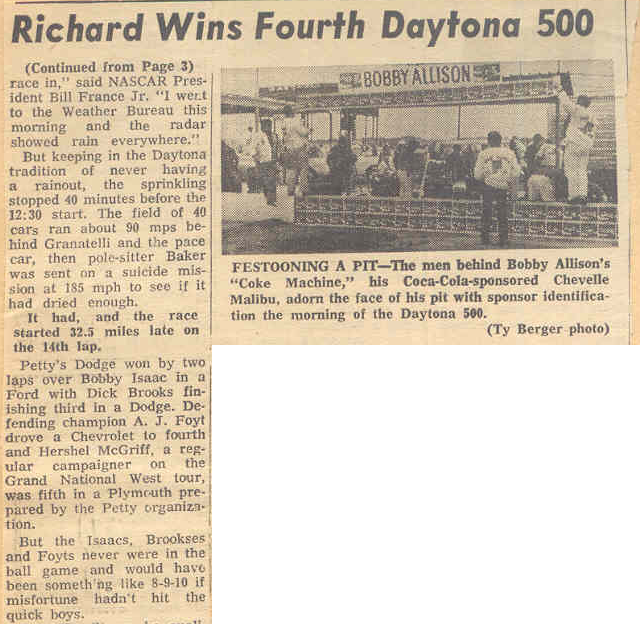 Southern MotorSports cover, NSSN headline, and
race article all courtesy of Jerry Bushmire
TMC