1964 was an eventful year in multiple ways ...
The Beatles released their first U.S. album and later appeared on The Ed Sullivan show.
The Rolling Stones released their debut album.
Super Tex - A.J. Foyt - wins his second Indianapolis 500 as Indy hero Eddie Sachs is killed
Two-time reigning NASCAR champion, Joe Weatherly, was killed at Riverside in January
NASCAR's most popular driver, Fireball Roberts, had a horrific crash in the World 600, suffered significant burns over most of his body and died about six weeks later.
And the 1964 World's Fair opened in New York featuring ... The Schaefer Center.
1964 was also a coming-of-age year for Richard Petty. He won his first Daytona 500 and eventually his first NASCAR Grand National championship.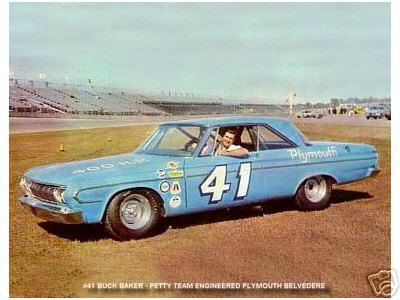 Before Richard's domination in the 500, he was part of
a dramatic finish
in his 100-mile qualifying race a couple of days earlier. His second-place qualifying run for the 500 put him on the pole for his qualifying race. He was leading and the win secured when he ran out of fuel on the last lap. The 43 coasted along the apron helplessly as Bobby Isaac and Jimmy Pardue closed quickly. The three of them flashed across the line in a finish too-close-to-call. The start-finish line camera malfunctioned, and officials needed four hours before deciding Isaac won. (Coincidentally, the camera was installed after the finish of the inaugural Daytona 500 when Lee Petty barely edged out Johnny Beauchamp.)
Despite Petty's near-miss in his qualifying race, his second place starting spot was still secure. Paul Goldsmith in another Plymouth started on the pole.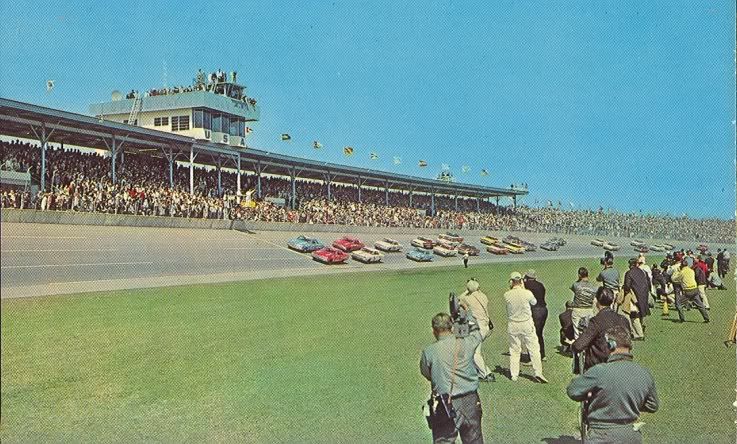 Richard's hemi-engine Plymouth powered the blue #43 to a 1-lap victory. Second place Pardue and third place Goldsmith also ran Chrysler's hemi engine giving Plymouth a 1-2-3 finish.
To the victor belongs the spoils ... and a nice, little kiss.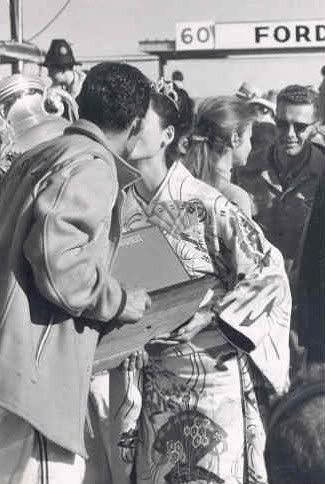 The winner posing with his trophy...
... and the trophy hanging out afterwards on the hood of a car before it headed back to Level Cross.
Edited February 26, 2015