I was gone much of last week - and was without web access the whole time. That scenario is almost unthinkable in today's wired world yet it was true. Lots of co-workers asked me jokingly why couldn't I just get over not having access to work e-mail. I responded "Work e-mail? Racing news is what I need!"
Sure nuff, I returned to find the huge news for me as a Petty fan that Richard Petty Motorsports has signed a letter of intent to acquire Yates Racing and plans to convert all its racing teams from Dodge to Ford beginning with the 2010 season.
This will not be the first relationship between some of the participants of this venture and Ford. Many are writing about Kasey Kahne's grooming in the sport by FoMoCo. About the time he was ready to be promoted the upper echelon of Cup, Ray Evernham and Dodge swooped in and plucked him away. Kahne was subsequently sued by Ford, and dollars had to be exchanged just so everyone could get along.
Elliott Sadler also drove the #38 M&M's Ford Taurus for Yates Racing before leaving to replace Jeremy Mayfield in the #19 Evernham Motorsports Dodge - which then became Gillette Evernham Motorsports - that then transitioned to the Richard Petty Motorsports we now have.
Forty years ago, however, a bigger story was the defection of Petty Enterprises from Chrysler's factory team to the Ford contingent. I was 4 at the time Petty made the decision to race a blue oval. My biggest concern at the time was ensuring I had a cool H.R. Puffenstuff lunch box for my looming kindergarten start. So I've had to research the reasons for the manufacturer change.
Apparently, the Pettys wanted Chrysler to develop and field an aerodynamically slick car to compete with the Ford Torino Talladega slated to be released in 1969. When the engineers and marketers didn't deliver or call Petty's bluff, Richard bolted.
So how did it work out for PE and the driver by then established as the King of NASCAR? While not a championship season, I'd say the stats represent a career season for most drivers.
Started 50 of 54 races
Won first race started in a Ford - 1969 Motor Trend 500 at Riverside

10 wins (20%)

31 top 5's (62%)

38 top 10'2 (76%)
2nd in points to David Pearson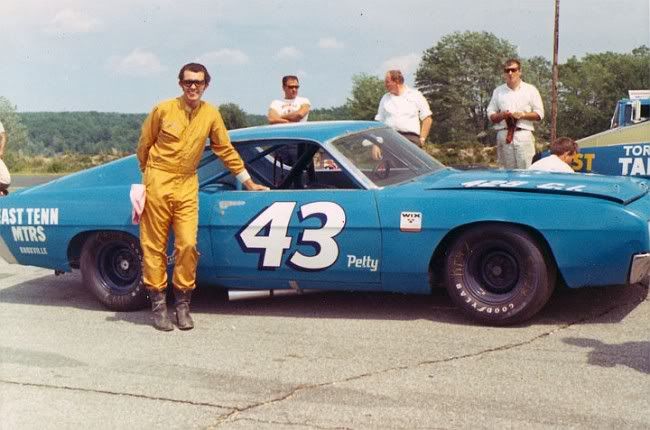 Side note timeout: Am I the only one who thinks it would be cool if A.J. Allmendinger showed up at Daytona wearing one these gold lamé driver uniforms? OK, back to the blog...
The King reached a personal milestone in 1969 in his Ford. He won his 100th Grand National race on August 22, 1969, in the Myers Brothers 250 at Bowman-Gray Stadium in Winston-Salem, NC. Only one other driver - David Pearson - has reached the 100-win marker, and it took the Silver Fox an extra 9 years to do so.
Interestingly, Petty's relationship with Ford in 1969 helped Pearson complete one of his 105 victories. In the summer Bristol race, Pearson fell ill. Fellow Ford driver Petty took over as relief driver and raced Pearson's #17 Holman-Moody Ford to the victory.
1969 was also a watershed year for the King's leadership amongst his peers. Bill France Sr. built what is now known as Talladega Superspeedway about an hour east of Birmingham. The majority of drivers believed the track to be unsafe with the design of the cars and the tires on which they raced. The drivers formed a loose union-like alliance called the Professional Drivers Association and elected Petty as its inaugural president. Upon arriving at the new behemoth track, the drivers rallied around Petty as the King held court. The majority decided the track was indeed unsafe to race.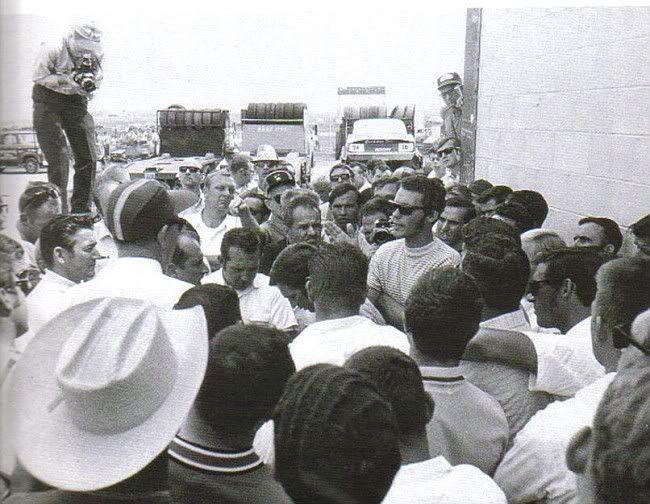 France, in his defense, didn't flinch and said something to the effect of "if you aren't gonna race, get off my property." The first flatbed hauler to fire its engine and head for I-20 toted the Petty blue #43 Ford Torino. It pulled out, and the majority of the name drivers/teams followed right behind the Petty rig. Again to Big Bill's defense, he said screw 'em and ran the race anyway with a bunch of scrub drivers. That decision pretty much ended the PDA, and all the drivers - including Petty - were back in 1970.
While the current courtship of Yates Racing by Richard Petty Motorsports seems all but a done deal, its hardly the first time Petty has danced a jig with the team. As far back as 1981 when Richard was trying to prolong his career while allowing his upstart son Kyle to flourish at Petty Enterprises, the King flirted with the prospect of leaving the family team to drive for Harry Ranier.
At the time, Ranier owned the team driven by Bobby Allison who finished a close 2nd to Darrell Waltrip in the 1981 championship. Whether the rumors of Petty joining Ranier in 1982 adversely affected the team's championship hunt isn't known, but Petty didn't jump - at least not until 1983 when he joined start-up team Curb Motorsports.
The chief engine builder for Harry Ranier was Robert Yates who had defected from DiGard Racing and driver DW in the late 70s. In 1987, Ranier Racing hired a young buck who hadn't fallen far from the family tree - Davey Allison. Later that year, Ranier sold the team to Robert Yates. Fast forward about 20 years, and Robert sells the team to son Doug - and now we've got RPM buying Doug's team.
A lot of details remain to be worked out for the acquisition to be finalized. In the end, I guess I don't care if Petty cars race Dodges, Ford, Toyotas, or friggin' soap box derby cars. As long as Petty is around, I can't help but be a fan.
But geez Louise, accepting Paul Menard in a Petty car will be about as painful as eating a plate of beets and brussel sprouts. Yuck. Guess I better start working myself up a soul patch.
TMC