Each Labor Day week, our department from work goes to a Tennessee state park for a few days of training, company updates, juvenile "team building" activities, golf, and consumption of a prodigious amount of beer.
While my fellow employees and I had all the beer we could want provided to us last week, we did not get to choose the brands. Standard bearers Bud Light and Miller Lite were the only brands provided. But considering they were available without limit, they drank pretty well.
Knowing the limited choices on the front end, however, I took care of matters a bit by taking my owner personal sixer of Schaefer. And just to cover myself (and my non-Schaefer beer) when the Schaefs were gone, I packed my Schaefer coozies.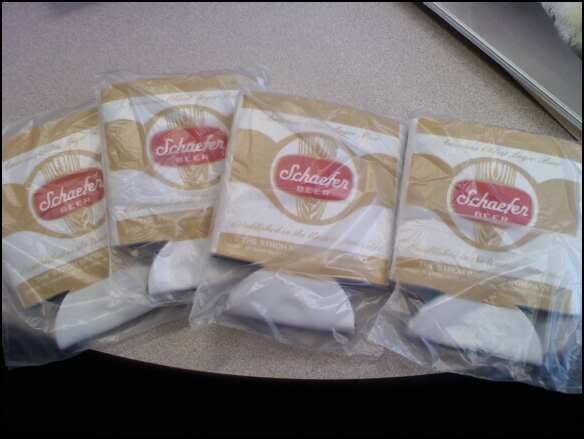 In an effort to uphold the Schaefer Hall of Fame code of honor, I did what I could to spread the Schaefer story experience - albeit in a non-NASCAR race setting. Sure enough, a couple of co-workers said they wanted to be considered for the ring of honor.
Oscar was first - and to say she enjoyed her inaugural Schaefer is an understatement.
Check out her Twitter entries following her consumption of the Schaefer swill (follow her on Twitter @
nascarl0vr
).
Last night was fun. I am officially not a schaefer virgin anymore!!

Its official- not a schaefer virgin anymore! I drank it w/ a veteran and loved it. I can't believe it but I will now choose it over miller!

@toomuchcountry. Thanks for the great schaefer experience!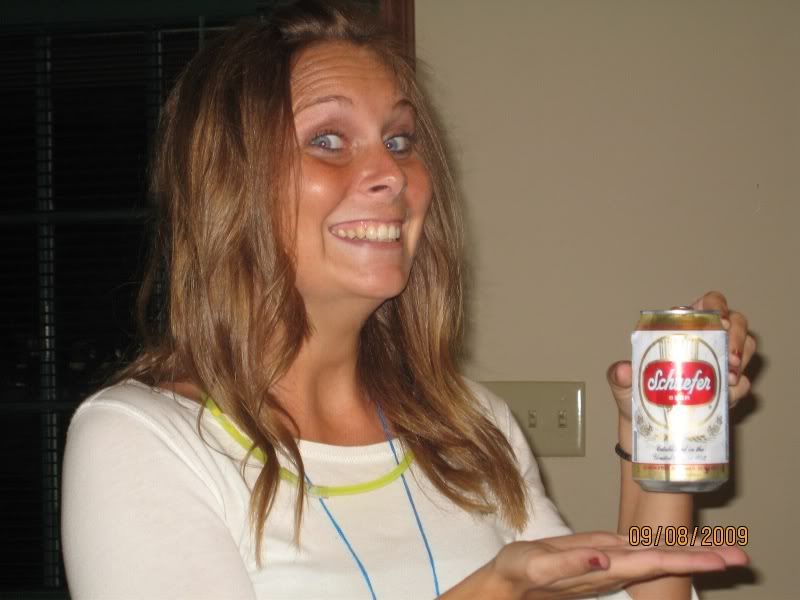 Cara was next to pull one out of the cooler. Now while she's not a Twitterer and didn't offer her approval to the world in less than 140 characters, she one-upped Oscar by drinking a 2nd one!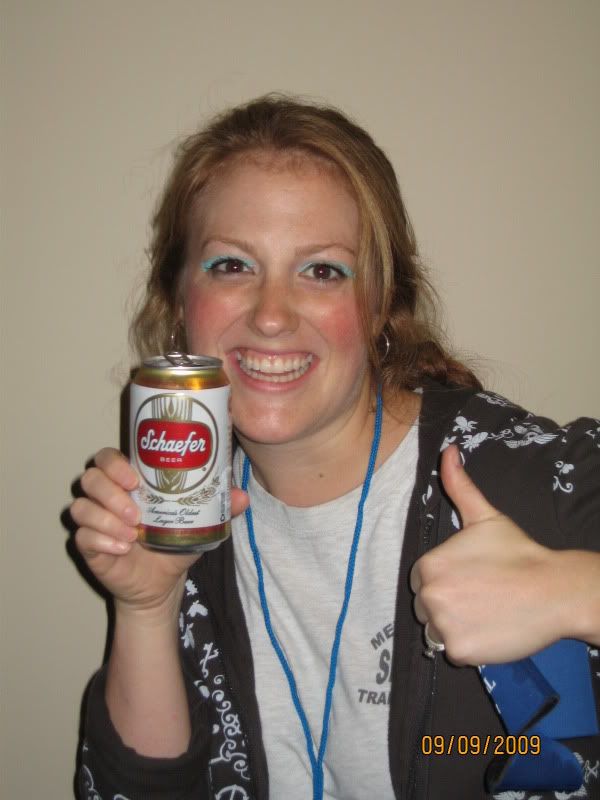 After she had her first one, she grabbed a 2nd one as did I and we headed to one of the multiple cabin parties held during the week. We ran into our supply chain vice president who stayed at the park with us to speak to our group the next morning. Our exchange went something like this:
TMC: VP, what's going on?
VP: Its all good. Hey, what is
that
you're drinking?
TMC: A Schaefer.
VP: A Schaefer? I haven't seen those in years. Why?
TMC: 'cause I wanted one. Cara has one too. Its her second.
VP: What?? Where did they come from?
TMC: I brought them.
VP:
Really
? Schaefer? Man, that's crazy.
TMC: You oughta put it on national contract so I can get better employee-preferred pricing.
VP: Not sure about that. Not sure we can get purchasing volume compliance.
TMC: Don't underestimate the volume I can move for you my friend.
VP: Now that's funny.
The next morning as part of his introductory remarks, he paused a moment and called an audible on how he wanted to start. To paraphrase, he said "I ran into one of your co-workers last night...who was drinking Schaefer...just because he wanted to. And then he wanted me to put it on contract. Wildest thing I've seen in a while. Anyway, I appreciate your having me here this morning..."
I plan to buy him a 12 pack of it and attach a "thank you" note for his speaking to our group.
Note:
A new feature was recently added to Bench Racing. I've created a map of known Schaefer sellers in case you want to find some near you. That's the good news. The bad news is I don't know many places selling it anymore. That's where I need your help. Comment here or contact me with places you've seen selling it, and I'll add a thumbtack to the map for it.
TMC