With the seemingly universal enthusiasm of Trevor Bayne's winning the Daytona 500 still lingering, the Cup series moves on to
the next race
. Phoenix. While the race there will hardly be the spectacle the marquis Daytona 500 is, the good news is the racing and attendance should be better than the track that occupied the second slot of the reason for the last few years: California Speedway. Whoo-hoo, that miserable place is now down to one race vs. two! Its still one race too many, but its a start.
Before we get too deep into the new season though, its a must-do to revisit how the Schaefer Hall of Fame and Ring of Honor members enjoyed the Daytona 500 weekend.
Yours truly found this Daytona glass in the back of the kitchen cabinet. It was the perfect choice for the perfect yard beer.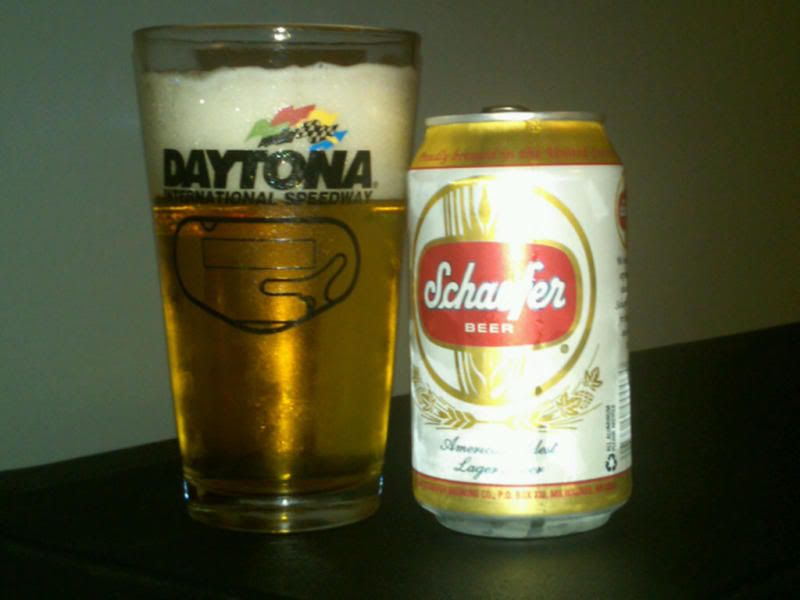 SROH member, Bubba, makes his blog debut with his SROH, his beverage, and his big screen.
SROH member, Bruton, was apparently the only one of us who actually
went
to the 500 this year. Not only did he go to the race, but he also visited the Streamline Hotel. Bill France, Sr. gathered a group of team owners, mechanics, drivers, investors, promoters and other influential men in December 1947 at the Streamline. The result of that meeting was the founding of NASCAR.
Now when a man goes to a race, he's got to do at least three things. Race, partake of the Schaef, and eat - though not necessarily in that order. And when in Florida, you simply have to enjoy seafood. This feast happens to be the Big River Combo at
The River Grille on The Tomoka
.
Bruton had this to say:
At the River Grille, I had the empty sitting on the table and another guy asked excitedly, "Hey, do they serve that here?" When I told him I brought it in just for the photo op he was disappointed. Since I had been in the Daytona Beach area only a couple of hours, I was not yet in a position to share.
Here is Bruton dressed in his Schaefer Schunday Finest by the Halifax River. While at the pier, a guy walked by and said to him, "Hey, that Schaefer is a good beer!"
RACEDAY! I'll let Bruton tell his own story:
Sunday: A guy saw my hat and shirt and said, "Schaefer Beer, the one beer to have when you're having more than one!" We both discussed how much we liked it and lamented the difficulty we have in finding it now. I tailgated with Ed, a retired Highway Patrolman from Michigan. He saw the nectar and recalled it fondly so I shared one with him. He said, "That tastes as good as it ever did. I miss this beer but can't find it anymore."

A guy scalping tickets saw it and had a fit so I shared one with him too. He paid me a dollar for it. A real unique piece of work who wandered up bought another one for a dollar as well. He was rough as a cob but harmless and funny and he loved the Schaef. It occurred to me at that point I had become a Schaefer retailer.
During the race, there was an Earnhardt fan to my left that found me hilarious and enjoyed ribbing me too. When A.J. [Allmendinger] boogered up the nose and pitted the second time under caution, I felt something hammering my left earphone. It was his forefinger, and he was giving me hell about the #43 screwing up yet again. He was laughing so hard he could barely talk, and he got me so tickled all I could do was laugh back at him. He saw me crack one open and asked, "Oooh, where did you find that? I never see that stuff anymore!" I told him where I bought it and offered him one which he accepted with a big ol' smile. He opened it immediately and took a big gulp before saying, "That's still a damn good beer!"
SROH's Rev. Randy Esq. spent his Daytona weekend doing his own form of racing. He and some friends entered their $500 crap-can Acura in the
24 Hours of LeMons
Southern Discomfort race at Carolina Motorsports Park. With sponsorship from the Schaefer Hall of Fame (meaning I simply sent him a Schaefer logo JPG to create a couple of decals), the appropriately named Hey Y'all Watch This team scratched out a respectable 15th in a field of 50 entries.
Sorry to disappoint you ladies, but I'm pretty sure those aren't really his sunglasses. But having met Rev. Randy, the rest of what you see is legit I think.
As an aside from the Schaefer recap, Randy and his partners-in-crime e-mailed several updates during the long weekend. Many of us got updates on cars, race progress and penalties from officials. Here are a few of the gems I received:
A Mazda Miata mocked up to resemble a Star Wars landspeeder.
The HYWT team's driver went off in turn 3 and got black flagged. He told the judges he lost concentration because he was texting his wife to tell her how good he was doing. He also claimed the race track owed him money for all the landscaping he was doing. The judges laughed. Penalty: two ten year-olds got 10 swings each with a sledgehammer to the hood and front fenders.
Mime the Crime penalty. An Asian dude spun out. Penalty: he had to apply face paint and a costume and act out what occurred.
Real Housewives of Bahrain team got penalized for a spin and were required to re-enact the overthrow/rebellion in a middle eastern country.
To wrap this up, this may be the oddest - yet funniest - photo I received courtesy of Charter SHOFer, Philly. A can of Schaefer, a near empty bottle of Bacardi, and um...uh...a bikini vase?
The 20th Year of Schaefer Racing is well underway. With trips to races such as Charlotte, Kentucky, Dover, Michigan, Atlanta and Bristol yet to come, 2011 should be quite the memorable year for the SHOF and SROH.
TMC