A
tweet
this week from our friends at
Schaefer Story
led me to a site named
Roadside Galore
. The author of the site, Fuzzy, blogs all sorts of Americana pictures from her travels across the country.
One recent photo shared on her blog recently was right up my alley - a fading Schaefer advertisement painted on the side of a building in East Islip, NY. The ad includes a tagline slogan I've not heard previously for Schaefer: Our hand has never lost its skill.
As has been
documented
, Schaefer and NASCAR are linked together - both then and now. What you may not know is Islip, NY and NASCAR also have a history meaning only one degree of separation exists between NASCAR, Schaefer beer, and Islip, NY.
At 2/10ths of a mile, Islip Speedway is the shortest track ever to host a NASCAR Grand National / Winston Cup race. Larry Mendelsohn, the track's owner/promoter, is also credited with hosting the first
demolition derby
in the late 1950s - which then became a staple of just about every short-track in the U.S. over the next two decades. As best I can tell, the track finally met its demise in 1984.
The Grand National drivers
ran six races
at Islip between 1964 and 1971. Bobby Allison won two of them. Richard Petty also won two - including the final one run at Islip in 1971.
Here a few photos from back in the day at Islip:
Richard Petty in the early 1960s. I wonder if the dude in the cap is saying "No King, your throne is over
there
."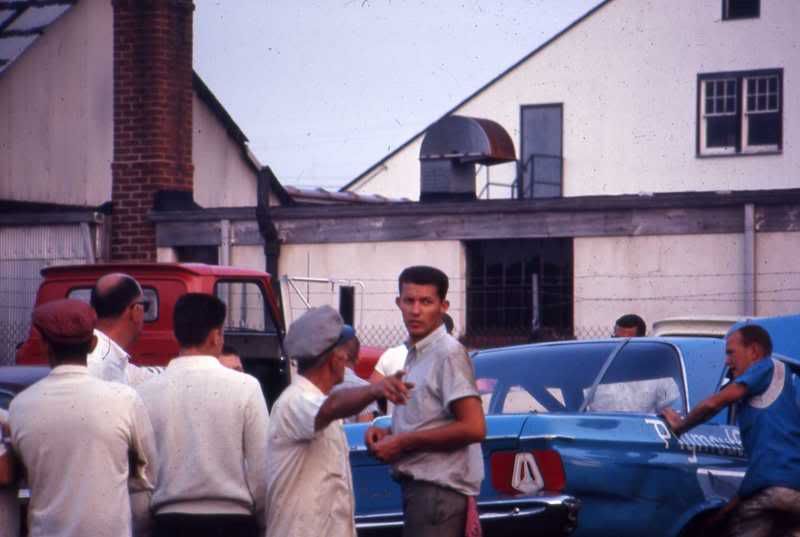 A promotional flyer and ticket order form for the 1968 Islip 300 - a race won by Bobby Allison.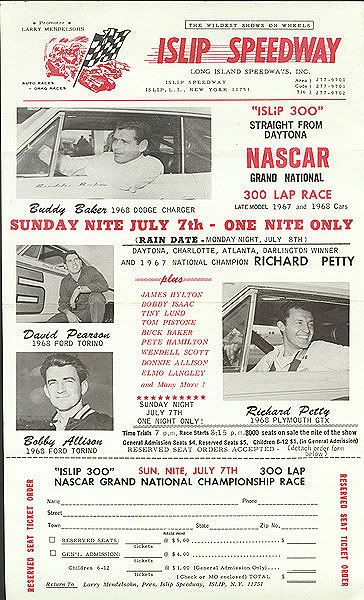 The late Friday Hassler of Chattanooga, TN earned his career best finish in the 1971 Islip 250 by finishing second to Petty. Hassler often drove #39 Chevrolets sponsored by Chattanooga's
Rock City
tourist attraction. (Surely many of you have seen the
See Rock City barns
scattered throughout the southern U.S.)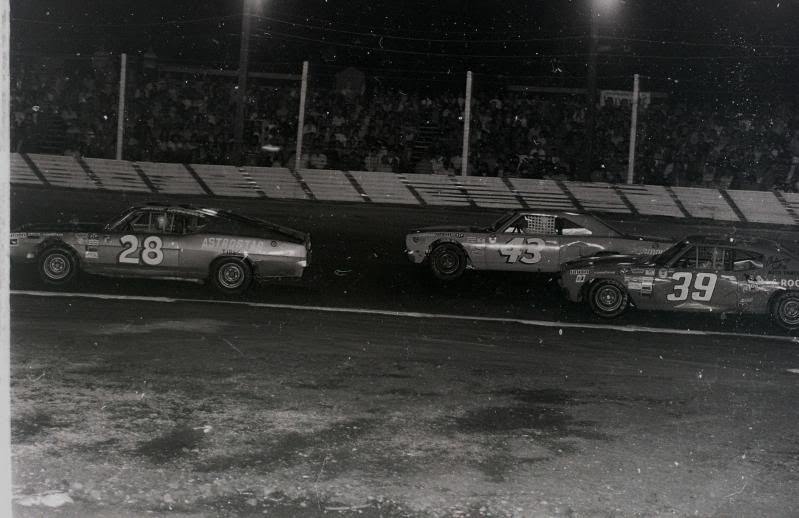 Here is Petty in his famous 43 racing Neil Castles in the white #6 Dodge. After marveling at this recently found photo, I realized a couple of things (
hold on, bad puns on their way!
):
The photo includes a King and Castles.
It shows a young man in a beat-up Plymouth making a night time run for White Castles.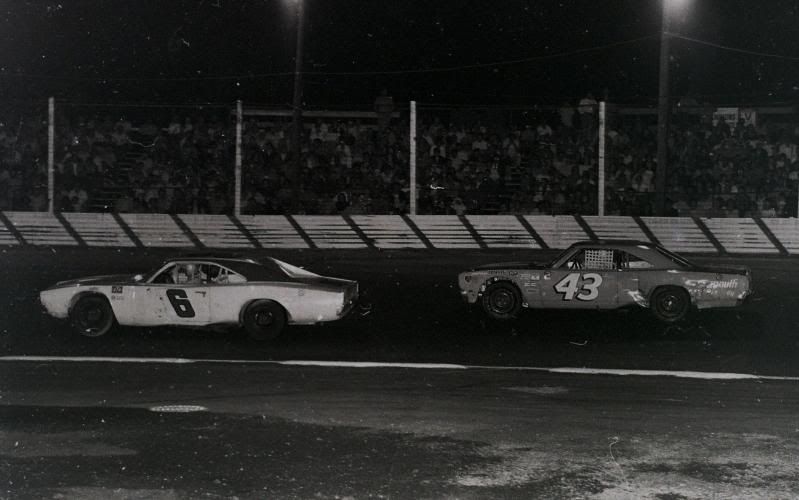 Finally, here is the King in victory lane on July 15, 1971, after winning the Islip 250. This was the first season R.J. Reynolds began its NASCAR sponsorship when the series became known as the Winston Cup Grand National Series. (Note the early design decal on the top right of the door panel.)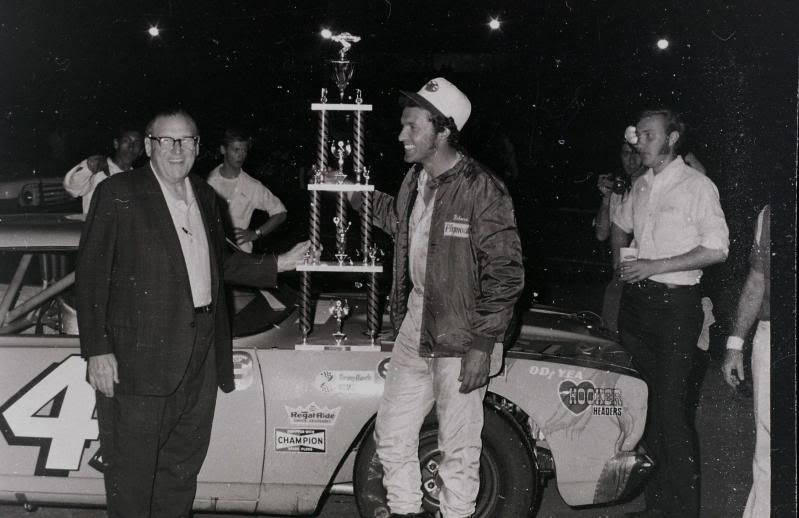 Using Greg Fielden's Forty Years of Stock Car History books as reference material, I learned a bit more about NASCAR's time at Islip:
Marvin Panch won the race in 1965 after his most serious challenger, Junior Johnson, had a bad wreck. Johnson's throttle hung, he drove through a guard rail, drilled a telephone pole, and burst into flames. After seeing Fireball Roberts' burn in 1964 and ending up in flames himself in 1965, its no real surprise Junior soon retired as a driver to become a car owner.
Bobby Allison won the race in 1966 after James Hylton ran out of gas with 7 laps to go. Allison wasn't even expected to run the race after wrecking his car two nights earlier in Fonda, NY. But he worked on feverishly and was able to make the race. One of the people who helped him? James Hylton. Can you imagine that scenario happening today?
Allison won again in 1968. Richard Petty was leading the race and tried to lap Allison. In doing so, the cars tangled. The fender was bent on the 43, and Petty faded to a 4th place finish. After the race, Richard's brother/engine builder, Maurice, and cousin/crew chief, Dale Inman, attacked Allison. Both were fined.
In the 1971 race mentioned above, an embarrassing NASCAR scoring snafu shortened the Islip 250 by

TWENTY

laps. Petty won it, but I've not been able to find a satisfactory explanation for the scoring problem.
Connecting Islip to more contemporary times, Buzzie Reutimann, father of Michael Waltrip Racing's driver David Reutimann, raced at Islip:
Tommy Baldwin Sr., father of current Sprint Cup start-and-park car owner Tommy Baldwin, Jr., raced a lot at Islip. And former Cup driver, Steve Park, is from Long Island.
So with the hoist of a Schaefer, we schelebrate you Fuzzy at Roadside Galore and Islip Speedway.
Now if I can just find a way to get myself to Long Island to have a picture of my drinking a Schaefer next to that wall...
TMC