I've had the pleasure of attending close to 60 NASCAR Grand National / Winston Cup races. I've got my favorite tracks to go - places such as Bristol, Charlotte and Talladega (well, back in the day).
Over the last 15 years or so, I've enjoyed the opportunity to visit tracks for the first (and probably only) time. I've got the ticket stub, event pin, and Schaefer stories from places such as Texas, Loudon, Indy, Vegas, and Richmond. This year, I was finally able to notch one for Dover.
We had plenty of good times during the extended race-trip weekend. I'll try to focus on the races themselves and the track in this post. From there, well ... I'll see. I've got a few ideas rattling around in my head about how to 'theme' post them. Stay tuned.
Knowing this may well be our only trip to the Monster Mile, fellow Schaefer HOFer Philly and I wanted to do it right. As life-long Petty fans, we had no choice but to sit in the Richard Petty Grandstand.
Representatives of the Schaefer Hall of Fame and Ring of Honor rolled in at various times Thursday, September 29:
SROH member 200WINZ from Trenton, NJ (and Dover fan since 1969) rolled into the grounds with his camper Thursday morning.

SHOFer Uncle Dave from Cleveland, OH trucked 439 miles to the Philadelphia airport to pick up me.

SHOF co-founder Philly charted a multi-hour, long, interstate drive from Charlotte, NC, and
yours truly, SHOF co-founder TMC from Middle by-cracky Tennessee flew into Philadelphia airport, donned a Schaefer cap, and thumbed a ride at the curb with Uncle Dave.
The first recognizable sight Uncle Dave and I saw as we entered the campground was the full-flowing, old-school, red-and-blue, 43 flag. We immediately knew where our home was going to be the next 3 days.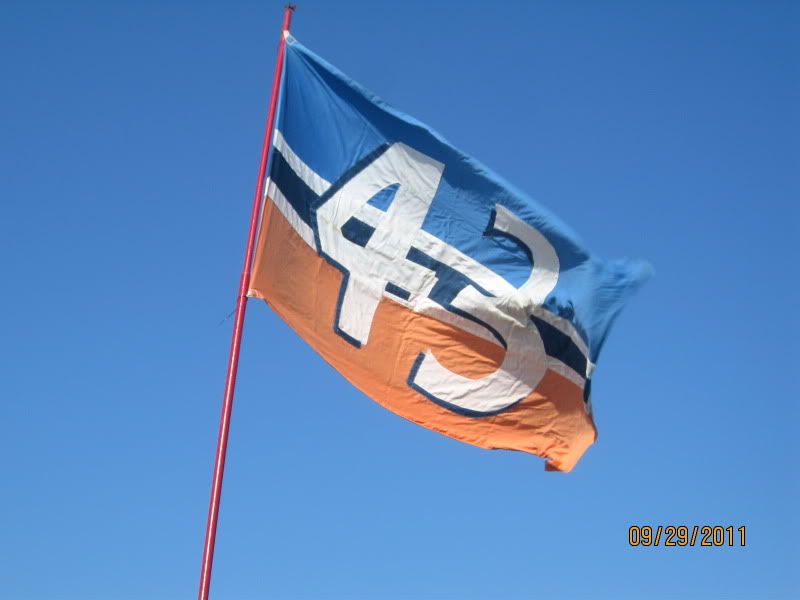 WINZ landed an ideal camping spot - right in front of the track and Richard Petty Grandstand. We had a bit of highway noise at night, but we could also hear the roar of the engines from the track as practice sessions took place. An ideal, audial experience.
After shaking hands, settling our gear, celebrating the beginning of race weekend with a cold Schaefer (or two or three), etc., it wasn't long before we wanted to go eat. So off we headed for Sambo's, a local seafood tavern in Leipsic - about 3 miles from the track.
As we arrived, we spotted a familiar silhouette in the shadows of a street light. Sure enough, it was the King, Richard Petty! He and a few others had just finished their dinner. As he is with all his fans, he was gracious enough to stand for a photo-op and offer an autograph. Petty has been retired as a driver for 20 years. I was a fan then and still am today because of his simply stopping long enough to recognize a fan.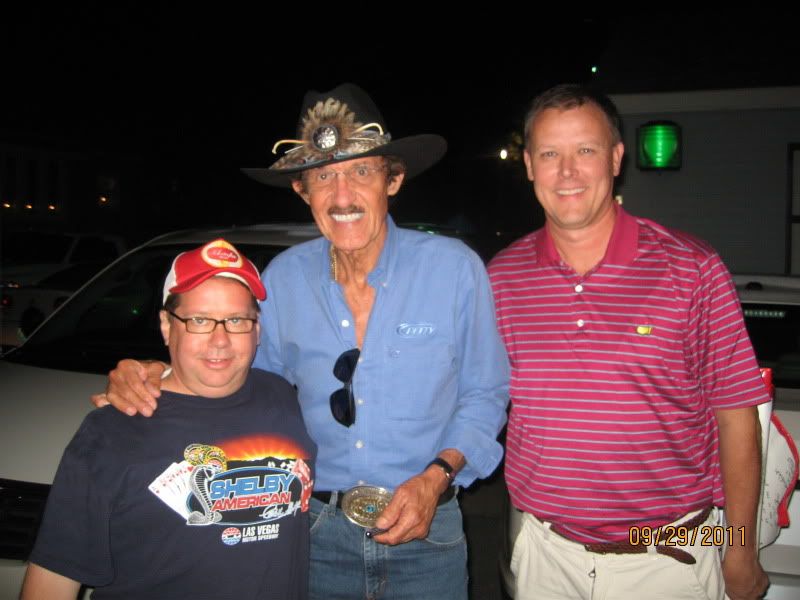 After parting ways, it was time for crab cakes, hush puppies, fresh shrimp and crabs, and plenty of cold beer to celebrate our fortuitous timing and good fortune.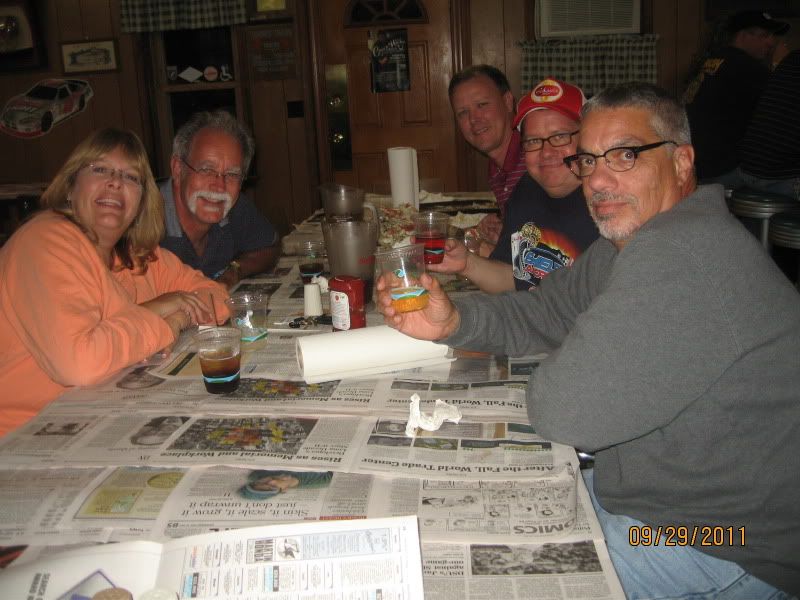 Dover opened in 1969, and in some ways I'm not sure the track has changed much since. We were taken aback by some of the old school aspects of the track that remain.
For instance, we sat near the top of the Richard Petty Grandstands. Near us was a stairway leading out of our section. Yet we had to descend multiple sets of stairs for bathrooms, concessions, and souvenirs. Unlike other tracks who have amenities on every concourse level, all of Dover is lower-level based.

The bathrooms didn't have soap dispensers - seemingly a standard everywhere these days including just about every dive bar. But Dover didn't have the motion-activated ones or even the hand-operated kind. Instead, each sink literally had a

bar of soap

. I'm no germophobe, but even that cootie haven freaked me out a bit.
Thirdly, the garage areas for the Nationwide and Cup teams were tighter than a CFO's cost budget in an Obama economy. I realize Dover was built before the days of tractor trailer haulers. And I understand they have a horse racing 'trotter' track inside the speedway that affects how much expansion the track can do. But it was amazing how close every team was to one another, now little room the teams had to maneuver, and how fans could easily have run over if you didn't keep your head on a swivel.

We spent Saturday morning touring the Nationwide and Cup garage areas. Saturday afternoon, we watched Cup qualifying from pit road and then slipped into the stands to watch Carl Edwards flat-out dominate the 200 lap Nationwide race. Carl's Ford was hooked up to be certain, but the overall racer quality was pitiful. At least 12 start-and-parkers - about 25% of the field - were back on their haulers within a handful of laps. And by lap 100, only 12 cars remained on the lead lap.
Carl in the process of completing his victory back flip...
can
accommodate. Probably 120,000 or so. What I
do
know is that Saturday's Nationwide race couldn't have had more than 12,000 fans - despite being a companion event. Dover has already shuttered three Nationwide tracks it owns: Memphis, Gateway and Nashville. Now it can't even draw a respectable crowd to its one remaining, flagship track.
For the Cup race, the stands were barely half-full - this despite the track's attempt to cover many sections with ad banners. This economy is in trouble. This sport is in trouble. And this track is in trouble.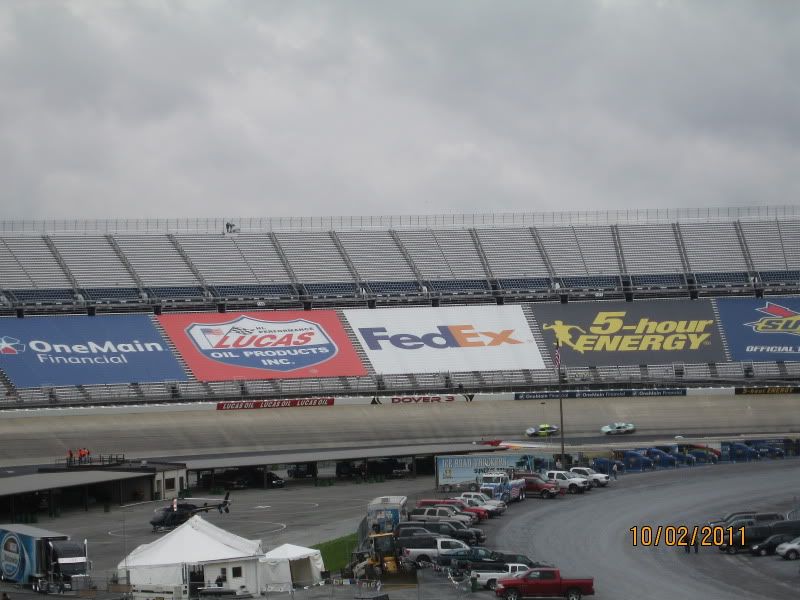 But we went to Dover to RACE baby - not be a voice of gloom-and-doom about the state of the sport. Despite brisk temps, a fierce wind, and misting rain, we made our way through the gates of Richard Petty Grandstand and settled in.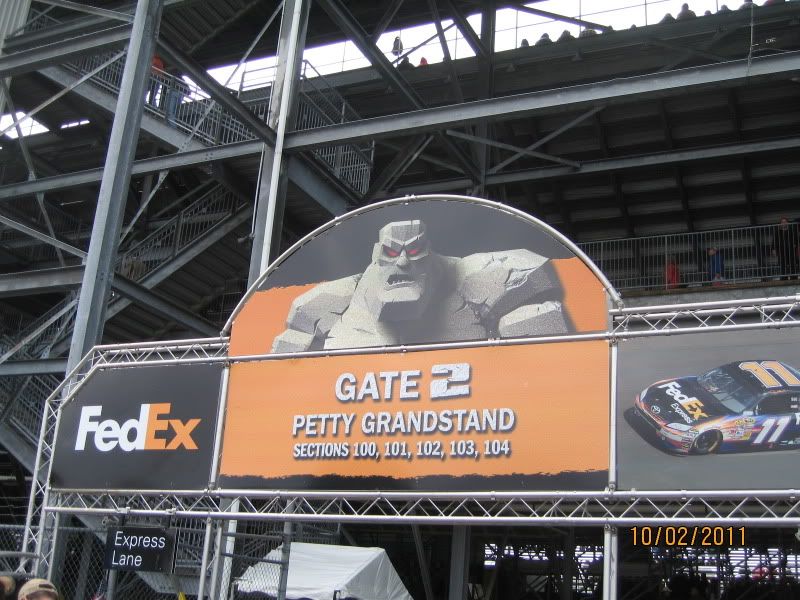 Our seats were great. I've been to many 1-1/2 mile tracks and short tracks. But Dover is right between them at one-mile in length. The track's banking, limited infield clutter, the one-mile distance, and our seat location made for an ideal setting to take in all of the sights of the race.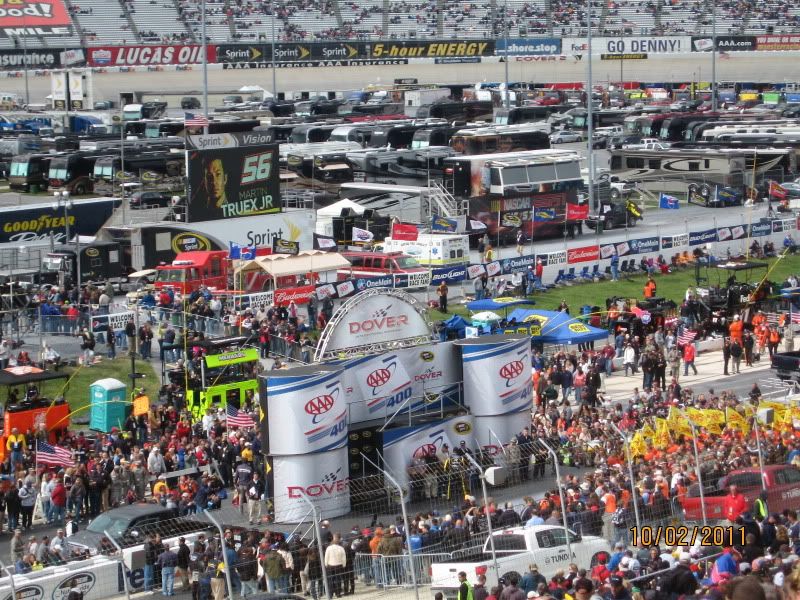 Earlier in the week, the weekend forecast was fantastic. Virtually no chance of rain, plenty of sun, and warm temps. The weather geeks nailed it - for Friday and Saturday morning. But after lunch on Saturday through Sunday, wow. Clouds rolled in, temperatures dropped, the wind picked up, and we got a good dose of rain Friday and Saturday nights. Fortunately, we didn't lose either race on Saturday or Sunday to rain - though Sunday's race had two cautions for a light misting shower passing through.
By the time I started earning my own way in this world and had the discretionary income to go racing, my hero's competitive days were behind him. With rare exception, Richard Petty fared poorly in the last few races I got to see in his final few years as a driver. Sadly, the drivers of his teams at Petty Enterprises and more recently Richard Petty Motorsports haven't fared much better when I've been in the stands.
So it was a fantastic, adrenalin-rush day to be there and witness the competitiveness of the legendary 43 with A.J. Allmendinger as the driver. Making the day even more memorable was that first-year RPM driver and Glen winner, Marcos Ambrose, was competing for a top 10 finish most of the day.
Nearing the half-way mark, A.J. was atop the leader board and I was on cloud 9.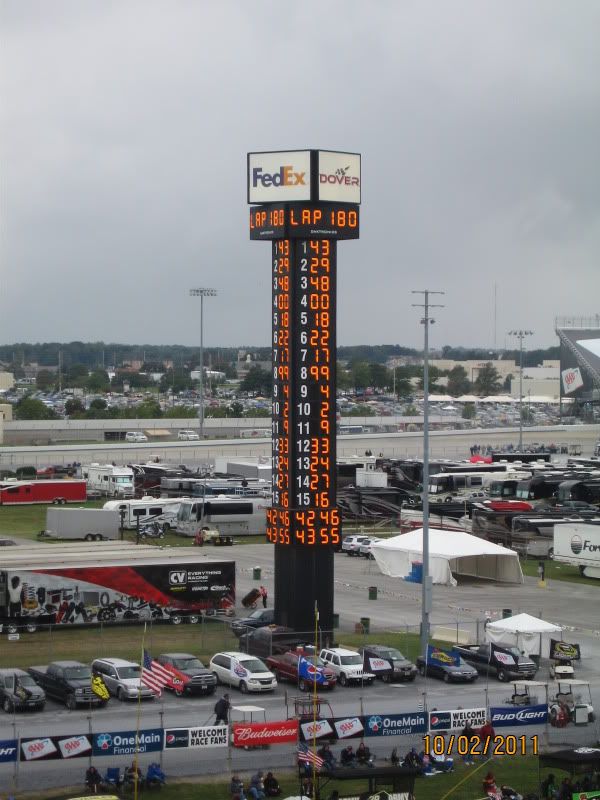 A.J.'s spot atop the pylon was even more remarkable because of what happened on lap 7. Denny Hamlin doinked the 43 coming into turn 3. Incredibly, A.J. had the presence of mind to hang the car waaaay to the right and dirt track it through turns 3 and 4. Sure enough, the car bit, A.J. straightened it out, and he later climbed into the #1 spot. I really thought it was the team's day...
I expected Hamlin's nudge of the 43 would lead to an afternoon of retaliation, collateral damage, etc. In addition, with overnight rains washing rubber off the track, Chasers fighting for precious points, and many drivers auditioning for 2012 sponsors and rides, I thought we would see many wrecks. Instead, cautions were infrequent and mainly for yet-to-be-found debris, a light rain, and single car wall bangers.
Several drivers took turns leading a handful of laps. Their moments up front didn't really matter, however, because the 48 of Jimmie Johnson ran off and led for long stretches of the race. I wasn't happy
at all
that JJ and Chad Knaus were on their game and headed for victory because:
Jimmie won both times I went to Loudon.

He won when I went to Vegas.
He won the Coke 600 at Charlotte in 2004 - my first time back at Charlotte in seven years.
He won the only time I went to Darlington in what was then thought to be the final Southern 500.

When the teams pitted for the last time with about 40 laps to go, however, Kurt Busch's team made the right adjustments. He forged ahead of Johnson following the restart and motored away to the win. I'm not the biggest KuBu fan - but he did beat the 48 and that was good enough for me.
To be continued...
TMC