Part 2 of a [non-committed mumble] part series on a great trip to Dover International Speedway from September 29 - October 2.
I was introduced to racing as a 9 year-old kid at a late model sportsman race at Nashville's Fairgrounds Speedway in the early 70s. The bug bit me that night, and I'm as fascinated by it today as I was then. I'm older, fatter, and more skeptical. My favorite driver has been retired for 20 years. And the costs to attend today far exceed what they did then (especially when (1) my parents or uncle paid for my ticket back then and (2) I didn't have any Schaefer expenses as a 9 year-old.)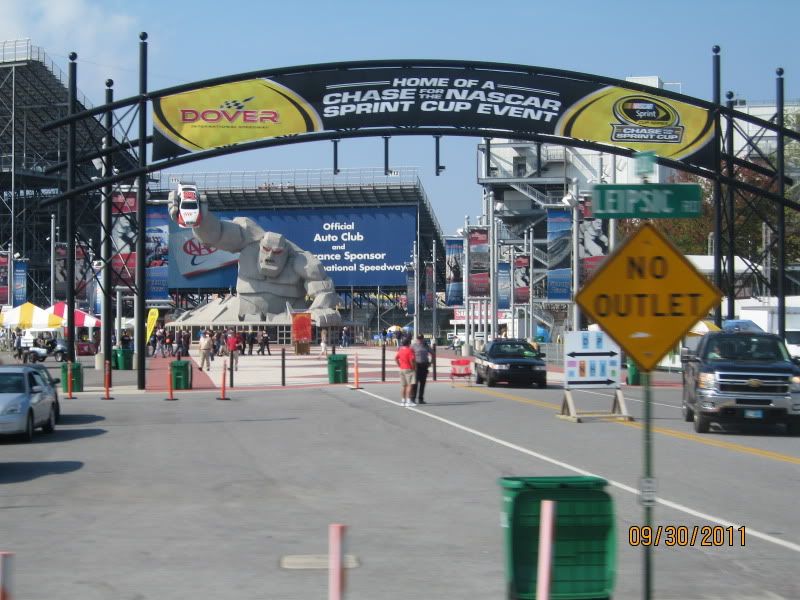 One aspect of racing I really enjoyed in my teen years was going into the garage/pit areas before or after a race. The opportunity didn't present itself often, but it was so eye-opening when it did. Because of how seldom I've had the chance to tour the garage - then and now - I always appreciate and walk around with a dropped jaw at all the action.
At Dover, we were fortunate to have Cold Pass credentials provided to us. We pretty much had free reign of the Nationwide and Cup garages up until 1 hour before qualifying and race starts and pit access during the events.
We got to the track too early Saturday morning to tour the Cup garage. But no problem - over to the Nationwide garage we went.
As part of my on-going blog series about each of Richard Petty's 200 wins, I've reached out where I can to folks with first-hand accounts of the days at Petty Enterprises. One of the individuals I've had the fortune of trading messages with is Mike Beam. In the late 70s, Mike was the crew chief for late model sportsman legend Butch Lindley. He was hired by the King as crew chief for Kyle as his Cup career began in the early 1980s. Over the next 30 years, he was crew chief for many Cup drivers. Today, he is the crew chief for Carl Edwards in the Nationwide series.
Mike reconciled who I was after telling him I was 'toomuchcountry'. He then gave me several minutes of his time to talk about Lindley, getting hired by Petty Enterprises, the challenge of setting Carl's car for a green track after overnight rains, model car building, etc. Then rightfully so, he had to get back to work. I'm sure he used the great set-up tips I gave him because later that afternoon, Carl's #60 Ford DOMINATED the Nationwide race.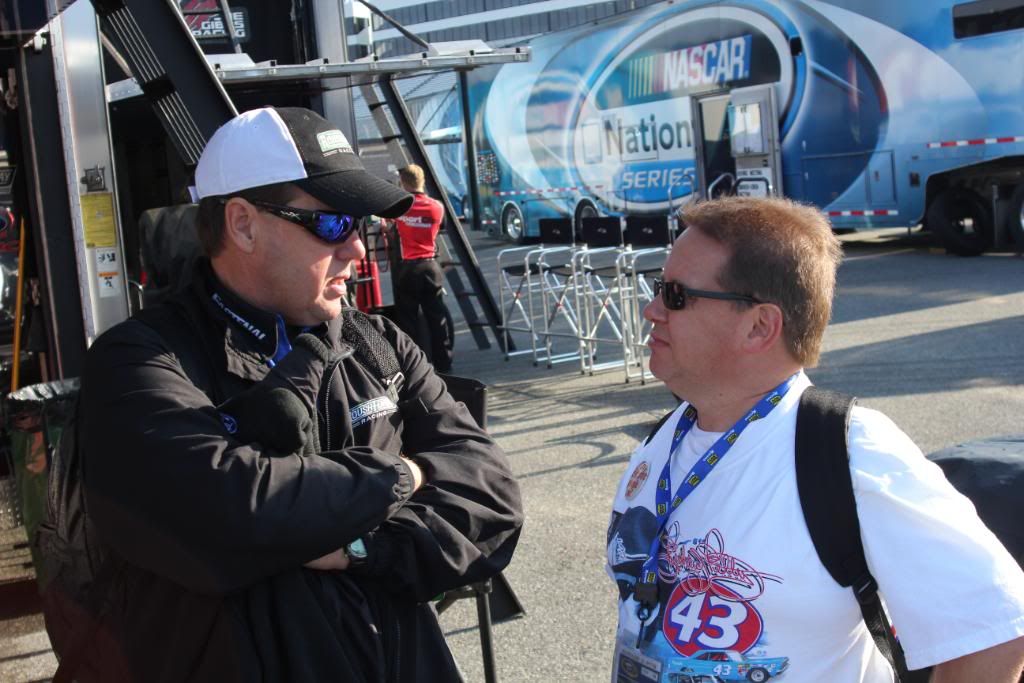 After parting ways from Mike, we roamed around a bit more, watched tech inspection, met the ageless Morgan Shepherd, and talked to the crew from the Jimmy Means-owned Nationwide team. Before Means began a multi-decade as a journeyman Cup driver, he came from Alabama to win the late model championship at Nashville's Fairgrounds Speedway in 1974.
As we circled back to Edwards' hauler, I spotted Jeff 'Hollywood' Hammond. Only word of advice I gave him (or at least
wanted
to): lose that Boogity guy...please.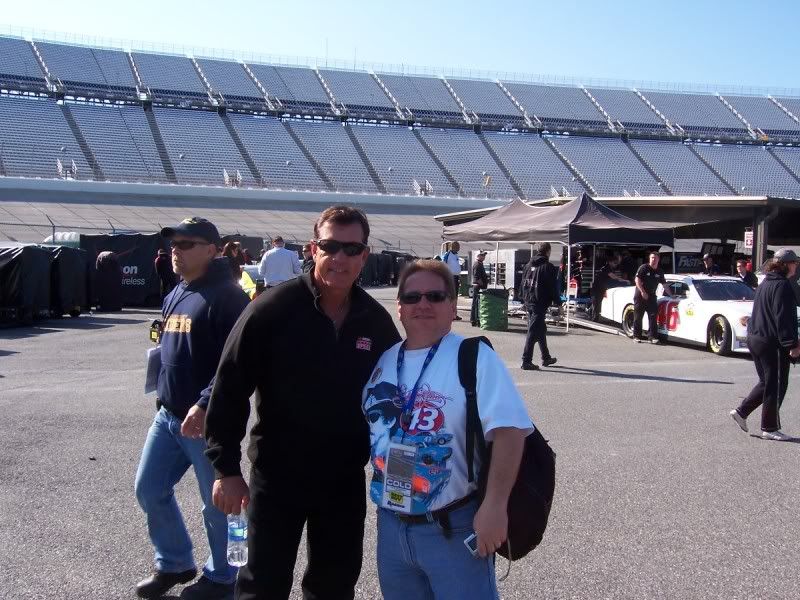 After seeing pretty much all there was to see, we realized the Cup garage was now open. So we strolled from the Nationwide garage housed just below turns 3 and 4 to the Cup garage which is located just below turns 1 and 2.
I wanted to make a bee line for the Best Buy Racing hauler of A.J. Allmendinger with the hope of meeting The King again. Just as we arrived, Dale Inman walked out of the back door of the hauler. Everyone should know who Dale is - but I suppose some don't. Dale Inman is:
Richard Petty's cousin
Richard's crew chief for all of his seven championships
the only eight-time NASCAR Grand National/Cup champion by serving as crew chief for Terry Labonte's first championship
a veteran of the United States Army, and

a member of the 2012 class of the NASCAR Hall of Fame.
I had with me an 8x10 enlargement of a photo I took at Charlotte in 1992. In the photo, Richard's 43 is being pushed to the starting line alongside eventual Cup champion Alan Kulwicki's Ford. Dale took the time to ask where I took the photo, studied it a bit and autographed it for me.
He then realized Robbie Loomis was part of the contingent pushing the car in the photo. I told him it was indeed Robbie, and I was hoping to get his autograph on the photo too. Dale went into the hauler and asked Robbie to come out to see my photo. As with Dale, Robbie studied it, laughed about how much younger he was then, and signed it for me.
Just one more autograph was needed to complete the three I wanted - The King. Dale then told us Richard had gone back to North Carolina to take his wife home. Unfortunately for us, he didn't plan to return. Oh well,
c'est la vie
. But Dale continued to chat with us. He challenged us to guess his age. He posed for a couple of photos with our crew.
He gave me the opportunity to ask a few questions about the old days. We discussed Julian Petty (Lee Petty's brother, Richard's uncle, and a NASCAR driver/owner in his own right). We rattled off a few names from the past of Petty Enterprises including Bob Welborn, Tiny Lund, Buck Baker, Gwyn Staley, Red Myler, etc. I tried to remember if Welborn had driven a third Petty car in the inaugural 1960 World 600 (it was actually Bobby Johns). But Dale noted he couldn't remember because "the Army had me then" and wasn't at the first 600.
He finally and cordially let us know it was time to go to work. He climbed aboard the hauler to watch qualifying for the Nationwide race. Fifty years in this sport - and there he was still watching lap times, track nuances, etc.
After parting ways with Inman, the four of us set out in the Cup garage area. Unlike the spacious bays of the Neon Garage at Las Vegas Motor Speedway, Dover has a single, covered, tightly-packed garage area. Half the teams are on one side, and the other half is on the opposite side. In the middle of the garage is a pass-through area where NASCAR set up one of its three technical inspection areas.
Like the amateur NASCAR paparazzi we were, the four of us set out snapping pictures willy-nilly, kept our eyes open for possible driver sightings, and maintained our inner radar for Cup cars around us in the hope we weren't run over as the cars were rolled to the tech stations.
After spending a good bit of time in the garage, we spotted Coke 400 winning driver David Ragan. Thinking he may be one of many drivers to walk through the same area, we held our spot for a moment. Shortly thereafter, I spotted Paul, the PR rep for Best Buy Racing and driver A.J. Allmendinger. We had traded messages prior to the race, and he knew I was interested in meeting A.J. Saturday. As Paul and A.J. headed for the 43 hauler, I walked along and nabbed an autograph.
I enjoy taking multiple photos, but I prefer to be behind the camera vs. in front of it. But one photo-op I wanted was to have my picture made with A.J. However, he went in the hauler to change to his driver uni and get his mind right for Cup qualifying. As a neat, runner-up gesture, Paul took my pic next to the 43 and tweeted it to his followers.
Before long, Cup qualifying was scheduled to begin, and an NASCAR official let me know my Cold Pass no longer worked in the 'hot' garage. So off to pit road we headed to watch a bit of qualifying.
The Richard Petty Motorsports teams get ready to qualify...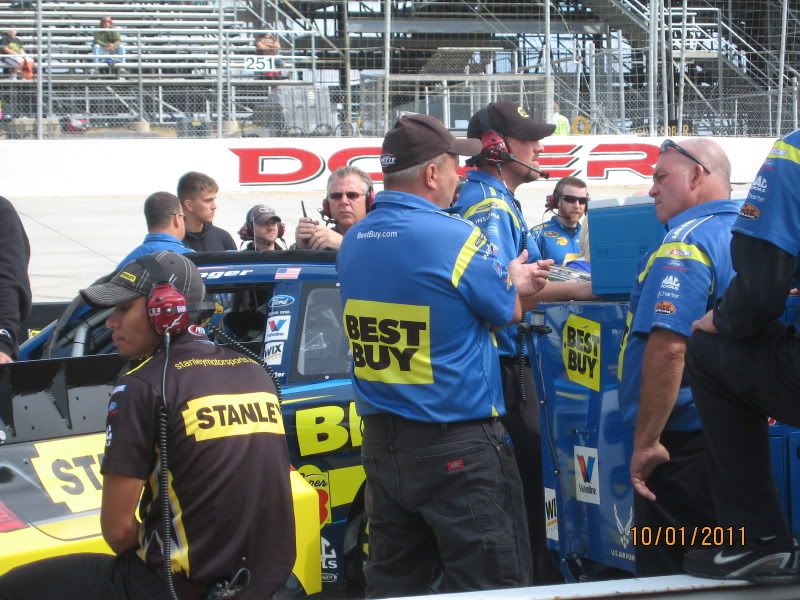 A.J. Allmendinger's 43 Ford shortly before A.J. ripped off a lap to qualify seventh.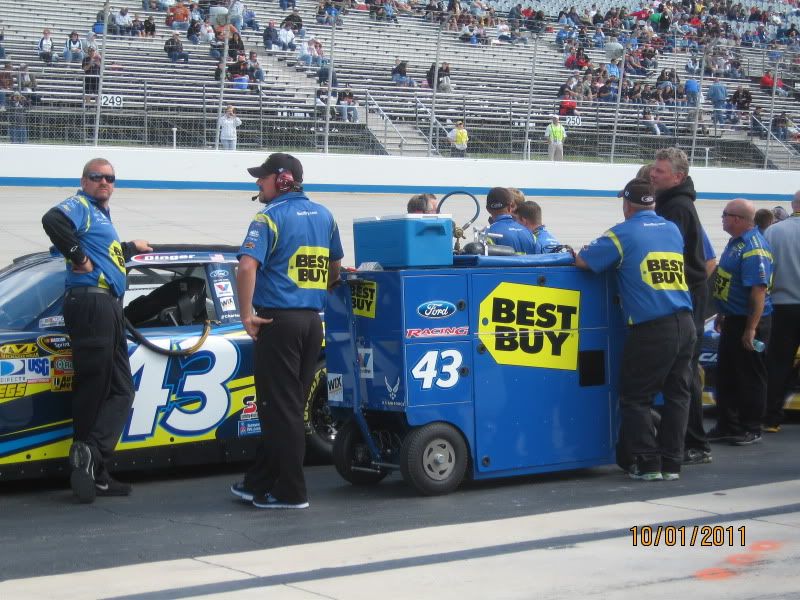 The #9 Stanley Ford of Marcos Ambrose. If only that cat with the camera would
get out of the away
. Oh wait ... that's SROH member 200WINZ walking around like he owns the joint!
With 200WINZ getting up close and personal on pit road as qualifying took place, he was able to nab some great photos such as these:
I walked back and forth, up and down pit road just to take in the sights. Finally, I just settled in around the RPM cars as they nudged forward one car at a time as the cars with slower practice times banked their qualifying speeds. The fine folks at
DingerWorld
were kind enough to put in a good word for me with A.J. and Lynne Allmendinger in case our paths crossed. Sure enough, as I was walking behind the pit wall watching the 43 inch down pit road, I was fortunate to spot Lynne. I called her name, and told her nothing more than 'My name is toomuchcountry.' Sure enough, she knew who I was based on the pre-race message from DingerWorld. Lynne could not have been nicer.
Then it was time to get the party started. With only a few cars in front of him left to qualify, A.J. belted in, the crew readied him for his lap, and the tension of those around him seemed to escalate. As the 43 hit the track, a few key folks took an obvious interest in his lap:
Paul (aka @Best_Buy_Racing on Twitter) - PR rep for Best Buy
Lynne Allmendinger - A.J.'s wife
Robert Miller (talking to Lynne) - VP of Business Development for Richard Petty Motorsports

With qualifying completed, we slipped up to the stands to watch Edwards decimate the field in the Nationwide race.
To be continued...
TMC