In late July, I blogged how Schaefer Hall of Famers and Ring of Honor members were enjoying their
2011 Schaefer Schummer
. Of course, summer isn't over in July. It runs through at least Labor Day - and for some folks, beyond! So here are a few more ways members of the SHOF and SROH enjoyed the remainder of their 2011 Schaefer Schummer.
Bill Combs is the great-grandson of Rudolph Schaefer Jr. He writes
The Schaefer Story
blog and can be followed on Twitter
@schaeferstory
. He represented the Schaefer Ring of Honor well with colors and brew in August at the Good Sam 500 Cup race at Pocono Raceway. Bill was brought into the Schaefer Ring of Honor about a year ago, but this entry is his first photo contribution. Schaaaaa-LOOT Mr. Schaefer Descendent!
He cemented his membership in the SROH by getting a meet-and-greet with
Brandon Igdalsky
just two days after Igdalsky was named the new President of Pocono!
Speaking of racing (and when am I
not
), how about this cool fictional scheme for the 43 of Richard Petty Motorsports? Designed by stimlad - a fellow poster at the
Fans For Richard Petty Motorsports
message board - I'd really like to see that happen. Look - I get it. Schaefer's market share is pretty doggone thin these days. But have you seen some of the other sponsors in NASCAR these days? Surely, the market potential for Schaefer is greater than some of them.
SROH members Kristi and Ryan earn bonus points for being a photogenic Schaefer Ring of Honor couple. They earn significant demerits, however, for toting
Bud Stinkin' Light
while wearing the SROH colors. As Gomer Pyle so eloquently put it: Shame, shame, shame.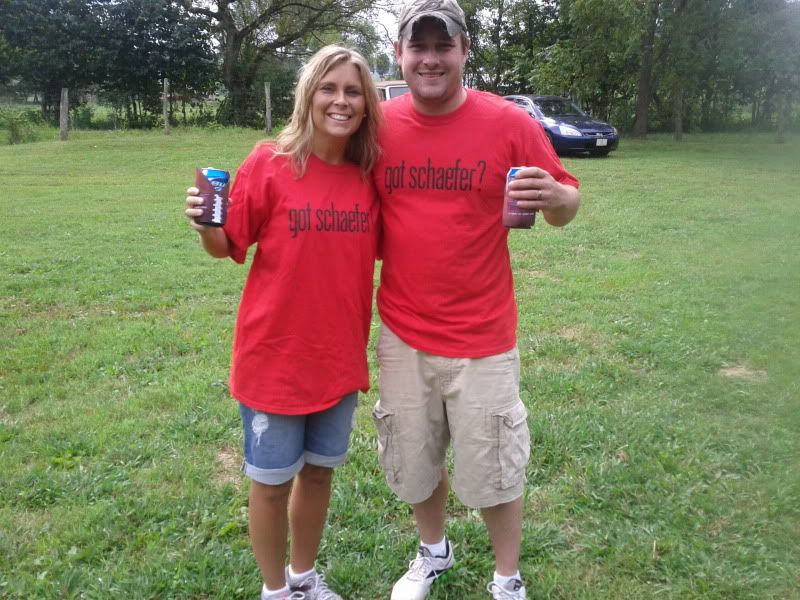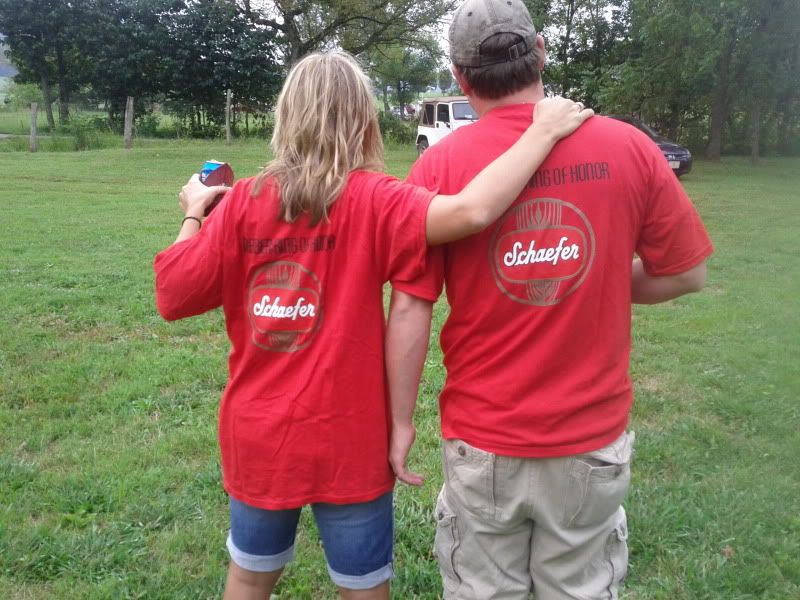 Recent SROH inductee Rick earns high marks for getting a photo-op with Miss Sprint Cup. But as with Kristi and Ryan, he demonstrated why he'll likely never earn SHOF status. He had neither a Schaefer beer OR his SROH shirt in his photo. T'sk, t'sk.
As an example to the young'uns, SHOFer Uncle Dave brings it strong. He enjoys time toying with his '55 Chevy, appreciating old school Winston Cup signage, and sharing Schaefer with friend. THAT's the way to do it.
Uncle Dave also managed to score an ancient Schaefer keg bar light for the best price of all ...
free
. It didn't work well so he re-wired the thing, and now it works as good as
new
old-school.
If you've read this blog much at all, you know when Schaefer schelebrations are featured that SROH member Bruton will be right in the middle of one of them.
The following photo is perhaps the most enviable one of this post.
Bruton was prepared to write an emergency note of "Send more Schaefer...PLEASE!", stuff it in the can, and toss it to the surf. But he realized (1) the letter would get wet and (2) the can had 3 remaining ounces in it that couldn't be wasted.
One interesting discovery Bruton made this summer was to discover the fossilized remains of the frequently-sought but rarely-found Schaefersaurus.
SHOFer co-founder and executive committee voting member, Philly, enjoyed his schummer Schaefer with a Carolina classic - low country boil. You can never have enough of either.
SROH member 200WINZ delivered his own Schaefer meal - steak, potato, and Caesar salad. What completes this? The styrofoam bowls and Dixie plate - no doubt.
While in Richmond for the September Cup race, 200WINZ met someone who is arguably the most famous celebrity in American pop culture today - Windell Middlebrooks from the Miller High Life commercials.
Windell schills for Miller - not Schaefer - but that's OK. MillerCoors brews Schaefer along with all other beers owned by Pabst Brewing. And in a spirit of transparency, SHOF members also acknowledge each member will willingly quaff the champagne of beers when Schaefer is not available. Finally, I'm willing to bet Windell is the kind of guy who would in return enjoy a cold Schaefer with you if the cameras were away.
The 2011 Schaefer Schummer is now over. But that simply means its time to submit those pictures and stories of your enjoying Schaefer this fall and throughout the holidays.
Scha-LOOT!
TMC