December 14, 1954 - April 1, 1993
The Underbird did it his way. I was fortunate enough to see him start from the pole at Atlanta in 1991 in his first race with Hooters as his sponsor. And I was fortunate enough to be at Atlanta again in November 1992 when he led the most laps, traded the lead with Bill Elliott, finished 2nd, and won the Winston Cup championship. Many have suggested the 1992 Hooters 500 was the greatest NASCAR race of all time - the Kulwicki/Elliott/Davey Allison championship battle, Richard Petty's final race, and Jeff Gordon's first Cup race.
It was so bizarre to hear on April 1, 1993, that Alan was gone. Killed in a plane crash returning to Bristol, TN from an autograph-signing session in Knoxville the night before. The reigning Winston Cup champ - gone - less than 6 months after his triumph.
Alan in garage pre-race - Atlanta - Spring 1992
Alan and The King headed to starting positions - Charlotte - Fall 1992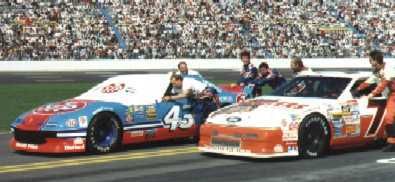 TMC