In 1997, my bro-in-law hooked me up with freebs to the inaugural Busch and Cup races at the new Texas Motor Speedway. I was working in Terrell, Texas the week before the race. So my travel expenses to get there were covered. I stayed with my sister and bro-in-law, he got comps on the tickets, he bought my dinner, the brews were covered with the hospitality, he got me pit passes, AND he arranged for a Sunday morning pre-race ride in a motorcade of Monte Carlos on the track. I don't think I spent a nickel of my own all weekend - a rare, perfect race weekend.
The area was hit with a deluge of rain in the days leading up to race weekend, and the parking lots were like a Florida swamp. But on race days, the skies were fine and we were ready to go racing.
Ricky Craven crashed...hard...during practice for the race. He suffered a head injury that took him a long time to recover. A Bodine - Todd - was chosen to fill his seat for the weekend.
Jeff Burton won his first Cup race that weekend in Jack Roush's 99 Exide Ford. The Cat in the Hat has had more than his share of success at TMS ever since.
While we were glad to see a first time winner, most of his competition got wiped out after only a quarter lap of racing. Darrell Waltrip and Johnny Benson barreled down nose to tail into turn 1 of the 1 groove track - but they didn't make it out together. DW was turned & about half the field piled in behind him. It was as if TMS wanted its own Texas-sized version of a Talladega Big One.
Eddie Gossage and Bruton Smith worked on the track a couple of years later and fixed it for much better multi-groove racing. I think the drivers genuinely enjoy racing there now vs. their dislike of it when it first opened.
But while Gossage fixed the track, he created another beast in its place - the traditional cowboy hat and fake six-shooters in victory lane. There have been some real 'winners' over the years. Some of these drivers look about as much like a cowboy as Vanilla Ice resembled a rapper. Heck, Eddie even makes the Indy guys wear the hats! Here's a sampler.
There simply has to be a better, less humiliating way to celebrate a hard earned victory in the state of Texas.
Update 2009-04-06:
Well, I guess there's not a a better, less humiliating way...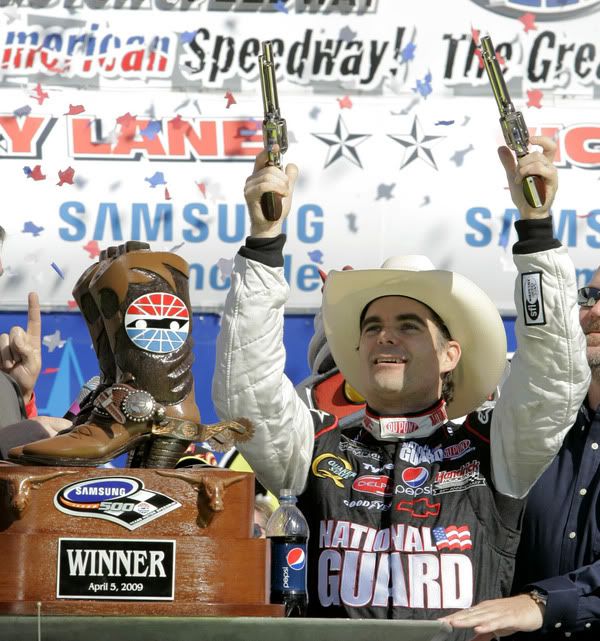 TMC