By 2000, I was living in Middle Tennessee and my racing padner was in High Point, NC. We still managed to catch some great races together in the 4 years or so after moving to different cities including the first race at Texas Motor Speedway and the memorable 1997 Daytona 500 where Dale Earnhardt rolled his car but then drove away in it to finish the race as Hendrick Motorsports cars swept the top 3 spots - Jeff Gordon, Terry Labonte and Ricky Craven.
The best race we may have reunited to see was the 2000 Winston 500 at Talladega. I scored a 4 pack of freebies (best race ticket price of all time). I drove to Dega, and my friend and a neighbor high-tailed it over from Carolina to meet us. (I'm telling ya, the guy would crawl across a summer desert to get a free ticket!)
The race was one of only two races at Dega I've had the good fortune to watch from front stretch. The rest have been seen from the back stretch - most of them from the comforts of a lawn chair or blanket. Our seats were located as the cars barreled out of turn 4 headed for the tri-oval - right about at the start of pit road.
As the cars were making parade laps, I was already fully engaged with my scanner listening to several cars. My friend nudged me and said "who ya got?" I asked him how much and he said $20 for each of us. I asked the two of them who they had. While I don't remember their picks, I do remember neither of them picked the Intimidator.
I was never an Ironhead fan, but I knew he was the obvious choice and the best option when money was on the table. I asked both of them "Seriously? Neither of you picked Earnhardt? I can have him vs. the field?" When they said yes, I laughed and said gimme #3.
Following a late race caution, the race restarted with about 10 or 15 laps to go. With 5 to go, Earnhardt was buried back in 18th spot or so, and I resigned myself to paying off the 20 bucks. Figured it was cheap money considering the tickets were free. With 3 to go, he had moved up only a few spots. However, with two to go he made his move and simply drove and drafted his way to the front. I thought the stands were going to explode with all the energy and screaming.
As he took the lead, I remember standing there slack-jawed and shaking my head at what I was seeing. Kenny Wallace bump drafted the #3 by his own teammate, Mike Skinner, and nestled in behind Dale for 2nd - a career day for Kenny. Front Row Joe Nemechek even had a strong rally and finished 3rd.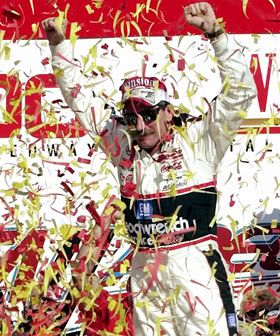 Source:
Stangbangers
As many know, this day turned out to be Earnhardt's final win. He was killed in the last turn of the last lap of the 2001 Daytona 500 ending a sensational career.
Lost a bit amidst Earnhardt's win that day, the fantastic way he earned it, and the realization later that it was to be his last win was Andy Petree Racing's 2 cars in 2nd and 3rd with journeyman drivers. The race was like many others held over the years at Talladega where finishes were often determined more by machine than by driver (Earnhardt's winning move excepted of course). Nonetheless, it was a great day for APR.
Hard to believe its already been about 9 years since that race.
Kenny Wallace is now a weekend funny guy and TV host for Speed TV and runs the Nationwide Series.
Front Row Joe Nemecheck has now largely become Back Row Joe as he barely makes the field each week in his unsponsored, under-funded, independent team. When he does make the race, he generally starts it, parks it shortly after the start, and pockets a pretty decent payday - enough to cover expenses and go to the next week's race.
Andy Petree dissolved his teams a few years later. He has emerged as perhaps the best color guy in the booth while working for ESPN. NASCAR's TV coverage has been at its premium when the networks use intelligent, articulate, and humble color analysts such as Ned Jarrett, Neil Bonnett, and Andy Petree.
R.J. Reynolds and their Winston cigarette brand left NASCAR after the 2000 season - both as a series sponsor and as a race sponsor for Dega's Winston 500. Cell phone companies now bankroll the the NASCAR brass in Daytona.
Earnhardt lost his life in February 2001. While the grief has subsided and new driver loyalties have been developed (somewhat - mostly with Dale Jr.), memories are still vivid and loyalties still persist. I'm amazed at how much #3 and Ironhead gear each time I go to the track - many years after his death.
TMC