Toomuchcountry simply had toomuchfun at Charlotte to cram all the memories into a single blog entry. So here is part 2 of the fun stuff crammed into 3 days.
Meeting Rick Petko from American Chopper at the Orange County Choppers souvenir trailer.
Monte Dutton singing his own songs such as
Furlough Blues
,
Wherever You Are
,
Gotta Be Somebody
(written after seeing the ugliest woman of all time in the worst bar of all time in a Kentucky joint named "The Blue Moon") as well as a few others such as Charlie Robison's
Barlight
, a Charlie Pride song, and
Jambalaya (on the Bayou)
. We all had a big time listening to Jambalaya as he sang the chorus over and over in different voices - George Jones, Ray Price, Charlie Pride, etc. He also served up one of his racing songs for us - Martinsville:
Hearing a great story about Buddy Baker winning at Charlotte in 1967 or 68. He was driving a factory Dodge for Ray Fox, and it was one of Buddy's first really big wins. After winning, a reporter asked him what he was going to do with his prize winnings. Without thinking, Buddy blurted out to everyone "I'm gonna buy me one of those fancy Cadillacs!" Oooh, wrong answer Buddy.

More Schaefer celebrations

Running into my ol' long-time bud, Dirttracker38, and his son as they enjoyed race weekend from West Virginia.

Seeing the black #3 on the track again - even if it was a dirt late model driven by Austin Dillon (Richard Childress' grandson). Of course, a lot of Earnhardt fans say they miss the black #3. But Dale Sr didn't drive a black #3. He drove a white #3 - on a black car. Oh well, semantics, semantics.

An induction ceremony into the Schaefer Race Weekend Hall of Fame. We have 2 HOF charter members (one being yours truly). Most folks are in the Ring of Honor - but are not in the HOF. This weekend the executive committee voted to elect UDR into the Hall of Fame along with the 2 charter members and 2 additional HOF'ers. Congrats UDR on joining Rookie and Terry! And thanks to Reverend Randy for your tear-invoking induction words.
Seeing Tony Stewart's first win trophy as a car owner/driver only 6 days after the win - and teammate Ryan Newman's Coors Light flag less than 24 hours after winning the pole at Charlotte.
All race mornings should begin this way - cheesy eggs, sausage, and a Schaefer.


Oyster shuckin' and slurpin'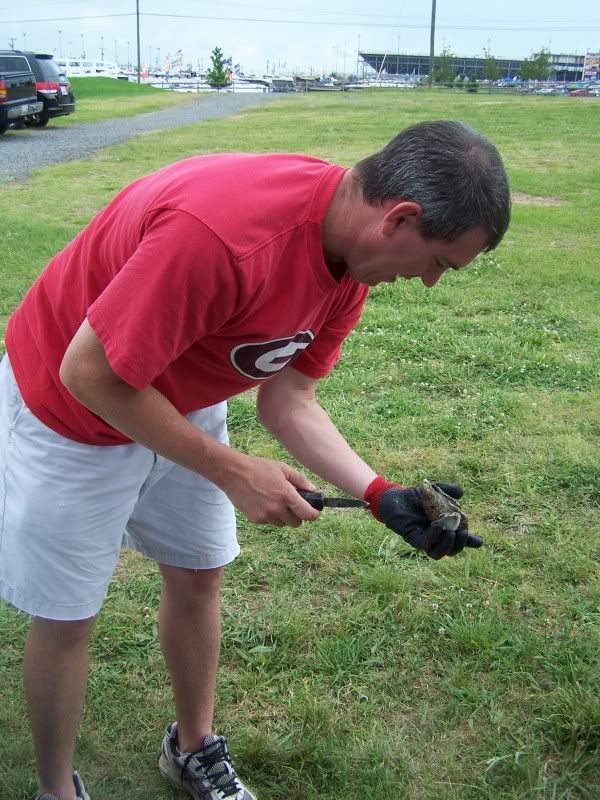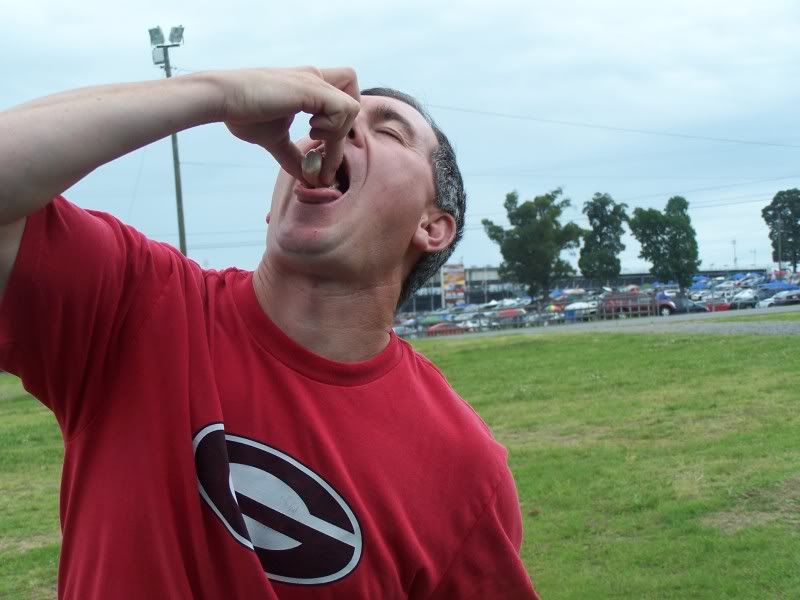 Noticing that Dale Jr's crew had TWO pit boards to minimize the risk of his blowing through his pit stall yet again.

Shockers and Cuppers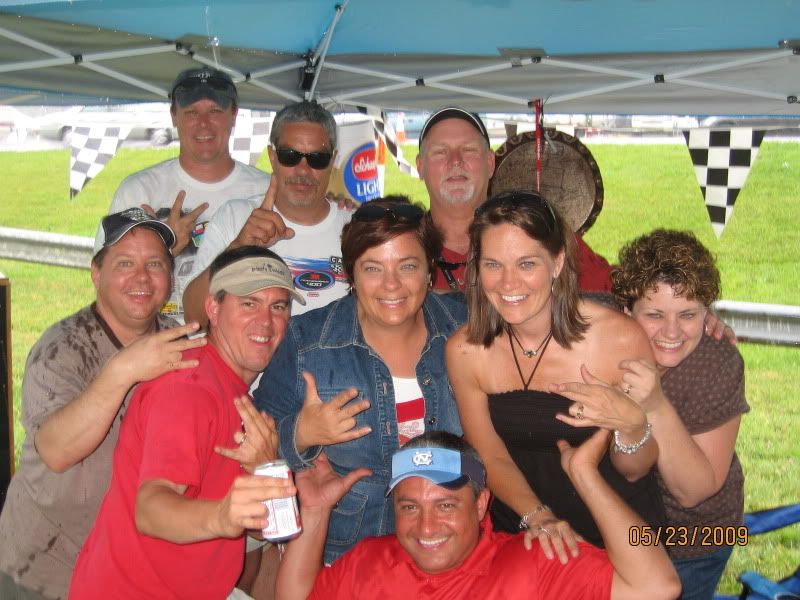 Getting chills watching the World of Outlaws sprint car race pace lap before they dropped the green.
Seeing a fan's hot tub from way atop our grandstand. The thing was foaming over which was funny in its own right. But some cat was sitting in it talking to a girl, and he was wearing a white, open-faced helmet! Who knew why - but we laughed heartily. I did the best I could to grab a photo - but it was a bit challenging with my camera lens, the distance, and volume of products from St. Louis and Milwaukee coursing through my system.
TMC