Now how's
that
title grab ya there m'friend? That's about the only title I've got right now for many reasons:
I've got to start somewhere.
Everyone else on the web but me already has their Coke 600 thoughts posted.
I'm not sure how many entries I'll end up posting to recap the weekend so "entry 1" seemed to give me more logical options than "entry A". (Hold on folks - this could run on for a while.)
It was late the night I started typing this, and my headline-writing creativity has been low all week.
Furthermore, as
blogged elsewhere
, an uncle of mine with whom I was very close died Thursday. Its put a bit of damper on my enthusiasm to blog about all-things-fun. But I'll proceed.
So let's jump right in shall we?
The sponsors
OK, so what was up with Matt Kenseth's sponsor? JEREMIAH WEED? Apparently, its some sort of Vodka drink.
Well that was news to me because Jeremiah was a bullfrog the last I heard. He was a good friend of mine, and I helped him a'drink his wine. So somehow I'm not really sure vodka is involved here anywhere.
It was good to see the blue/yellow Best Buy colors back on the #43 of A.J. Allmendinger rather than the whacked-out, green-tinted yellow of Insignia that's been on the sides much of the year.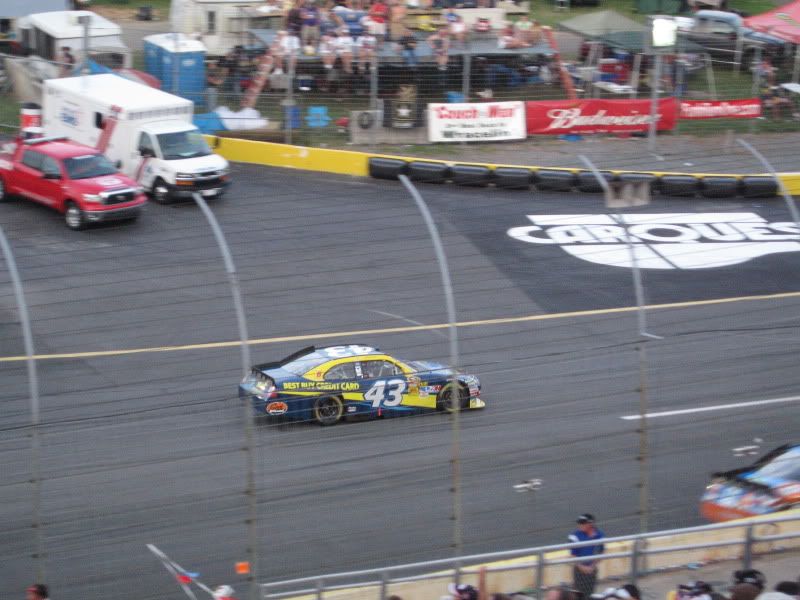 I realize patriotism and an appreciation for the military spikes on Charlotte raceday. But all the star-laced Hendrick Motorsports' cars were a bit much to follow. It was hard to find them on the track - except when the 48 wrecked. Believe me, the crowd
quickly
found the wrecked Jimmie Johnson car.
It just seems to be the age of vinyl "paint" schemes for NASCAR has become analogous to early users of PowerPoint? Remember all the bad presenters you saw back then - in college, in work training, seminars, etc.? All the animation, swoosh sounds, slide transtions - all that crap detracting from the message. When NASCAR went from a bucket and brush to vinyl and squeeges (and multiple primary sponsors), the ability for fans to identify with a car diminished greatly.
The races
The Busch brothers took the hardware, split the dough and left town. Kyle took the Nationwide 300 on Saturday, and Kurt turned in a dominating performance on Sunday to take the 600.
Even more remarkable was Rowdy's run back to the front in the 600 after getting caught up in Jimmie Johnson's pit road snafu. He had a fast car, got a lap down, and rallied back to finish 3rd. Say what you will about New Kyle vs. Old Kyle. Kyle is good. A lot has been made about the success Steve Addington is having with KuBu after previously serving as crew chief with KyBu - and its merited. The Miller Lite Dodge is running much better and winning more frequently than in 2009. But the 18 team is no slouch either.
The 600 generally has two or three themes to it. A rabbit often sets an early pace but fades as the sun sets. A strong car then often takes over but doesn't always win because of fuel strategy, an unforseen broken part or other bad luck as the race nears the end. And the last couple of years, a surprise winner has emerged.
But this year, KuBu's put the #2 Dodge in the wind and stayed there all night. Only Jamie McMurray's brief run at the front offered a late-race challenge to Kurt. But when the final pit stops took place, Addington's men did what they are paid to do and got their car back out front. Once that happened, Kurt finished the job.
As the race hit the 80% completion mark, Jamie was in the lead and Kurt was 2nd. A trivia question hit me as I looked at the scoring tower: Had a car #1 ever won a NASCAR Cup race with a car #2 finishing second?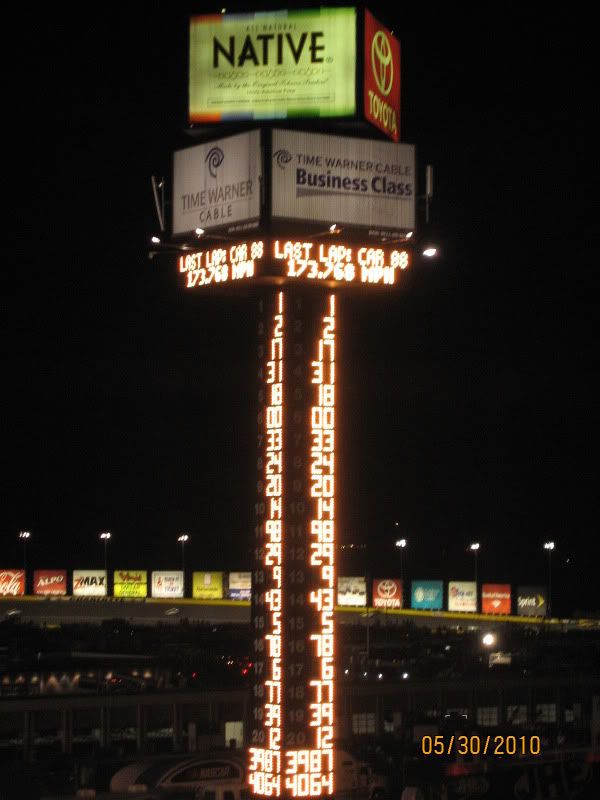 I did a bit of research this week. From what I can tell, it hasn't happened before. And because Kurt was able to get back around McMurray on the final restart, it STILL hasn't happened.
Tailgating and Fun Times
I sawthis discarded funnel and empty pack of Newport smokes as we walked to the track Sunday evening. About the time I walked by this spot, I was hedging a guess many folks were hurting badly somewhere.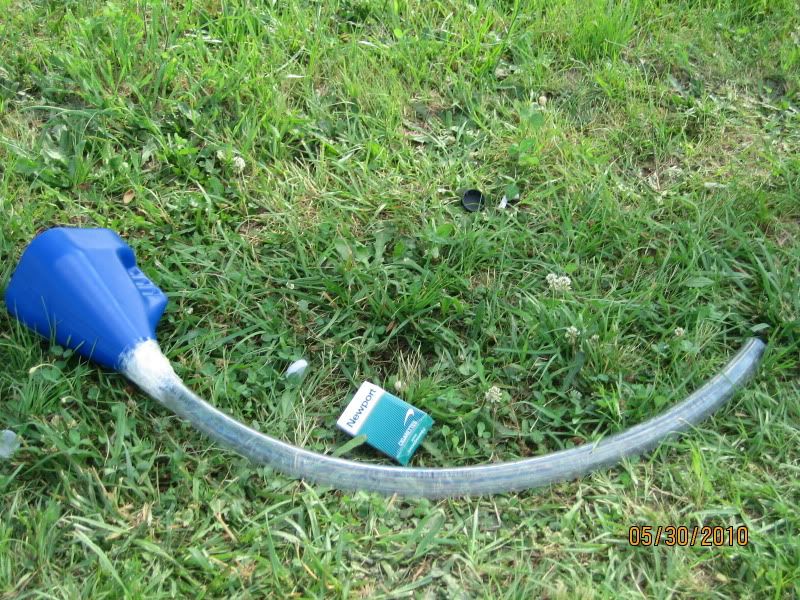 My uncle and parents started taking me local Saturday night late model races when I was 9 years old. Earlier this week, I had my umpteenth anniversary of my first Cup race at Nashville Fairgrounds Speedway in 1978. Because I started going to races as a kid, I always have a blast watching kids enjoying themselves at races. Sometimes they watch the races with great intensity or amazement. Other times, they simply want to be there for all the trappings - the concessions, the military jet flyovers, fireworks, whatever.
I dare you to tell me the following kids weren't having big fun.
This one for instance...
How about this dirt trackin' fan?
And even these two... now, wait a minute...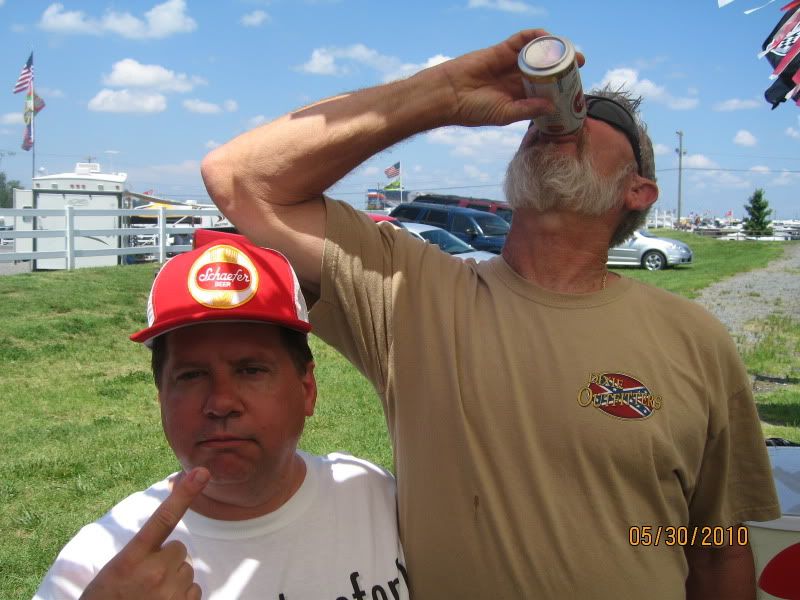 I'll save stories and pictures of our well-honed tailgating skills for additional entries. But before you form any stereotyping thoughts about us, check out the touch of class provided our area by one of our guests from Darlington, SC. Now ain't this arrangement just purty?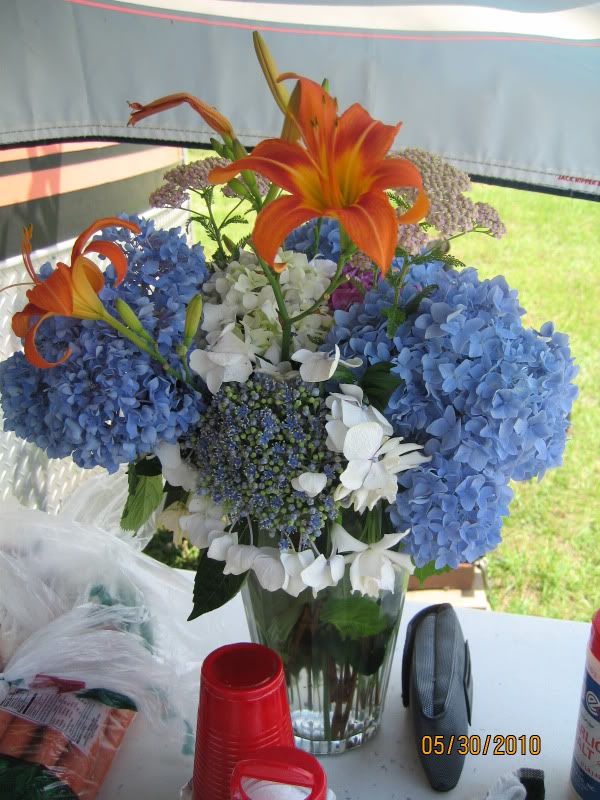 Stay tuned for entry #2.
TMC