If you know anything at all about TMC's blogging the last 18 months or so, you won't be surprised to learn Schaefer beer was front and center at our tailgating activities for the Charlotte weekend. Actually, we do it up so right Coke 600 weekend the word "tailgating" hardly does it justice. This year marks the 18th anniversary of Schaefer getting "first beer" honors.
When a friend of mine and I started what later became the Schaef tradition, we had a sixer amongst the rest of our brew. Over time and with other participants, the quantity grew to a 12-pack, a case, two cases, etc. Last year, we had 3-1/2 cases and ran out.
Rookie (a fellow Hall of Famer) and I started discussing quantities for the 2010 soiree in April. By mid-May, a bit of panic hit. The Nashville, TN distributor who traditionally had Schaefer in its product offerings stopped distributing it. None was available in middle Tennessee. In addition, it has become increasingly scarce in the greater Charlotte area.
Fortunately, Rookie was able to deliver by bringing FIVE cases to this year's event. Knowing he may now well be our sole-supplier - not only for race weekend but also for post-race walk-away delivery, we agreed a reprise of Smokey and The Bandit may in the works.
It didn't take long at all to the party rolling. Rookie not only rolled in with the 5 cases for the weekend but also custom-make Schaefer trucker caps for the Hall of Famers. In addition, the 2010 Coke 600 marked the race debut of the
custom-built Schaefer die-cast
car. Its builder GaPettyFan was on-hand to witness the accolades heaped upon the build by everyone. GPF is a race veteran but a Schaefer virgin - or at least he was. He jumped right in with us with his cold Schaefer nestled in his Schaefer koozie.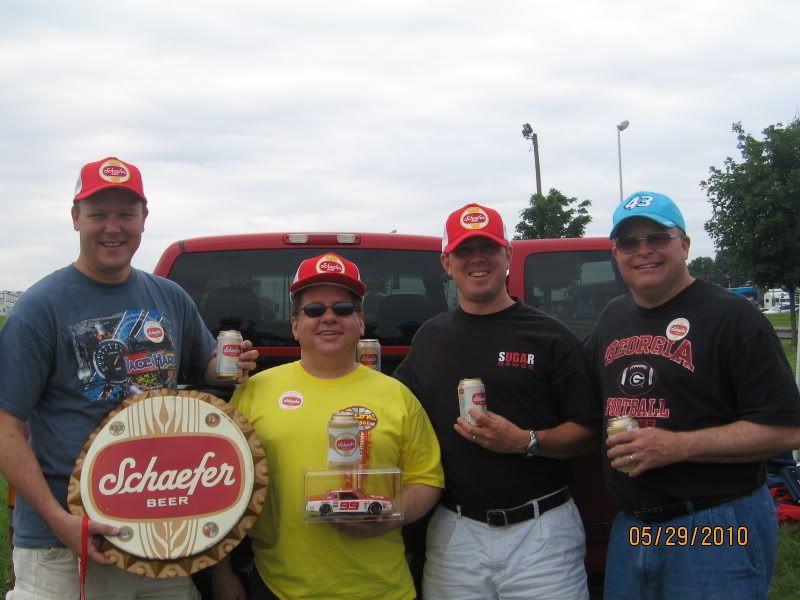 Speaking of GaPettyFan, once he donned his race hat and shades we decided we bore an eerie resemblance to the head of Speedway Motorsports, Inc. For this reason, his nickname was changed to Bruton for the rest of the weekend.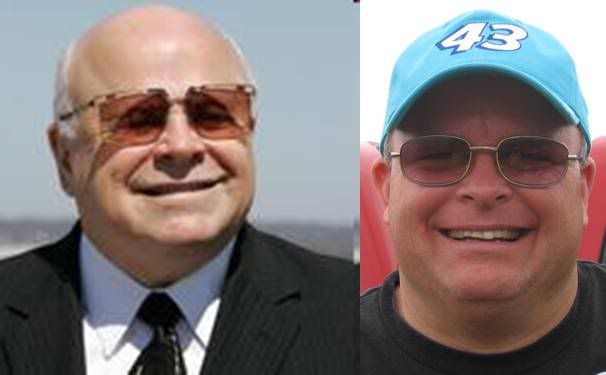 After downing our first Schaef and donning our new caps, we set about marking our territory with the obligatory Schaefer swag - including a recently procured photo of Wendell Scott with one in his hand!
Then it was on to breakfast. And raise your hand if you also enjoy sausage, eggs, toast, and a Schaefer to begin your day?
Before you stereotype Schaefer as a one-trick pony for its first-beer status, think again. Its not just a party beer with an 18-year tradition as the NASCAR starter beer. Its multi-functional. The empties can also be used as a stabilizer for the satellite dish used to watch happy hour and the Indy 500.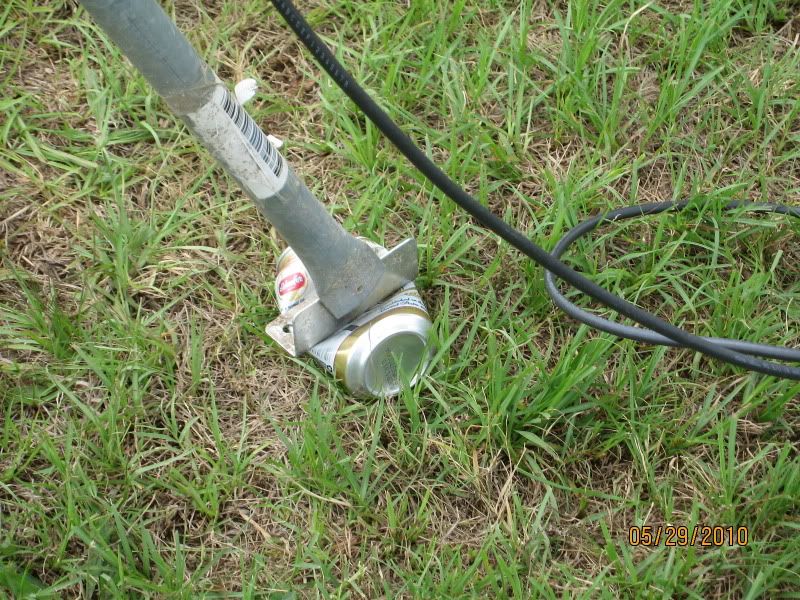 Syndicated NASCAR writer and amateur singer-songwriter, Monte Dutton, joined us again this year on Sunday before the 600.
He sang several songs for us including a couple of news ones and a Tom T. Hall cover; told some stories about David Pearson, David Poole, Dale Earnhardt, and others; and even shared a Schaefer with us this year. Though he took no
written
notes, he collected plenty of visual information and
wrote about our shin-dig
in a pre-race article! I should have expected as much when he told us he had a keen eye for trivial detail.
Here's a video I shot of Monte singing the country classic Jambalya. Notice the forced product placement ad beginning at 2:25. The neon signs in the smoke-filled honky tonks of west Texas have nothing on our set-up.
Now folks gotta eat as they're drinking. We had slow-cooked barbecue, brats, homemade pimento salad, sandwiches, and all the trimmings you can think of. But the perfect complement to Schaefer? Why, a tote of Junior Johnson pork rinds of course!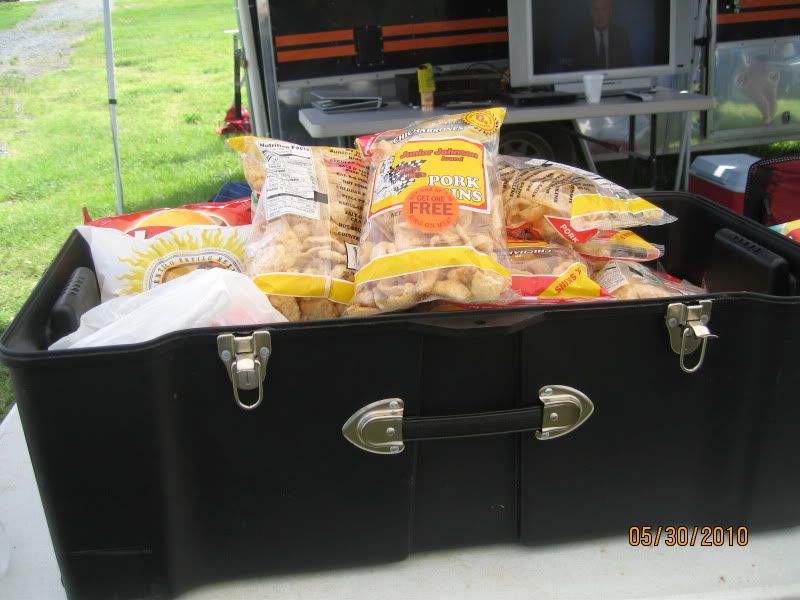 We burned through Rookie's five cases of regular Schaefer in two days
in addition to
other beverage choices. Rather than risk the embarrassment of offering Schaef we didn't have, Philly - another Hall of Famer - rallied up a case of Schaefer Light from his house. Embarrassment avoided.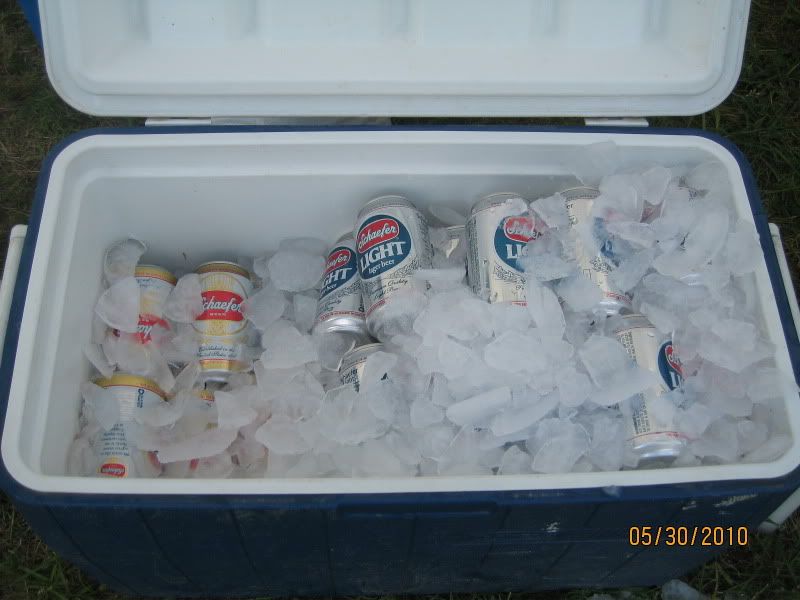 As I close with this installment, here is the slideshow of many of my friends at the 2010 Schaefer Schwilling Schaellebration.
Omitted from the slideshow are three soldiers from the U.S. Army. Two of them have already served in Afghanistan. They drifted through our set-up area and initially requested just a bottle of water. After a bit of urging, they got a bite to eat and took on the Schaefer challenge. Once the first couple of cans were empty, they decided to stay a while. We had a ball with their hanging out with us. But not knowing whose eyes may find this page, I've decided to omit photos of them here.
Believe it or not, we did make it to the races - the Nationwide race on Saturday, the dirt track races Saturday night, and the Coca-Cola 600 Sunday evening. By the time it came to load the coolers for the 600, we were out of Schaefer. Miller High Life became the replacement beer - but the cans were easily disguised by those of us with Schaefer koozies.
But I had one more trick up my sleeve. I brought two refugee beers back with me from our
February Las Vegas
race trip. I had the regular edition on Saturday, and I saved the light version for Sunday's 600 race.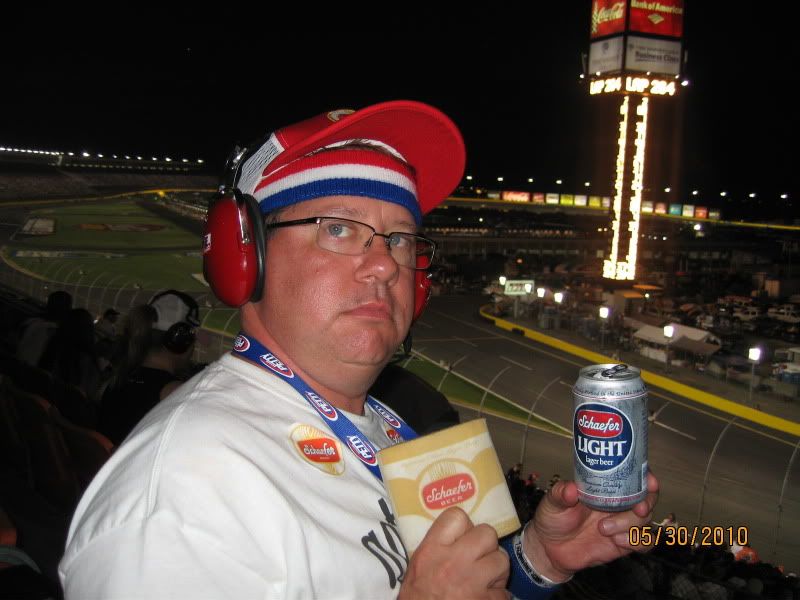 As the famous slogan goes, Schaefer...its the beer to have when you are having more than one.
Additional weekend memories...to be continued...
TMC