1977 Schaefer 500
USAC Indy car race
Pocono International Raceway
Pocono, Pennsylvania
Winning driver: Tom Sneva
Winning car owner: "The Captain" Roger Penske
Full results:
UltimateRacingHistory.com
Super Tex A.J. Foyt knocked off fellow Texan Johnny Rutherford to capture the pole. After a week of sparring with track management, Foyt was boo'd - BOO'D - after laying down the quickest lap. The very popular Foyt had captured his fourth Indy 500 just a month or so earlier. So to hear boo-birds was quite the unexpected reception, but at least Super Tex recognized the jeers were from adults and not kids.
Flickr user
jkracing50
has some great photos of Sneva from race weekend - including one of a shirtless, flip-flop wearing, jorts sportin', mullet head getting the chance to watch Tom pull into victory lane.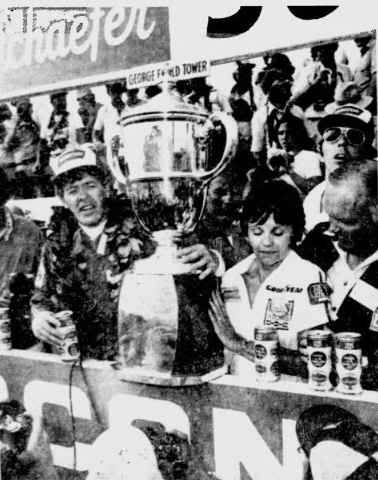 Some notables from June 26, 1977:
Joe Saldana finished 10th. Saldana is the father of Joey Saldana, current World of Outlaws driver.
Al Loquasto, who later drove a Schaefer Buick in the 1981 Mountain Dew 500 NASCAR Cup race at Pocono, finished 28th driving for himself.
George Snider completed a lousy one lap and finished 33rd - dead last - driving for Bobby Hillin. Yes, Hillin. As in Bobby Hillin, Sr. - father of future NASCAR rolling chicane driver, Bobby Hillin, Jr.
Source: Wilmington NC Star-News via Google News Archive
Sports Illustrated ran a
feature article about Sneva's win
... and Foyt's antics ... in their July 4, 1977, issue. Unfortunately, the race's title sponsor received zero mentions. The 'sports magazine' erroneously referred to the race as the Pocono 500.
TMC
Edited June 26, 2014