As has been well established, where two or more are gathered in racing's name, Schaefer beer is sure to flow. The NASCAR Schaefer Hall of Fame has its origins at Talladega in May 1992. It remains a fairly exclusive club with only about a half-dozen members in the hall and about three dozen in the Ring of Honor.
Its members, however, are passionate about sharing the magic of Schaefer and NASCAR as they travel this great nation. (By the way, if someone can score some Monaco F1 tickets and a photo-op with some of those hot
grid girls
, we'll pack some Schaef in our luggage and launch this thing
internationally
!)
The HOF started way back when with a simple charcoal hibachi grill and a pack of hot dogs - one of which
might
have been eaten after it fell off the grill into the dirt. Maybe. This year? The debut of the custom-built, tow-behind, gas-fired, pig-bling, mofo GRILL baby. Complete with fenders and dual exhaust I might add.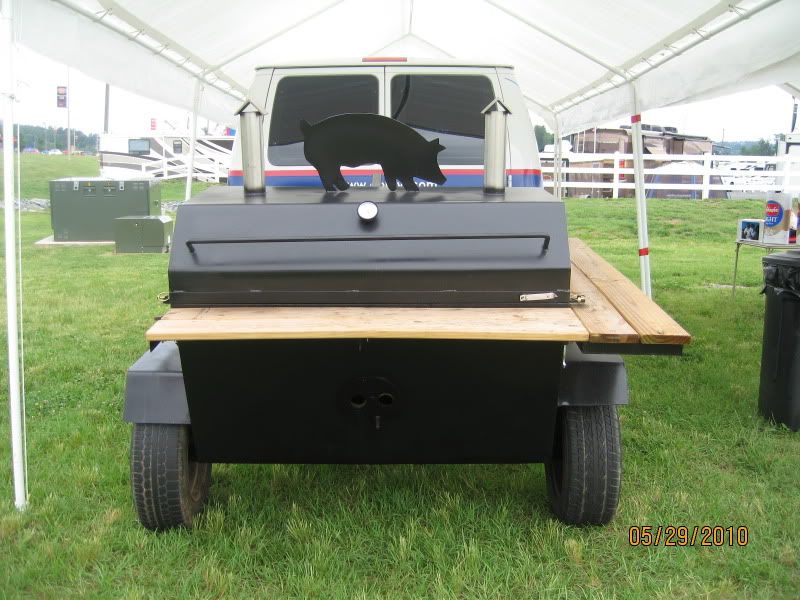 After being inducted into the
HOF in 2009
, Uncle D couldn't make the trip from the Midwest this year. Because he's been such a great ambassador for the HOF as documented
here
and
here
and
here
, we simply had to have a stand-in represent him at official Hall of Fame photo opportunities.
Presenting the reigning NASCAR Schaefer HOFers:
Rookie, "Uncle D", TMC, Philly, and Paducah.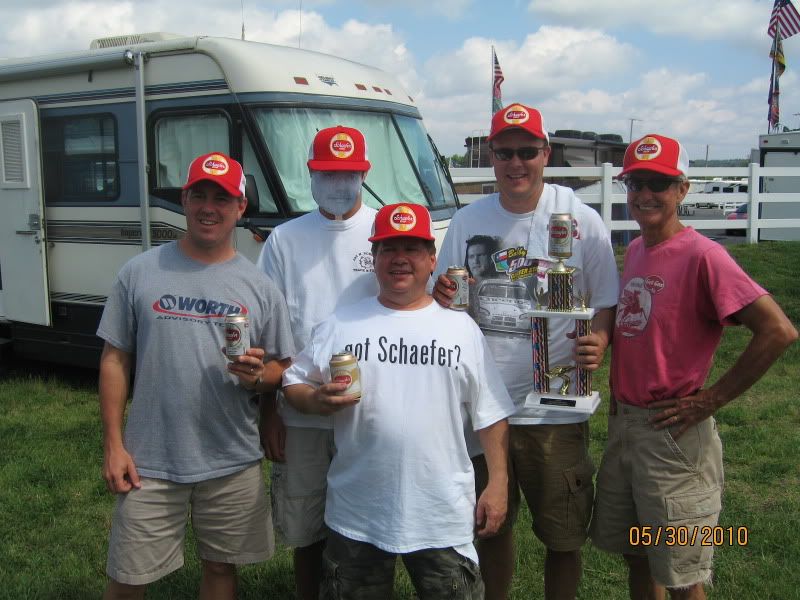 This year's HOF and Friends reunion gathering featured a special surprise - a custom-built trophy for the winner of the inaugural Schaefer Racing Corn Hole Tournament.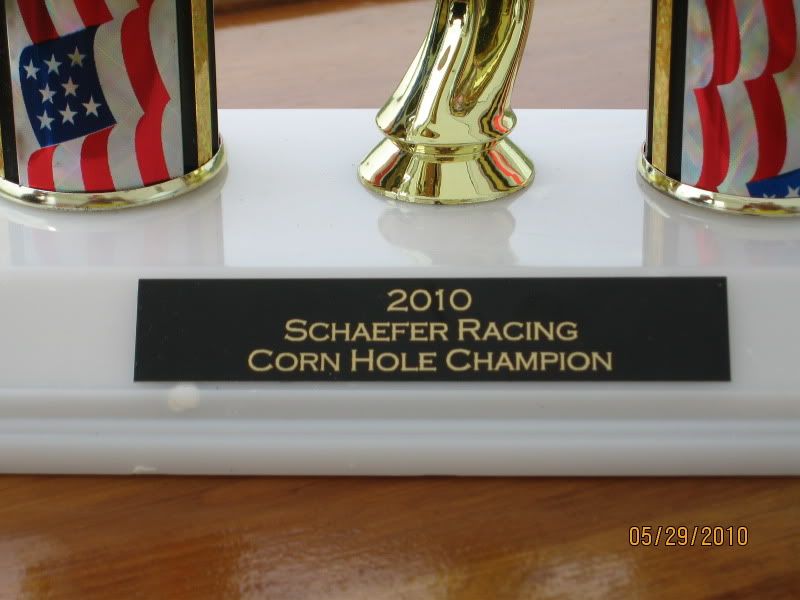 Tourney brackets were drawn, partnerships formed, rivalries arose, friendships were rekindled or started anew, smack was thrown, and competition was spirited but filled with raucous laughter.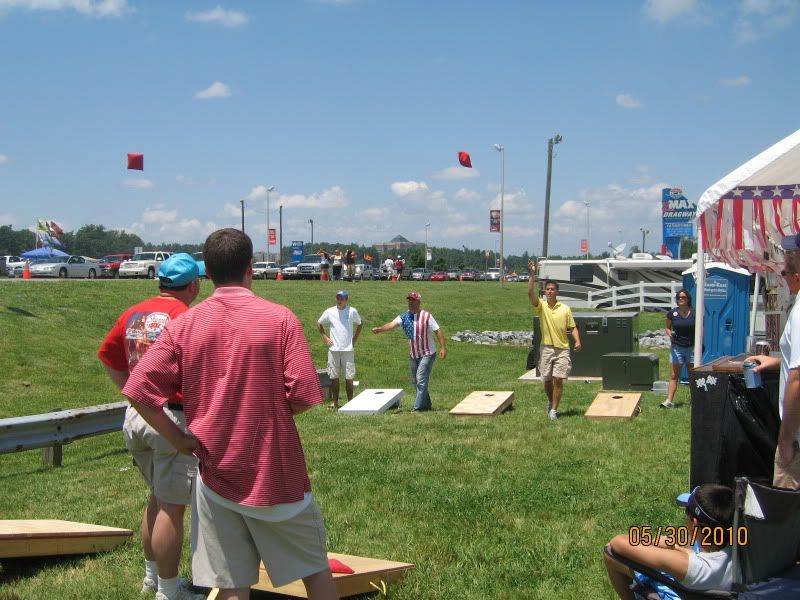 When the dust settled, the winners of the 2010 Inaugural Schaefer Racing Corn Hole Tournament were... [drum roll...barummmmmmmm] ... Cuba and
Angry
Happy Karen! They bested a field of 32 to claim the championship and the much coveted trophy.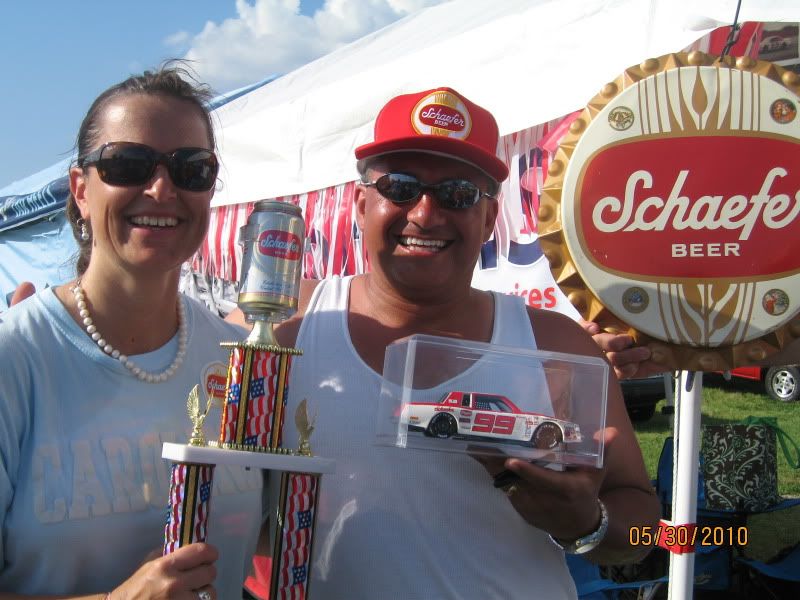 With the excitement of the win still hanging in the air, more honors were bestowed upon Cuba. He was unanimously and enthusiastically voted as the 2010 inductee into the Schaefer Hall of Fame! Sall-ooot!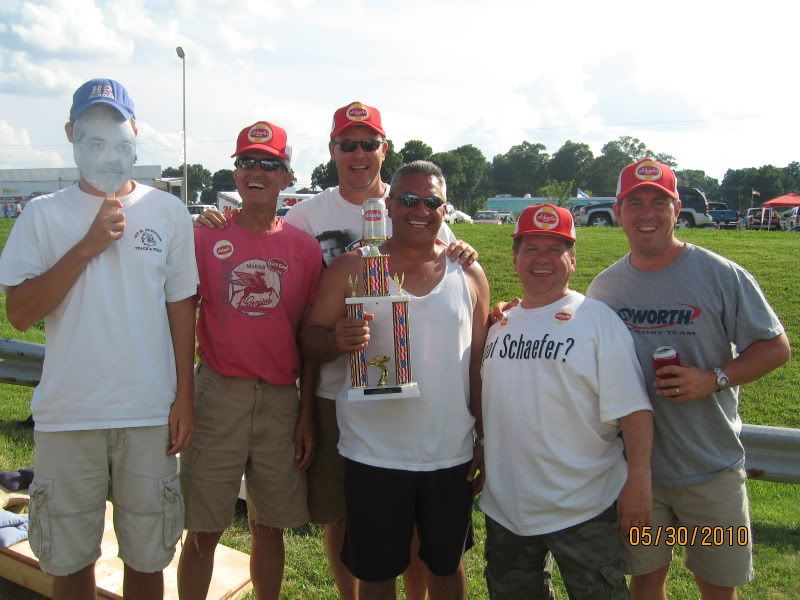 Cuba then had the privilege of moving his name from the Ring of Honor to the Official, Sho-Nuff Hall of Fame to join Philly, TMC, Paducah, Rookie, and Uncle D.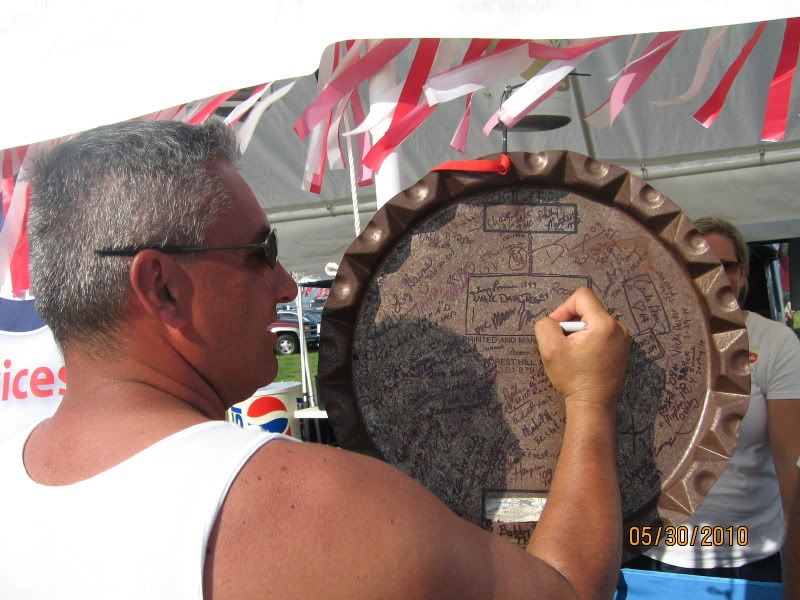 Once the ceremonies (and six cases of Schaefer...burp) ended, it was time to head for the track for the main event - the Coca-Cola 600. No 600 would be complete without Rookie getting his traditional turkey leg. The Indy 500 has its traditional milk. The Kentucky Derby has its run for the roses. But nothing screams NASCAR in Charlotte like Rookie with his cold beer and a big, honkin' turkey leg!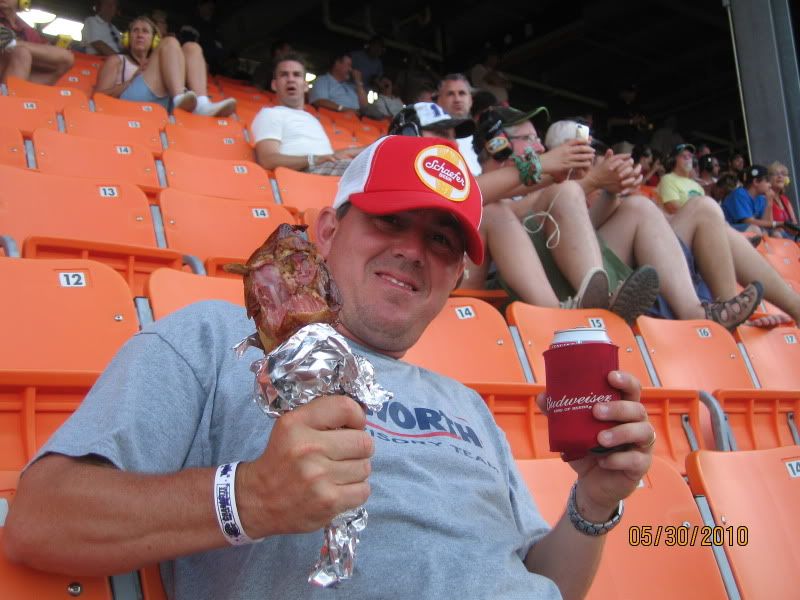 The only concern I had about this year's meal is where he purchased it. Instead of concession stands, our tickets allowed us access to the Bistro.
THE BISTRO???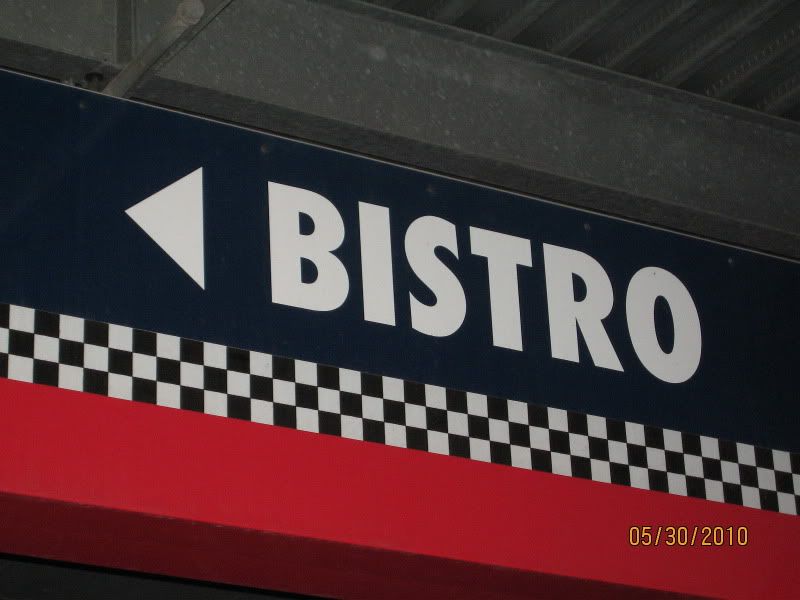 Now what self-respecting Schaefer-swilling, NASCAR-loving, turkey-eating, race fan can be caught buying food at a bistro? But I reckon a man's gotta do what a man's gotta do.
In all seriousness, one event capped the whole weekend for me. As I blogged at my
non-racing site
, an uncle of mine - Uncle Earl - was diagnosed with a recurrence of brain and lung cancer in early April. We knew his time was limited, but he'd been able to visit with a few friends and family. I visited with him about 10 days before the race and returned home feeling like we'd have him with us for a while.
Our race weekend crew was incredible. First, the HOFers gathered for an "E" tribute picture. We thought two shirtless clowns and the handy house made for a nice touch to the photo.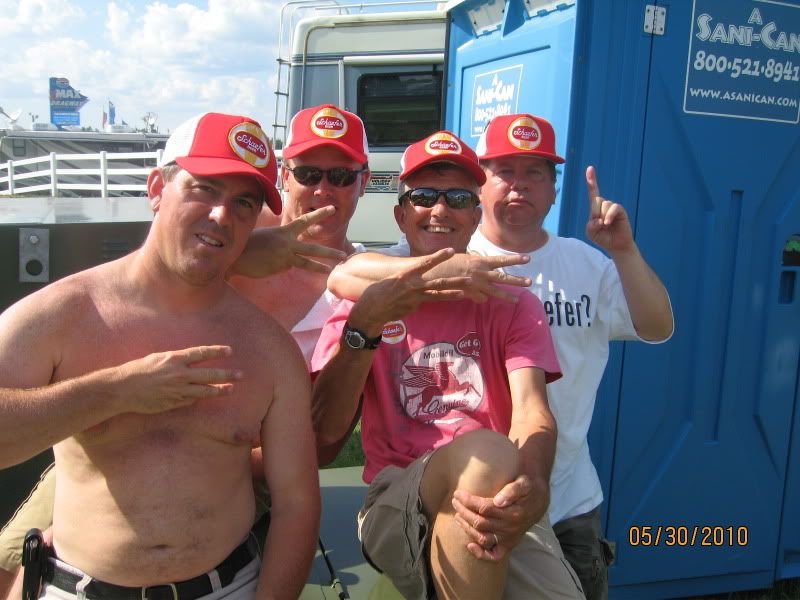 Later, the whole group posed with a "Hey Earl!" sign and the 3-fingered "E" salute.
My plan was to e-mail him the photos and then ship them to him as 8x10 prints. Sadly, however, he died last Thursday - just three days after I returned from the race. I never got the chance to share the photos with him. My aunt, however, said she still wants copies.
And just so you know, yes - I
do
know now to bend the brim of a cap. I just chose not to.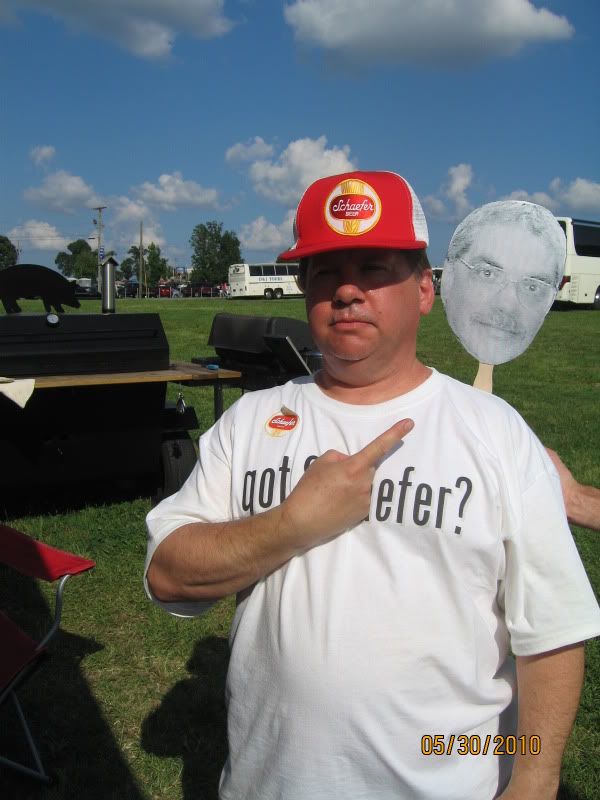 I was going for the retro Maurice Petty look from 1972 at Wilkesboro!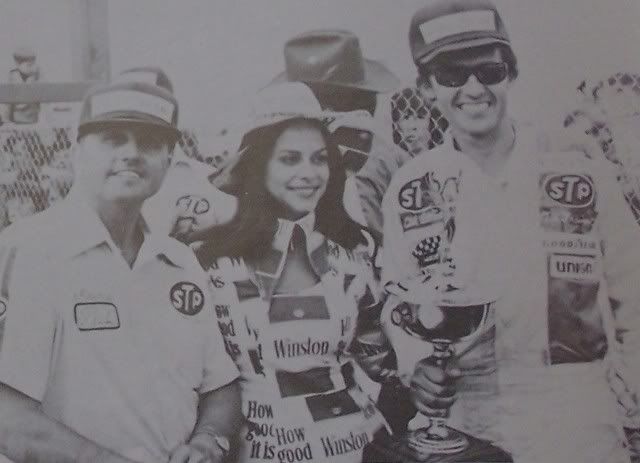 With another 600 notch in our guns, we put the 2010 edition on the shelf. My rebound rate following a long party weekend isn't what it once was. It was made doubly difficult this year with the surprising call we got late last week. But life goes on and so does racing.
So when's the next one? And who's bringing the Schaef?
TMC