Today I begin a
three
four
-part blog series about the expected and realized great times enjoyed by many - including me - during four days in Charlotte for the Coca-Cola 600, the 20th anniversary of the founding of the Schaefer racing experience, and all related trappings.
The first entry is about the good times we had while taking in qualifying for the Coca-Cola 600.
Wednesday
- While I didn't arrive until Thursday, SROH member Slick Rick landed with his camper on the grounds of Charlotte Motor Speedway Wednesday afternoon. His first order of business? A Schaefer Scha-LOOT of course! Atta way to represent Rick. Nice work.
Thursday
- Shortly after arriving Thursday afternoon at the home of Schaefer Hall of Fame co-founder Philly and his wonderful bride, SROH member Lanie, I was instructed to "Get changed and let's go." So I did. Historically, I've arrived on Friday afternoon with plans to crack my first Schaefer and then head out to watch World of Outlaws sprint cars at Charlotte's dirt track. But after a couple of years of (1) getting rained out on Friday night and (2) not understanding the whole night's events anyway, I wanted to mix it up this year a bit with other plans. One of those agenda items was to take in Cup qualifying. And with that, we were off with plans to go full speed the rest of the evening.
The first stop of our evening was at The Big E Experience event at the
Embassy Suites
near the speedway. The event was designed to introduce folks to the hotel's sales and event planning staff and several vendors who excel at creating fun and innovative team-building events and outings. As someone who does a fair amount of travel, attends two to four training conferences a year, and helps direct a team of over a dozen super professionals, getting some insight into these offerings was very cool.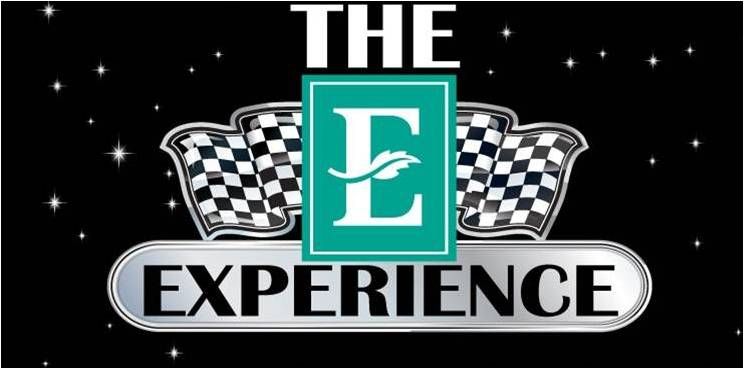 While I understand the business relevance of The Big E Experience, let's not kid anyone. Food, drink and door prizes were available in ample supply and enjoyed by all. Now, I get that some folks may be bothered a bit to see a pig displayed like this: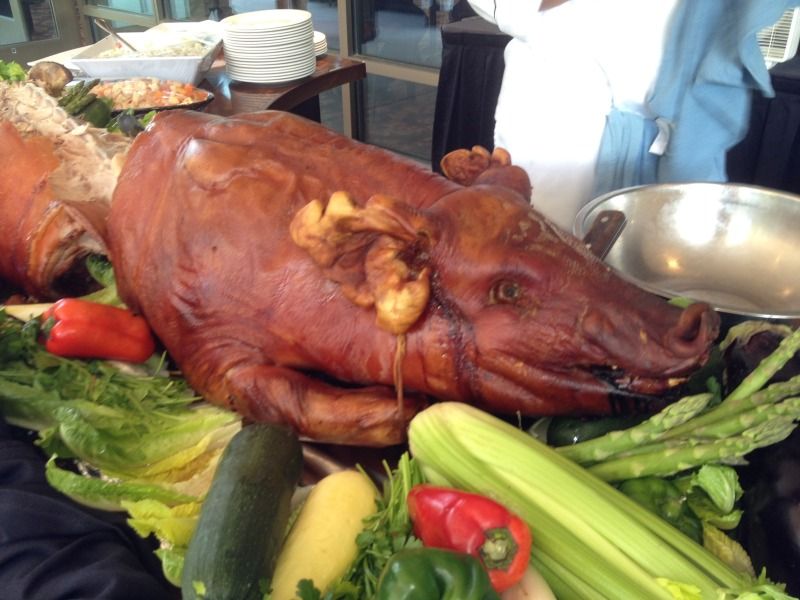 But let me assure you that all your angst, hostility, shortness-of-breath and awkwardness would be shed like a snake's skin as soon as you tasted a plate of that pulled pork. The Embassy did it right. Succulent Q. Topped with North Carolina barbeque slaw. Son! As Forrest Gump so eloquently said, that's all I got to say 'bout that. So even though the pig didn't have a smile on its face, those of us who enjoyed it certainly did! Oink, oink.
Credit: SROH member Lanie - Thanks!
After enjoying the festivities (but leaving empty handed after totally striking out with the door prizes), we made our way to Charlotte Motor Speedway for qualifying. We had a feeling something special
miiiiight
just happen as we parked our car.
The next stop for us was The Speedway Club that sits high atop the Diamond Tower overlooking the start-finish line and pit road of the speedway.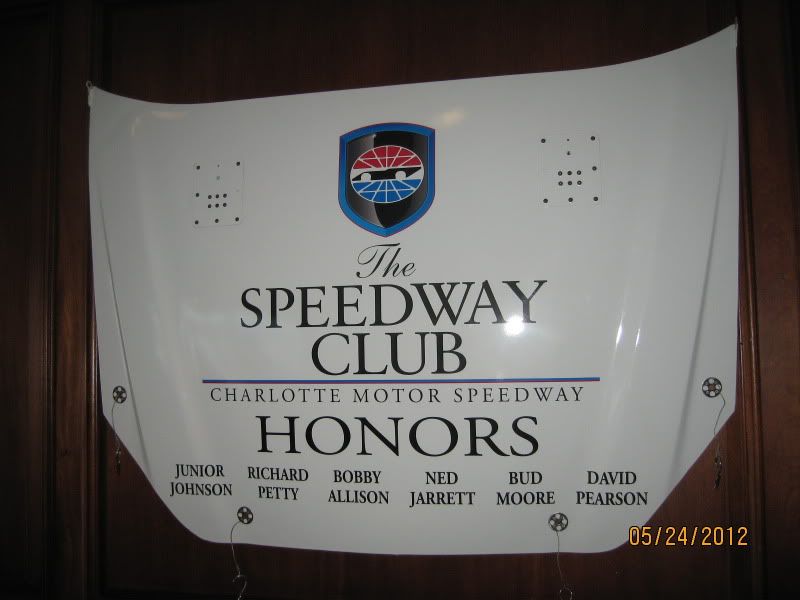 As we took in the trappings and finer things of the Club (code word: beer), qualifying was proceeding below us. Even thought I wanted to be there for qualifying, the reality was that I wasn't paying a lot of attention to it. Even on a weekly basis, I don't get too wrapped up in qualifying. With NASCAR's top 35 rule, all the regular drivers are assured of being in the race. Plus, Richard Petty Motorsports cars don't historically challenge for a pole position anyway.
But, this night was different. As SHOFer Philly has reminded me for about 2 decades,
there is magic in believing
. (Or maybe it was Walt Disney who said that... oh well, never mind.)
My jaw dropped in amazement when I saw the legendary 43 car go to P1 on the scoring tower. Suddenly, I became interested. I started trying to figure out who was left. Someone finally said Marcos Ambrose was the only car left.
When Ambrose plunked the second Richard Petty Motorsports Ford on the front row alongside pole-winner, we ripped a hearty WHOO! It was loud enough to make Ric Flair turn and look at us with surprise ... if he'd been there.
Let me put this in context. I've been a fan of Richard Petty since late 1974 / early 1975. In 35 years of being a Petty fan, I'd
never
been at a track when Richard, Kyle, Adam, or anyone who piloted a Petty car won
anything
. The top Petty performances I ever got to enjoy in person was a 3rd place finish by Richard at Nashville Speedway in 1978 and two 3rd place finishes by Kyle at Talladega in 1987 and Charlotte in 2007. That's it. So a pole-win AND a front row sweep - while small and inconsequential victories for many - were great experiences to witness for this old school fan.
As Philly, Lanie and I enjoyed the comforts of The Speedway Club, SROHer Slick Rick's was enjoying racing the way it was meant to be enjoyed - in the stands with the smells of gasoline, tire smoke, and funnel cakes wafting in the air. And of course... a cold Schaefer in hand.
Mutual feelings of relief and excitement were experienced when Ambrose qualified second. I would have been pleased even if the 9 car had won the pole. As a core Petty fan, however, it was so much more meaningful to have the 43 starting from the point.
After qualifying ended, we watched Almirola and The King beaming during their press conference on the TVs of The Speedway Club. The audio was either non-existent or drowned out by the chatter throughout the club. We returned to enjoying our cold ones, continued to exclaim "can you believe it? can you
believe
it?", and poking fun at a good ol' boy that we had the uncanny misfortune to see again from the Embassy Suites event. The dude had little racing knowledge, no real interest in being at the track, and almost no command over basic English grammar. He told us the same story two or three times about winning a Kasey Kahne shirt -
Kesseh Kaaayne
- only to find out it was a woman's size.
As the night neared its end, a couple of ladies spotted our Schaefer buttons and challenged us with "What?
Schaefer?
We're from Noo Yawk. I bet y'all don't know the words to da Schaefer jingle." SHOFer Philly and I looked at each other, paused, smirked, and immediately began singing:
Schaefer ... is the ... one beer to have
When you're having more than one.
As we repeated it, they suddenly squealed
OOOOH!
We now had two new friends and began to sing the jingle in 4-part harmony. Somewhere along the way, the ignorant, lost, redneck became but a footnote to this story.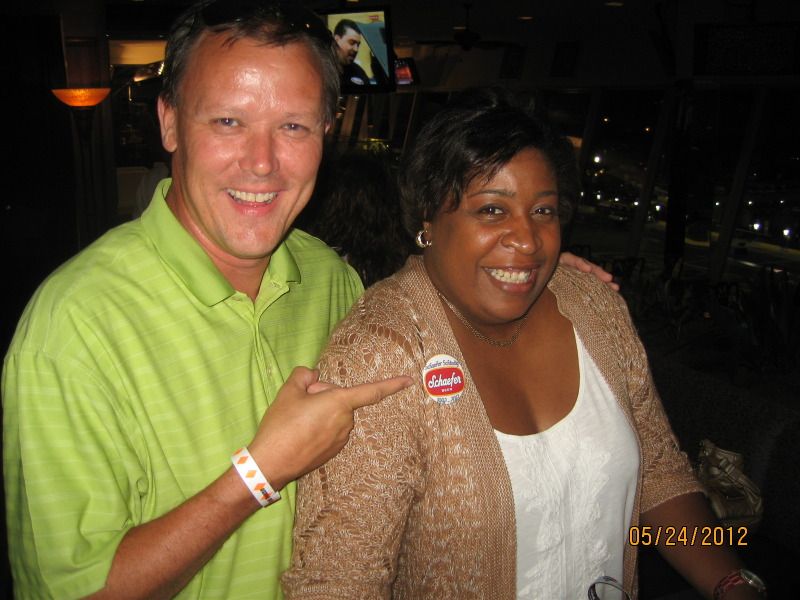 Next: A trip to the mecca of NASCAR - Level Cross, North Carolina.
TMC