1977 - Continuing his good fortunes from a win in the World 600 two weeks earlier, Richard Petty wins the pole, leads 71 of 95 laps and wins the NAPA 400 at Riverside International Raceway for his 184th career victory.
Petty often said he didn't consider himself a good qualifier. Yet, his top run at Riverside was his 120th of 123 career pole runs. The King hustled his Dodge Charger around the track quicker than anyone in a car that hadn't been raced since the 1977 season opener at Riverside. Having a dedicated road course car was a true rarity in those days. Teams often raced their Riverside car at other tracks including Nashville and Dover.
At the drop of the green flag, Darrell Waltrip got the jump on the 43 and led the first 20 laps.
Photo courtesy of Rickysuave44 on Photobucket
(Visit his album for neat pics of other Cup drivers from the race)
The STP Dodge stayed right with Waltrip, however, and the two swapped the lead a few times over the next 12 laps along with Cale Yarborough and David Pearson. From there though, the King took over and settled into a comfortable lead. He paced the field around the serpentine track for the final 63 laps to clinch what seemed to be an easy victory.
The King leading The Silver Fox, David Pearson, through turn 8.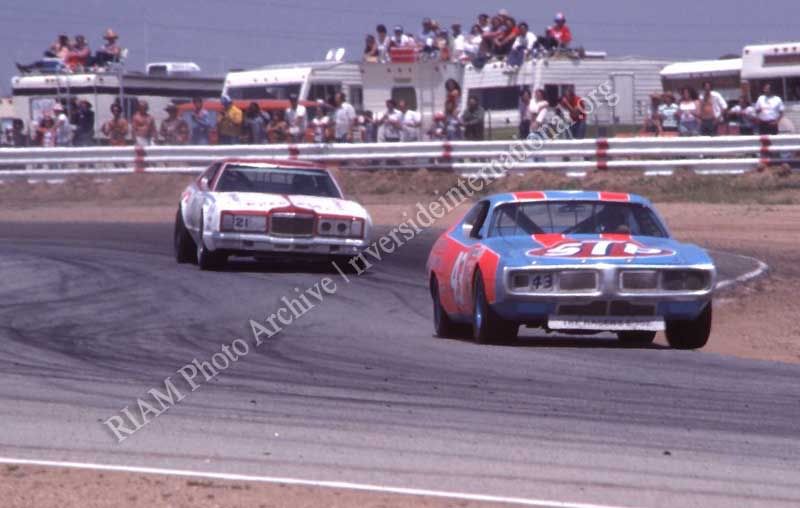 Petty pulling Darrell Waltrip through turn 6. After leading the first 20 laps, Waltrip eventually developed transmission problems in his DiGard Gatorade Monte Carlo and faded to 26th.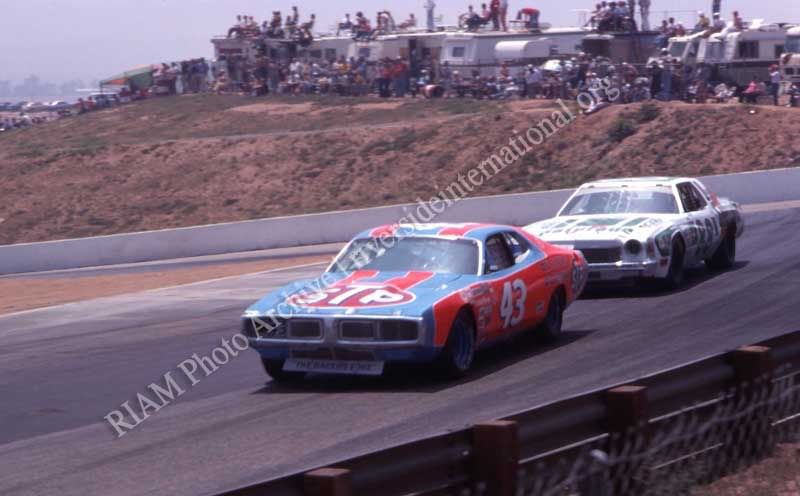 When the checkers fell, the 43 again took its rightful place in victory lane.
And Richard's reward: squeezing the girls for the 184th time...
Credit: Petersen Automotive Museum
Pearson's second place finish to King's win was the 63rd and final time the two rivals finished 1-2 in a GN / Cup race dating back to 1963. Although Pearson edged Petty in wins in those 1-2 finishes 33 to 30, the King did get the upper hand the final three times in 1977 at Atlanta, Charlotte and Riverside.
The winner's trophy as seen on display by TMC at the Richard Petty Museum in Randleman, NC in 2012:
As mentioned in a couple of recent posts about Petty's wins at Charlotte in 1975 and 1977, the September 1977 issue of Stock Car Racing magazine included three in-depth features on the King. Included with the three was a feature on his win in the June 1977 Riverside road courses.
Here is a PDF scan of the SCR article.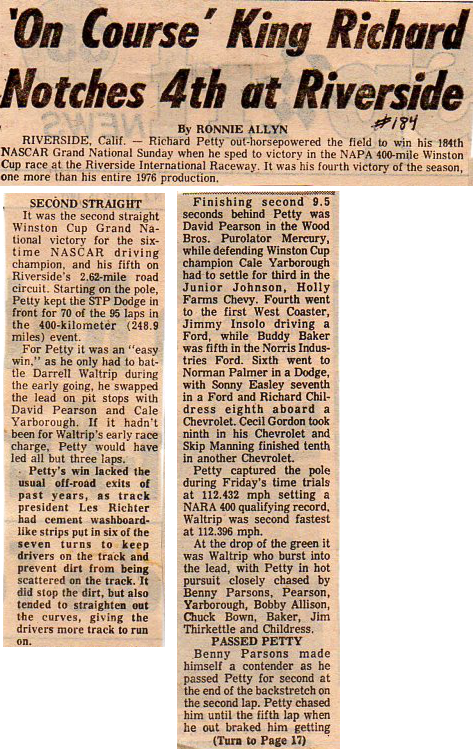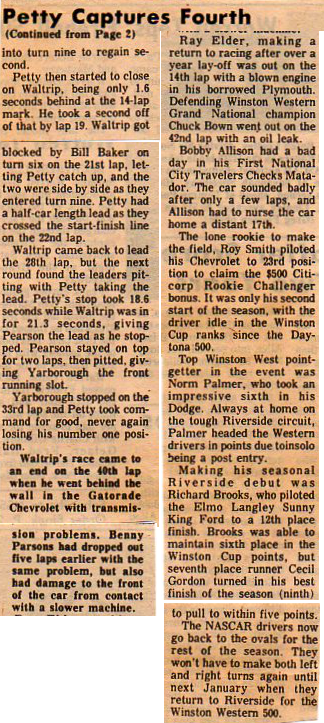 Article courtesy of Jerry Bushmire
TMC
Edited June 11, 2014