1967 - Starting second alongside pole-winner Dick Hutcherson, Richard Petty leads 131 of 400 laps and wins the Nashville 400 at Fairgrounds Speedway in Nashville, TN.
In this photo published in
The Tennessean
, Petty is shown looking over his engine before the race as a crewman stands nearby.
The start of the race with pole-winner Hutcherson choosing to start on the outside of the front row.
Source: The Nashville Banner - July 31, 1967
The Petty Enterprises team, however, never lost its composure. As the race entered its second half, the 43 regained its mojo and headed for the front. Petty passed Chattanooga, TN's Friday Hassler with about 130 laps to go and banked his 65th career NASCAR Grand National victory with a 5-lap win over second-place finisher James Hylton.
Source: The Nashville Banner - July 31, 1967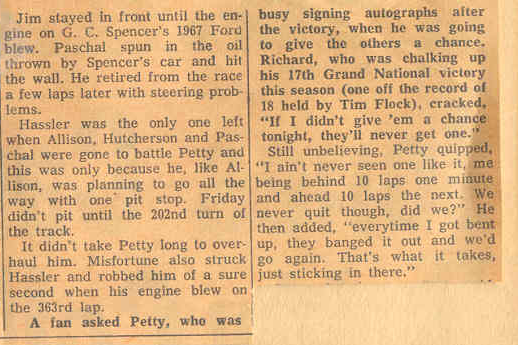 Article courtesy of Jerry Bushmire
TMC
Edited July 29, 2014