1975 - After trying since 1959, Richard Petty finally wins the Firecracker 400 at Daytona.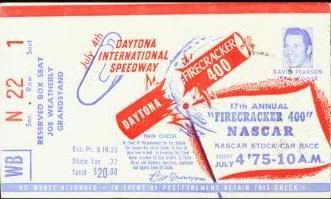 Even after winning the pole and finishing 5th in the Firecracker, Donnie Allison was fired after the race - the mid-point of the 1975 season - by DiGard team owner Bill Gardner. Third-year Cup driver, Darrell Waltrip, finished 4th in the race in his own car and was immediately hired to replace Allison.
Throughout Petty's career as a driver - and continuing in recent years in his role as a car-owner - the King has
celebrated his birthday
(July 2nd) at Daytona.
Among those greeting Richard in victory lane was his teenage son, Kyle. He can be seen in the photo below - over Richard's right shoulder.
Also greeting the victorious driver was Linda Vaughn - Miss Hurst Shifter - which seemed to have increased the smiles on the faces of both Richard and Kyle.
Even more remarkable in this case is that the race got
any
coverage. The top sports story of the 4th of July weekend was Arthur Ashe's win over Jimmy Connors at Wimbledon. With his win, Ashe became the first black player to win the coveted tennis championship.
43
, number 2.
A digital version of the original SI magazine - including the coverage of Ashe's and Petty's wins can be read
on-line here
, and the feature just on Petty's win follows.
TMC