1971 - Starting second alongside Chattanooga, TN's Friday Hassler, Richard Petty leads 128 of 200 laps and wins the Northern 300 at Trenton Speedway in New Jersey to notch his 132nd career NASCAR Winston Cup victory.
Click here
for a blog entry I posted about this race a couple of years ago - including photos of the winning Petty Plymouth and a shot of NASCAR Hall of Fame nominee Wendell Scott enjoying a well-deserved cold Schaefer beer.
Buddy Baker was hired by Petty Enterprises via its contract with Chrysler Corporation. Richard raced Plymouths, and Petty Enterprises fielded a car for Baker - a Dodge - on a part-time schedule. At Trenton, Baker raced for car owner and former driver, Neil Castles.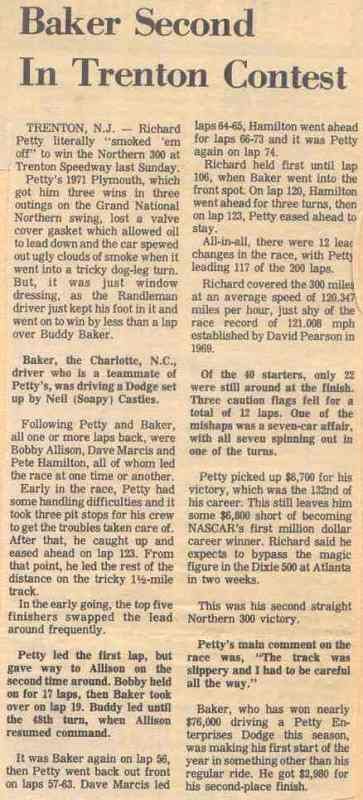 Article courtesy of Jerry Bushmire
TMC