1966 - Continuing his mastery of Nashville's Fairgrounds Speedway, Richard Petty nabs the pole, leads all 400 laps, and captures the Nashville 400 for his 47th career NASCAR Grand National victory.
Petty swept the track's two races in 1964, won the one event he entered in 1965, won this race by 5 laps over second place Buck Baker in 1966, and three-peated in 1967. He won four more races between 1969 and 1980. In addition, Jim Paschal three-peated from 1961-1963 - the first one with car owner Julian Petty (Richard's uncle) and the next two with Petty Enterprises. Yeah, I'm pretty sure those Level Cross fellers had that place figured out.
With Richard's domination of the event, one has to dig deeper to find additional storylines for the race. But dig I did and found three - all with a connection to of all drivers, Henley Gray.
The 1966 Nashville race was the first Grand National start for country music singer and racing enthusiast, Marty Robbins. Marty made frequent starts at Nashville in late models, and many of his races had to be worked around his scheduled appearances on the stage of the Grand Ole Opry. While Marty is most remembered for his um... uh... err...
unique
purple and yellow painted #42 Dodges, he made his first GN start in a plain white #53 Ford. Starting behind Robbins in car #74 was independent driver Henley Gray.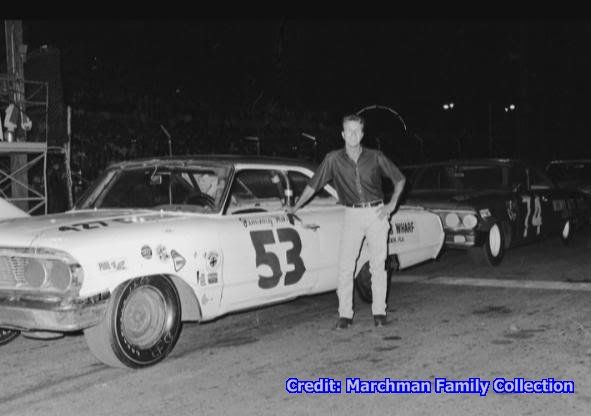 Photo credit Fred Marchman ~ Provided courtesy of FallsCity48
Marty ran about three dozen Cup races from the late 1960s through 1982. Sadly, he suffered a heart attack and passed away in 1982. For the spring 1983 race, the track memorialized Marty's gifts and passion for racing by naming the race the Marty Robbins 420. I spent time at the track for this event rather than go to my high school prom. I've never regretted the decision to do so.
Program cover courtesy of Russ Thompson
Henley Gray earned a career best 4th place finish in the race. In a career spanning 14 years and 374 starts, the journeyman garnered only five Top 5 finishes - with the '66 Nashville finish being the best one. For me, Henley will always be known as having one of the best combovers in all of NASCAR - right up there with the late Benny Parsons.
Also making his first NASCAR Grand National start was one of middle Tennessee's iconic racers - Coo Coo Marlin from Columbia, TN. Coo Coo was a weekly race regular at the fairgrounds and was a four-time late model sportsman champion there (including in 1966). His first Grand National start, however, didn't come until this race. For the first couple of seasons as Coo Coo increased his number of GN starts, he ran #07 Chevrolets. Beginning in 1972 and for the rest of his career, he doubled his number to 14. For his first career start, however, he started and finished 8th in a #97 Ford owned by ... yep, Henley Gray.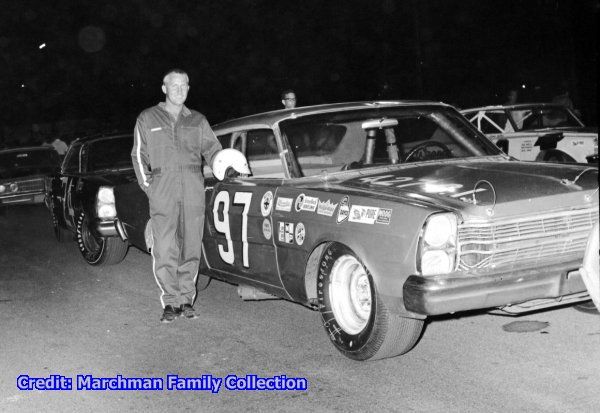 Photo credit Fred Marchman ~ Provided courtesy of FallsCity48
My how times have changed. How many drivers today would help unload a car from the hauler? Or wash it? And with a smile!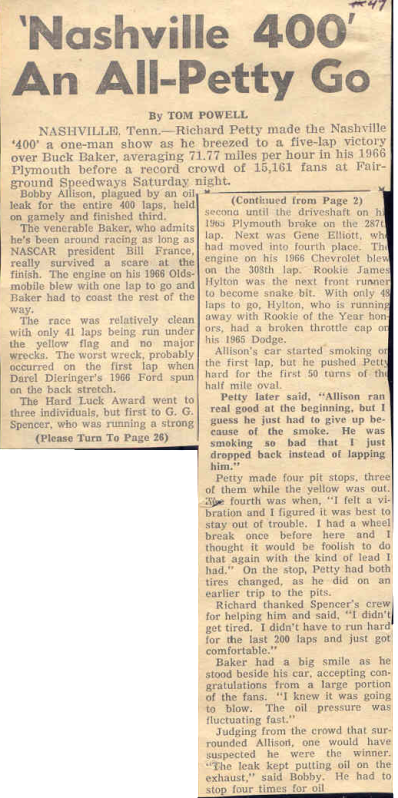 Article courtesy of Jerry Bushmire
TMC