1975 - Starting sixth, Richard Petty leads almost half the race and wins the Virginia 500 at Martinsville.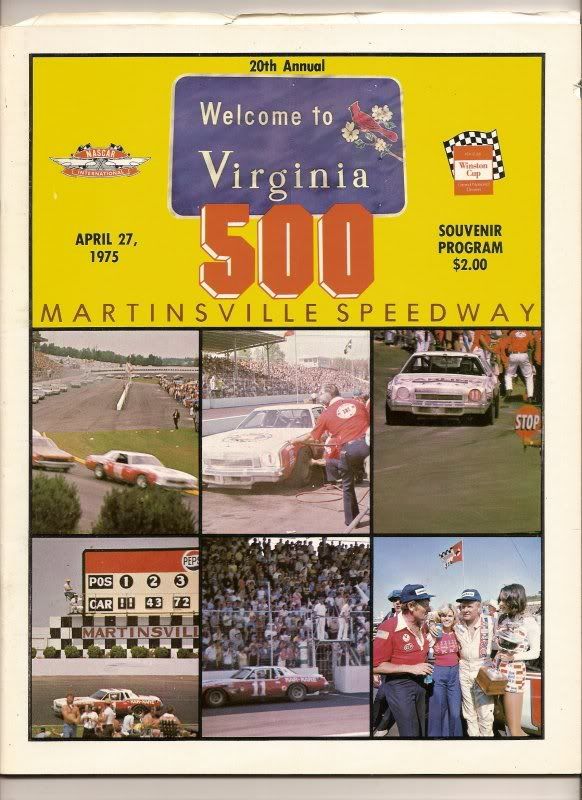 1973 Cup champion and 1975 Daytona 500 winner, Benny Parsons, started on the pole. Donnie Allison started second in the DiGard Chevrolet. Track rookie Darrell Waltrip started on the inside of the second row and was flanked by Bobby Allison in Roger Penske's Coca-Cola AMC Matador.
Waltrip - referred today by many (at least the kind ones) as Ol' DW - made his first Martinsville Cup start in this race. He took the lead with about 50 laps to go, but the King passed Waltrip with 21 laps to go and raced on to his 169th career Winston Cup victory. DW's second place finish in his Marty debut, however, was a harbinger of good things to follow. He eventually won 11 times at Martinsville - second only to the King's 15 wins at the track. Also, by the time the Cup series returned to Martinsville for the fall 1975 race, Waltrip had replaced Donnie Allison in the DiGard #88 Chevy - the driver who started second in this event.
Racing action in the corner with Bobby Allison's AMC Matador being hounded by Cale Yarborough and with King Richard lurking behind them.
Finishing seventh in the race was local late model driver, Jimmy Hensley - making only his sixth career Cup start, all at Martinsville. Coincidentally, Hensley drove for Petty Enterprises down the road. In 1993, he made one Cup start for the Pettys - at Martinsville - in relief of regular driver Rick Wilson who had been injured at Dover a week earlier. He then drove a #43 Petty Enterprises NASCAR Dodge truck from 1997-1999 - more than 20 years after those early Cup starts at Martinsville.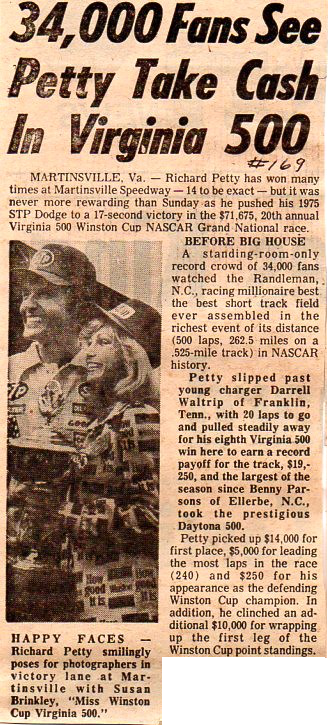 TMC