1971 - Starting second in Smoky Mountain Raceway's final Winston Cup Grand National race, Richard Petty wins the Maryville 200 in Maryville, TN to earn his 125th career NASCAR Winston Cup victory.
1971 was the first season R.J. Reynolds' Winston cigarettes sponsored NASCAR's top series. Various records started being referred to as Winston Cup stats rather than Grand National.
An East Tennessee driver - Chattanooga's Friday Hassler - nabbed the pole at the East Tennessee track located about a half-hour's drive from Knoxville. The pole win was the first of two for the 1971 season and his career for Hassler. He qualified fastest again
in July at New Jersey's Trenton Speedway
where the race winner was: Richard Petty. Bang.
Sadly, Friday was killed less than a year later at Daytona in February 1972 during his 125-mile Daytona 500 qualifying twin. Friday is most closely associated with car number 39. After his death, the number was used infrequently until Ryan Newman began using it at Stewart-Haas Racing a few years ago.
The 1971 Maryville race also marked the Cup debut of driver D.K. Ulrich. A career independent, D.K. drove for himself almost exclusively for 20 years. After making his final start as a driver in 1992 (also the King's final year as a driver), he continued to field entries for other drivers for another three years.
In 1986, the King tried to knock the wall down during practice for the Coke 600 at Charlotte. Without a 43 car, Petty and D.K. worked out a deal for Richard to race Ulrich's green #6 Chevy Monte Carlo. The team slapped a couple of STP decals on it, and Petty extended his continuous race-starting streak that began in 1971.
D.K. Ulrich was also the car owner of the Schaefer beer-sponsored Buick driven by Al Loquasto in the 1981 Mountain Dew 500 at Pocono.
And
it was D.K. himself who provided a photo of the rarely-seen Schaefer car to TMC (
via Rick Houston
of the now-gone Stock Car History Online). Needless to say, the Schaefer Hall of Fame holds Ulrich in the highest regard.
Pole-winner Friday Hassler finished third in the race - behind race winner Petty and second place Benny Parsons.
Courtesy of Chris Hussey
I spotted Richard's race-winning trophy at the Richard Petty Museum during my visit there in March 2011.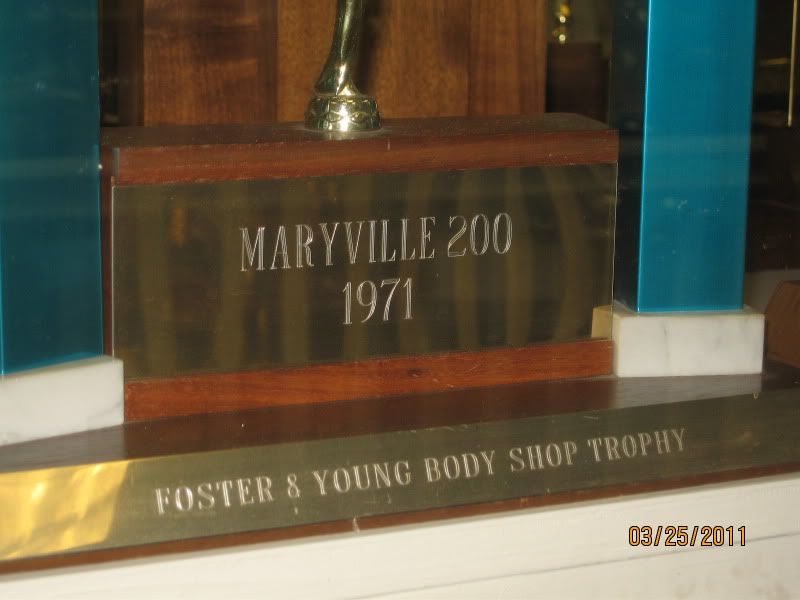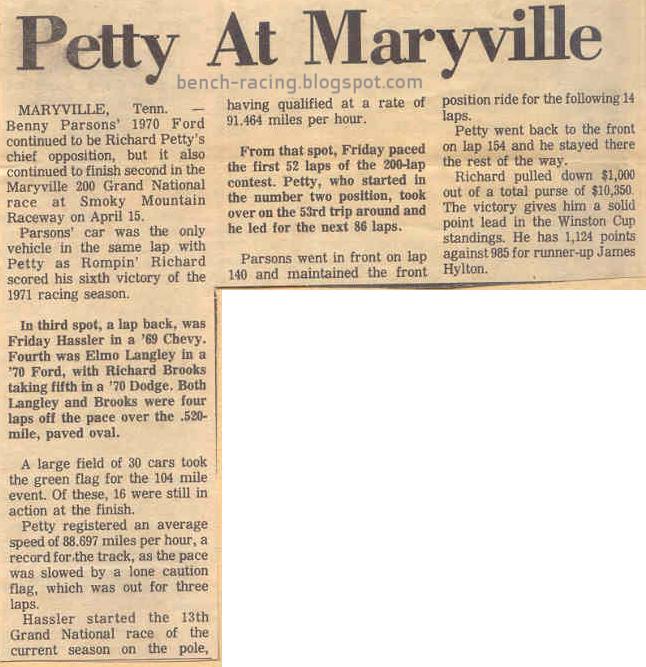 Article courtesy of Jerry Bushmire
TMC
Edited April 14, 2015