1963 - Richard Petty wins his 19th career race by leading 130 of the 257 laps of the rain-shortened Gwyn Staley 400. Petty Enterprises teammate Jim Paschal finishes fourth in a second #41 Petty Plymouth.
The race started with all-Ford front row - Fred Lorenzen in the Holman & Moody Ford with the quickest qualifying time and Tiny Lund beside him in the Wood Brothers Ford. Tiny continued making several starts for the Wood Brothers throughout the early part of the schedule as the team's regular driver, Marvin Panch, continued to recover from injuries and burns suffered in a crash at Daytona in February.
Lorenzen and Lund led a handful of laps, and chunky Junior Johnson led a sizable chunk of the first 100 laps of the race. But on lap 128, the blue 43 Plymouth went to the point and led the next 130 laps until rain fell to end the race.
Petty successfully defended his win in the 1962 Staley 400, and his victory was his third in a row after also
taking the fall 1962 race
.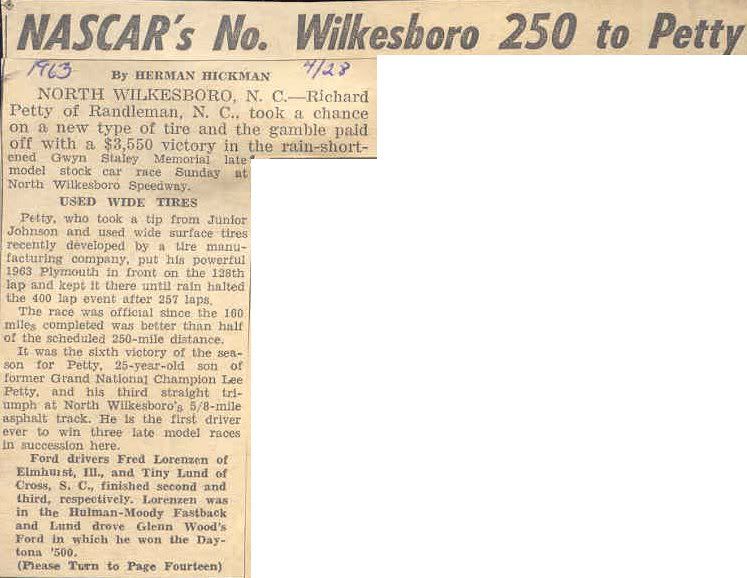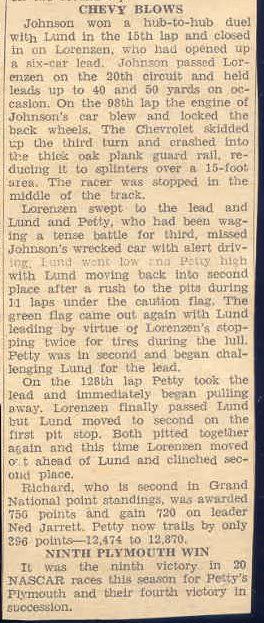 Photo and article courtesy of Jerry Bushmire
TMC