1980 - Starting sixth, Richard Petty leads 96 laps - including the final 45 - and beats Benny Parsons by one car length to win his 192nd career race in the Music City 420 at Nashville International Raceway at Nashville's fairgrounds in Tennessee.
The victory was the King's ninth and final one at Nashville's banked oval dating back to his first win there in 1964. (Jim Paschal banked two additional wins for Petty Enterprises in 1962-1963, and he nabbed a third Nashville win in 1961 for car owner Julian "J.H." Petty - Lee's brother and Richard's uncle.)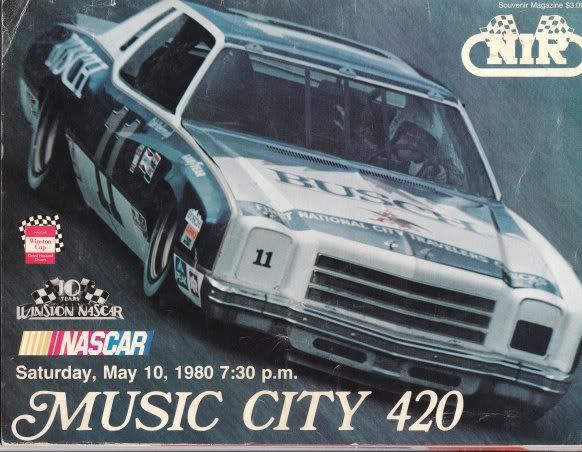 Cale Yarborough, who feasted on the track through much of the mid to late 1970s, won the pole and led about two-thirds of the race. A local hotshoe youngster who had been racing late models at Nashville for the second half of the 70s made his Winston Cup debut in the race - Mike Alexander. Mike raced a #40 Monte Carlo fielded by D.K. Ulrich who gave many up and comers a shot in his car including Sterling Marlin, Tim Richmond, and Al Loquasto.
In his book
Forty Years of Stock Car Racing: Volume 4
, Greg Fielden writes:
The new NASCAR tire rule, rapidly turning into a controversial subject, worked perfectly for Richard Petty as he saved his tires for the end and won the Music City 420...The new rule, which imposes a two-lap penalty to any team changing one or more tires under the yellow flag, originally received support from Petty and Cale Yarborough. But after the second race run under the new cost-saving system, it would difficult to find anyone who supports the new rules. "The tire rule probably won for me tonight," admitted Petty..."I'm not sold on this rule though. It confuses me. I don't know who's runnin' where. More importantly, its confusing the fans." ~ p.299-300
The margin of victory...
Even though I didn't see the win in-person, the 420 trophy was one I specifically sought out when I visited the Richard Petty Museum in Randleman in 2011.
I had simultaneous, polar-opposite feelings about Petty's win. On the one hand, any Petty win was a great one - especially as the King's tally grew closer to 200. On the other hand, however, I was bent because
I missed the race
.
My high school concert band traveled to Orlando, FL for a multi-day trip. We performed in a contest, went to Disney World (my first time there), spent the day with sand and surf at Cocoa Beach, etc. When I returned home with stories from the trip, my dad told me he and a couple of my uncles went to the speedway and saw the King win. They were nice enough to buy a program for me (scanned above). Missing the win, however, gnawed at me for a long time. At the time, maturity and understanding the 'big picture' weren't my key strengths - and I'm not sure they are even today!
TMC
Edited May 10, 2014