Greetings from North Carolina! I started my long weekend Thursday by arriving in Charlotte to watch qualifying for the Coca-Cola 600. This morning, I'll be en route to hallowed ground: Level Cross, NC. We plan to visit Petty's Garage in Level Cross, the Richard Petty Museum in Randleman, and .... well, who knows what else may unfold.
1975 - Starting third, Richard Petty leads 234 of 400 laps and finally wins the World 600 at Charlotte Motor Speedway to claim his 170th career NASCAR Winston Cup win.
Schaefer Ring of Honor member
GaPettyFan
remembers:
The race was still held on Monday (Memorial Day) at that time. They (Humpy Wheeler I presume) awarded prize money to the driver who led the most laps in each 50 lap segment of the race. The King started third and led 234 laps, grabbing segment after segment. We were sitting near some Pearson fans, and they were giving Richard hell all day. I was dying inside, afraid he was gonna torch the motor leading so many laps. It was a long ride home back to Georgia that night but, man, what a great one.
From the time Charlotte opened in 1960, Petty Enterprises had reaped its share of success at the track. Lee Petty, Richard Petty and Bobby Johns in a third Petty Plymouth started the inaugural World 600. Richard won a World 600 qualifying race in 1961 that was counted by NASCAR as an official win. Other wins by Petty Enterprises cars included the 1964 World 600 (Jim Paschal), 1966 World 600 (Marvin Panch) and the 1972 World 600 (Buddy Baker). Richard, however, somehow could not break through for his own win in the World 600 or National 500. Finally in 1975, the King finally nabbed his first major win at Charlotte in his STP Dodge Charger.
Schaefer Hall of Fame co-founder and charter member,
Philly
, has these memories:
I can vividly remember the 1975 World 600 as I was there! I had been a Richard Petty fan since 1971 first seeing the Petty Blue at Martinsville - and that was my car forever. By 1975, I had been to several races at Martinsville, North Wilkesboro, Bristol, Darlington, Charlotte and Rockingham. I was 11 years old and had never seen the King win. He ran away with the race in 1975 and led over 200 laps. I remember sitting on the edge of my seat watching his car every lap hoping nothing would break or he would wreck. I knew he could win. At the end of the race, he was nearly a lap ahead of the field. I remember Cale came in second in the Holly Farms car. David Pearson and Darrell Waltrip ran 3rd and 4th. Not sure which was which. I think Buddy Baker was in the hunt for a top 5. I also remember a Petty blue Dodge that had yellow stripes and the number 8 on it. I didn't know it then as kid but figured it out years later. I was also at Dale Earnhardt's first Grand National race.
Speaking of first-timers at Charlotte and in a Dodge - and as referenced by Philly, another future 7-time Cup champion, Dale Earnhardt, made his first career Winston Cup start. He finished 22nd in a Dodge owned by Ed Negre.
retirement
.
As for the race,
Bumpertag
, a fellow member at
RacersReunion.com
remembers:
I've been a Richard Petty fan since 1972 and started going to races in 1973. It wasn't until the 1975 World 600 at Charlotte that I witnessed The King win. It was special because Petty had not won at Charlotte before. My uncle hated Richard Petty because he was the biggest menace to his guy, David Pearson. He had told me many times during our weekend racing debates that if Petty ever won at Charlotte he would never go back. After the World 600 and later that year the National 500, both of which Petty won in 1975, my uncle never went to another race at Charlotte.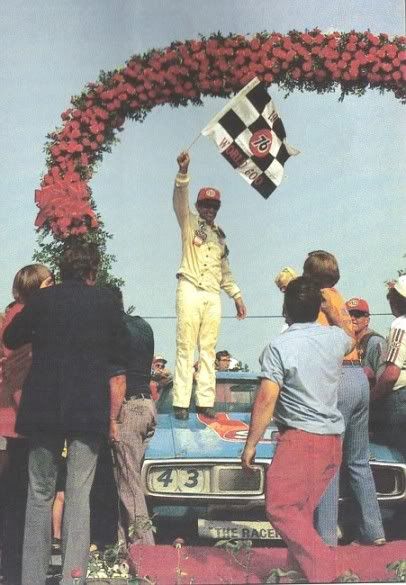 King Richard
. A chapter of the book focusing on Petty's win in the 1975 World 600 was excerpted in the September 1977 issue of Stock Car Racing magazine. I didn't keep all of my SCRs - but I definitely do still have that issue.
1975 World 600 SCR
TMC