1977 - Starting outside of the front row, Richard Petty dominates the World 600 at Charlotte Motor Speedway. He leads 311 of 400 laps to score his 183rd career victory and his second World 600 in three seasons.
As expected, David Pearson won the pole for the race. From 1972 through 1978, the Silver Fox won the pole for 12 out of 14 races. (For the other two events - one in '72 and the other in '73 - he qualified a
*disappointing
second.)
With Pearson's winning the pole and the King dominating the race, it would seem the 600 weekend was somewhat ho-hum. However, the OH-NO! moment was provided by others during practice before qualifying. Bruce Jacobi clipped Rick Newsome coming out of turn four. Jacobi's car flipped multiple times before catching fire. Fortunately, both drivers escaped serious injuries.
Sadly, the wreck was perhaps somewhat of a foreshadowing of what both drivers would face later. Newsome perished in a private airplane accident in 1988 - eleven years after his Charlotte accident. Jacobi died in 1987 - four years after slipping into a coma following a vicious crash in his 125-mile qualifying race for the 1983 Daytona 500. (Video and pics of Bruce's wreck are on the web. After waffling back and forth, I've chosen not to include a direct link to them here.)
I still have the September 1977 issue of Stock Car Racing magazine in my collection. The cover has separated from the staples. Otherwise, the mag is still in great shape. The issue included three in-depth features on the King - and some fantastic color photography: an excerpt from a Bill Libby book about Richard's win in the 1975 World 600, Petty's win in the June 1977 Riverside road courses and the 1977 World 600 win.
A great shot that this scan doesn't do justice was a two-page spread of The King racing Pearson in the #21 Wood Brothers Mercury.
In victory lane, the King was greeted by Senator John Warner and his wife, actress Elizabeth Taylor. And yes, that's Bruton Smith in the powder-blue blazer standing to the left of Petty's wife, Lynda and their daughter, Rebecca.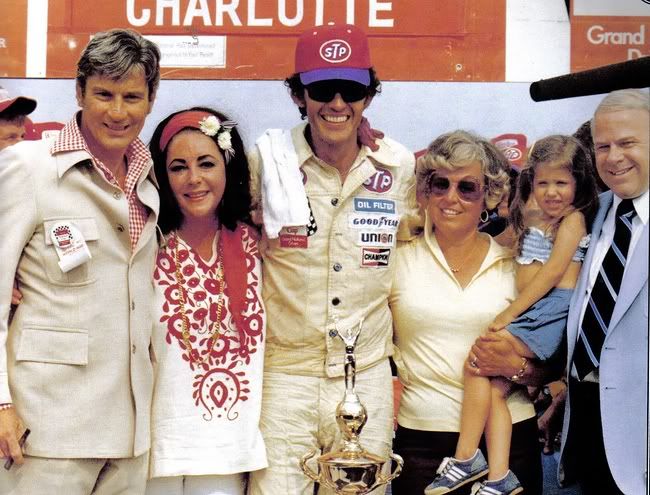 Petty's 1977 World 600 trophy was one of many I was fortunate to spot during my visit to the Richard Petty Museum in 2011.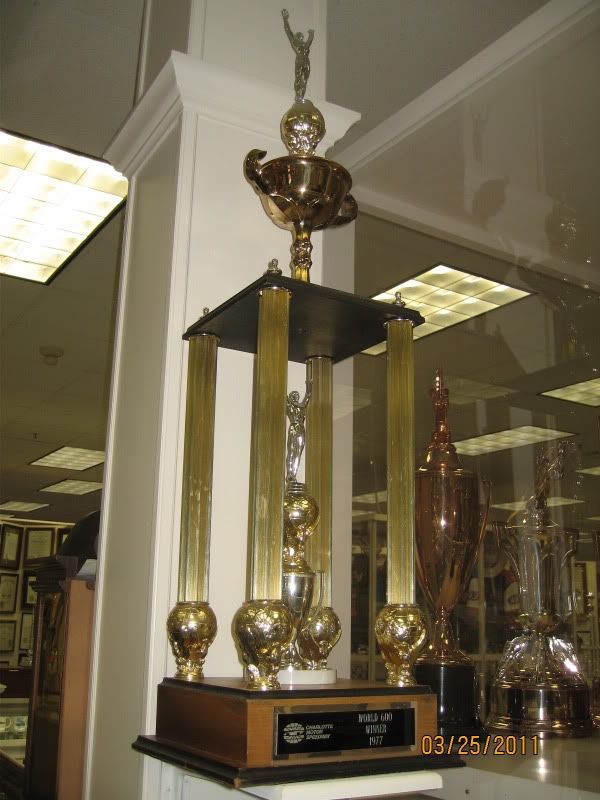 TMC