Wow! How long has it been since I updated folks on the antics of the Schaefer Hall of Fame and Ring of Honor? Blogging about the legacy of Richard Petty's wins has kept me pretty well occupied. However, the 20th anniversary of the founding of the Schaefer Schelebration is upon us. So its probably a good idea I update folks on what members of the Schaefer Hall of Fame and Ring of Honor have been doing the last six months or so.
SROH member, 200WINZ, has become a good friend and is also a dyed-in-the-wool Petty fan. He knows his Petty trivia, walks a nice line between old school and the contemporary and has quite the artistic hand (
example 1
and
example 2
). So I have to admit I was a bit conflicted by his 'tribute carving' of TMC last October. Should I be flattered ... or insulted?
As always, SHOFer Uncle Dave always brings it. Last Christmas, he complemented his white trash Christmas decor with ... what else ... but a Schaefer.
As the calendar turned to 2012, UDR made his frequent pilgrimage to Florida. And nothing screams ROAD TRIP like a visit to Waffle House.
Yes'm, I'll take mine Scattered, Smothered & Schaefered.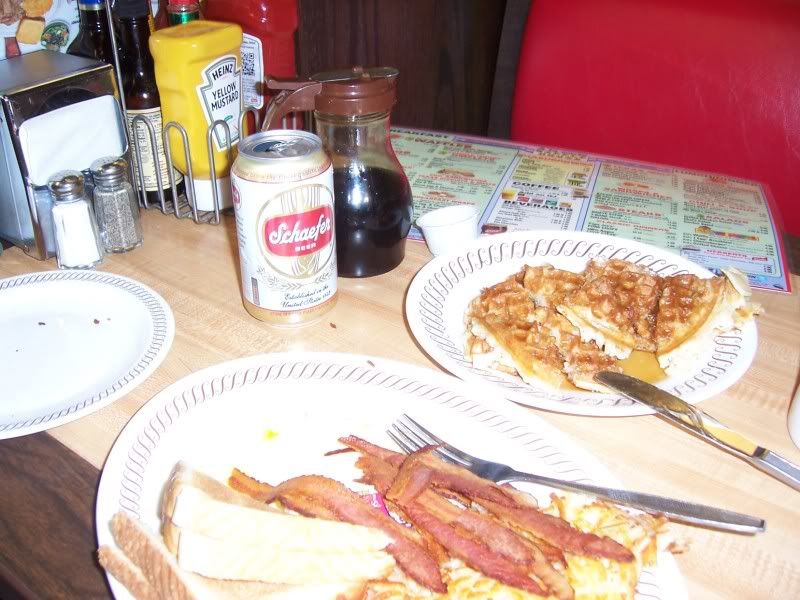 TMC recently traded in his Crapberry and got with the times by replacing it with an iPhone. I quickly re-branded it as my iSchaef. Being somewhat of a creative and frugal sort, Uncle Dave sent me a picture of
his
version of the iSchaef (including his waaaaay out-of-date Alltel flip-phone).
SROH member Rick probably attends more races annually than any other member of the SHOF and SROH. Lately, he has stepped it up a notch with some solid photo contributions. He does, however, need an improved nickname. Any suggestions for him?
He enjoyed MNN (Monday Night NASCAR) back in February after the Daytona 500 was washed out on Sunday.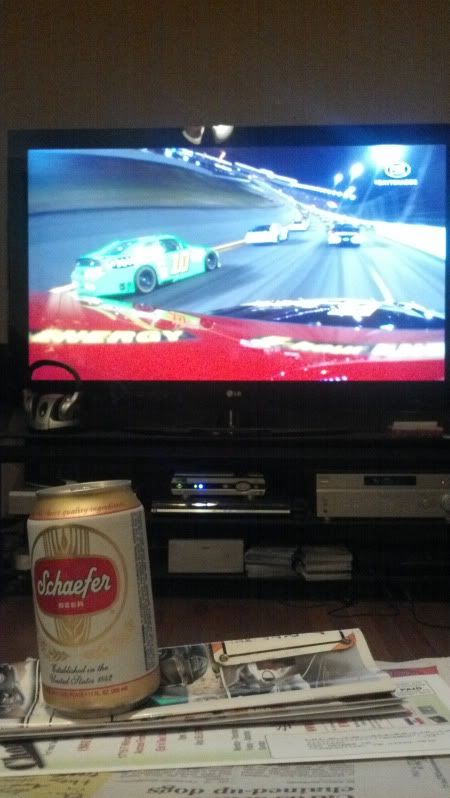 Despite race fans staying away by the thousands at Bristol, Rick kept his streak alive of hitting both races at the half-mile track and represented the SROH well from on high.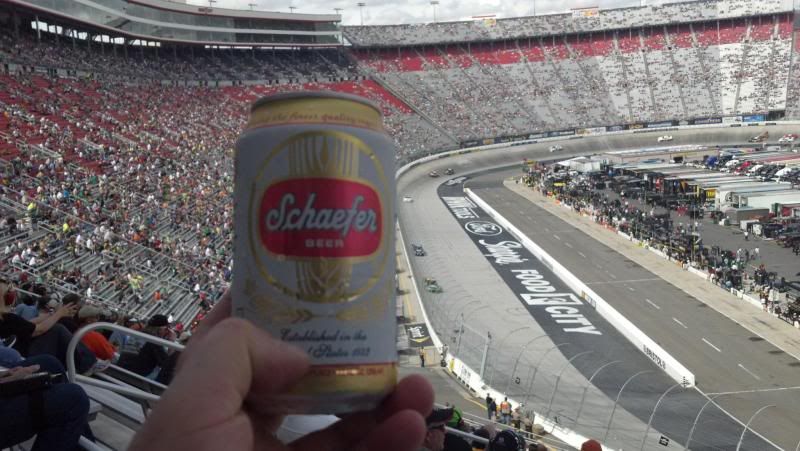 He even had the fortunate and impromptu opportunity to get a photo-op with a true beer drinker - actor George Wendt, better known as NORM! from the 1980s sit-com
Cheers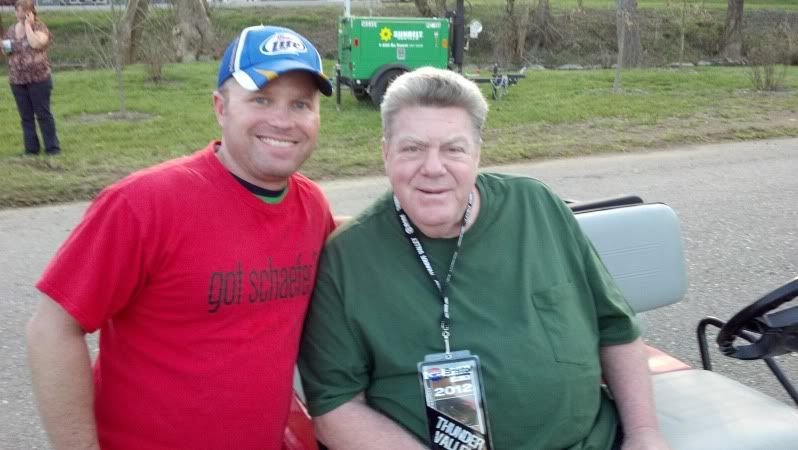 Rick also photo-text messaged me a pic of a friend of his with the collection of Bristol trophies to be awarded that weekend. My immediate reaction was:
Daaaang, I didn't realize Kyle Petty had lost so much weight.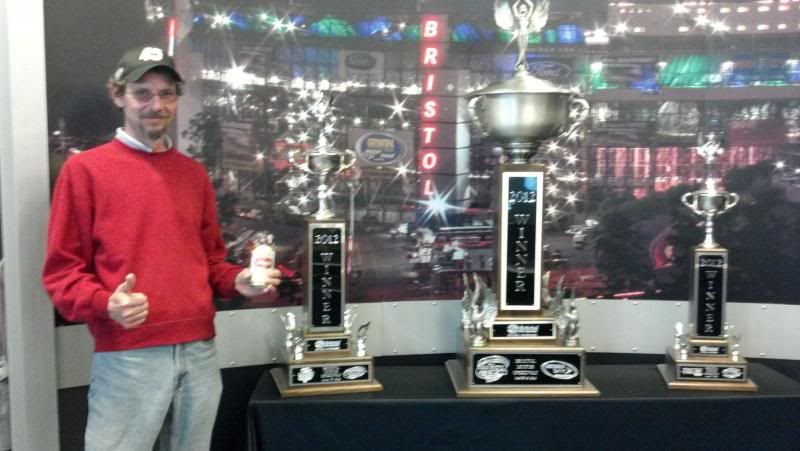 To prove he is no one-trick-pony, Rick took the Schaefer colors to a non-NASCAR setting - Key West, FL. Nice touch Rick to incorporate Rick's Bar over your head.
Philly, co-founder of the SHOF and co-host of the annual Coca-Cola 600 Schaefer Schindig, is an opportunistic individual. In other words, he strikes when a great opportunity ...
is free
.
Earlier this year, a promotional event to promote NAPA Auto Parts' was held with NHRA's Antron Brown and NASCAR's Martin Truex. The duo spent time at Charlotte Motor Speedway and then at the Z-Max Raceway drag strip. And who was there to enjoy this free event? Yep, Philly.
free
.
As many of us did, I celebrated the novelty of the Daytona 500 ... at night ... on a Monday ... with a Schaef.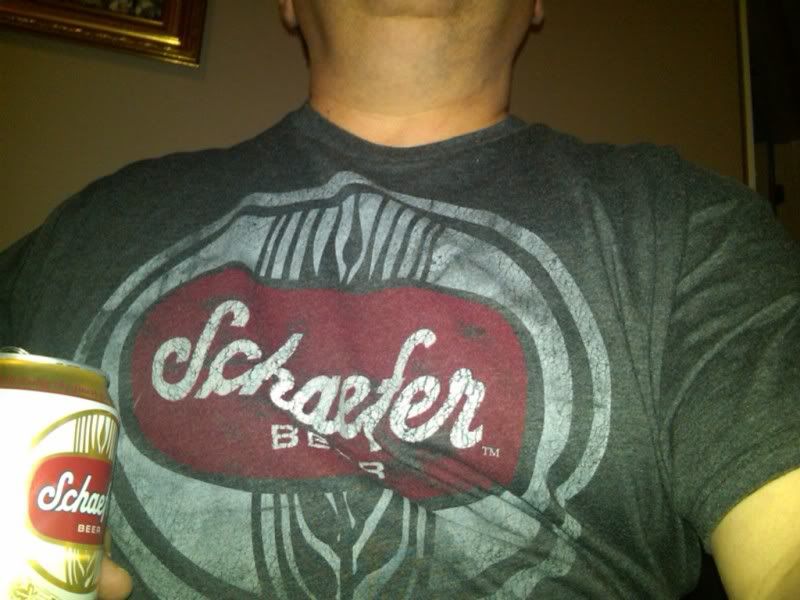 Earlier this spring, I pulled off what I think was one of my best hail mary's. With the assistance of some Google searches, a couple of phone calls, and some correspondence, I connected with former CART Indy car driver, Kevin Cogan, via his brother.
After a troubled start to his Indy career in the early 1980s, Cogan returned in the mid-1980s and drove a Schaefer-sponsored car in 1989. He had one of the most violent wrecks ever experienced in the Indy 500 - yet fortunately wasn't injured seriously.
Cogan faded away from racing in the 1990s and began a career in real estate in southern California. I sent a letter recapping the Schaefer Hall of Fame and our members' interest in racing along with a this photo from a race at Mid-Ohio. His brother worked with me to get Kevin the letter and photo. In return, Kevin returned the photo to me autographed.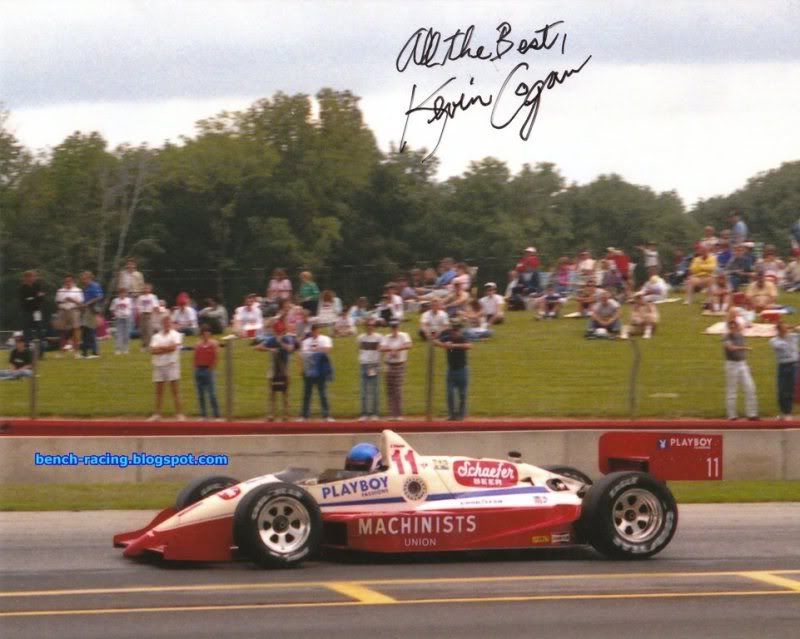 In April, I had the good fortune of traveling to Princeton, NJ for a speaking engagement. On my drive from Philadelphia's airport to Princeton, I stopped in Washington Crossing, PA. This town sits on the location where General George Washington encamped his troops before crossing the Delaware River and launching a raid at Trenton, NJ during the Revolutionary War.
We all remember from our history classes the illustration of Washington standing proudly in his boat as it crossed the river. What I wish we knew is what words were said to motivate the tired, cold, scared but committed and bold troops. I'd like to think George told them "I'll buy each of you a 30-box of Schaefer following our victory and safe return." But, I guess that probably wasn't what was said because Schaefer wasn't founded for almost another 70 years.
TMC