1963 - Richard Petty collects his twentieth career race by winning the Sandlapper 200 from the pole at Columbia Speedway in South Carolina.
Petty won by three car lengths over second place Buck Baker in the 200-lap, 100-mile event. Richard won in car number 41. Brother Maurice finished 20th in the 24-car field driving a second Petty Enterprises number 43 Plymouth.
In his book
Silent Speedways of the Carolinas
, author Perry Allen Wood writes:
They lined up with Richard on the pole and Buck barely missing quick time in second... Honestly, it was a weak field as some drivers on the way up did not have good rides and those on the way down did not either. A lot of never-will-bes filled in the grid. When the green waved, it was Richard, Buck, and Ned [Jarrett] distancing themselves from the pack. Cautions marred the event as Bobby Issac crashed out for 21st, Maurice Petty did the same for 20th, and [Joe] Weatherly in a borrowed ride followed suit for 19th... At the front, Petty led, but Jarrett and Baker would not go away. The cautions ended after 13, and it was a sprint to the finish with Richard Petty finally wining in Columbia. But he did it with Buck Baker beating away at his back bumper. ~ p. 59
As a side note, Joe Weatherly bounced back from this wreck to have a successful season. He claimed his
second consecutive championship in 1963
racing for
nine different
car owners.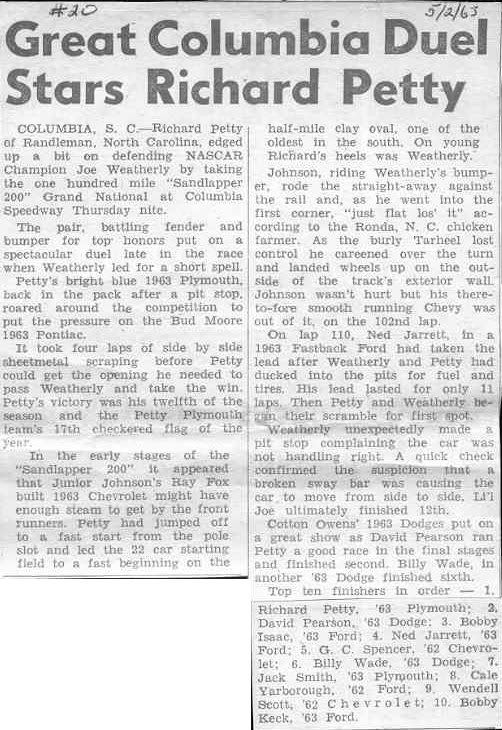 Article courtesy of Jerry Bushmire
TMC