1967 - Starting alongside pole-winner David Pearson, Richard Petty leads 266 of 291 laps and wins the Rebel 400 at Darlington by a full lap over Pearson.
For the start of the race, pole winner David Pearson took the outside lane with second-place qualifier Petty on the inside. The Silver Fox was making his first start with the Holman & Moody, factory-supported Ford team.
When I visited the Richard Petty Museum in 2011, the 1967 Rebel 400 trophy was one spotted on display.
One thing I found interesting about the trophy is the Marlboro sponsorship. Just four years later, R.J. Reynolds' Winston cigs would become the title sponsor of the series, and competing cigarette brands would no longer sponsor tracks, races or drivers.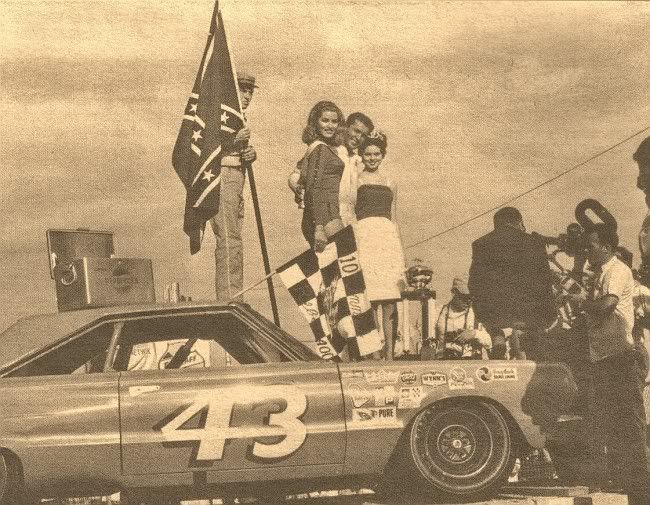 Following Richard's milestone win to break the tie with his father, Chrysler Corporation announced it would dedicate a permanent marker at the speedway in Richard's honor. The article below indicated the marker would be installed at the start-finish line.
I'm not sure if the plaque was ever installed at the start-finish line. But I do know the track still has it. The Darlington Raceway Stock Car Museum (formerly known as the Joe Weatherly Stock Car Museum -
and it still should be!
) still has the plaque on display, and a reader kindly shared a couple of photos of it with me.
Credit to and courtesy of Travis Atkison
Edited May 12, 2014